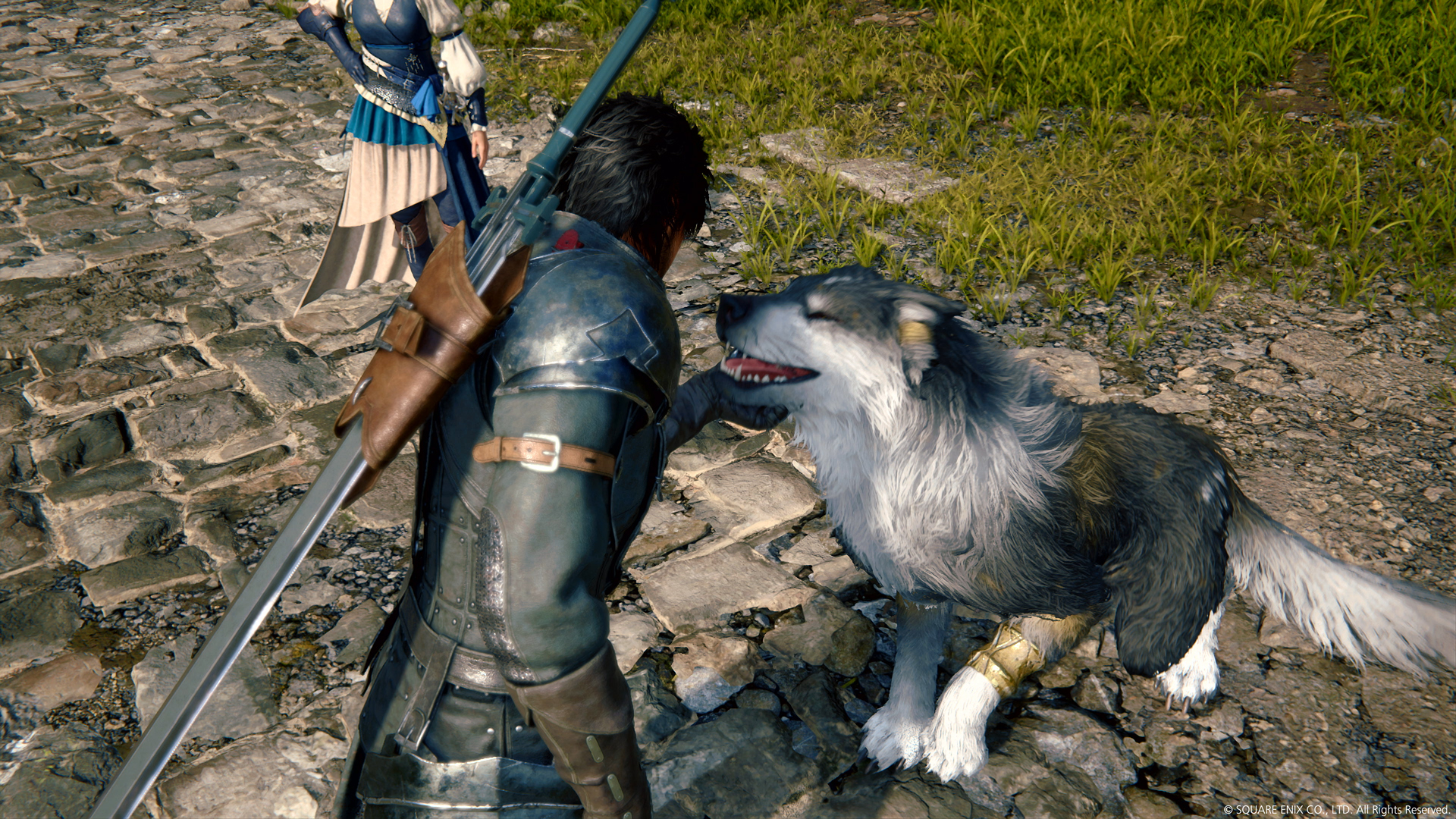 Final Fantasy 16 developer Square Enix has showcased combat with its canine companion, and it's everything I wanted and more.
Earlier today, on March 21, the Japan-facing Final Fantasy 16 Twitter account published a brief few seconds of new gameplay, seen just below. The undisputed highlight from this clip is seeing Torgal the dog/wolf in action for the first time, combining with protagonist Clive for a devastating aerial assault on a scorpion-like creature.
主人公クライヴの相棒、トルガルをご紹介🐺Part1バトルではトルガルに指示を出して共闘できます。クライヴの攻撃にあわせたコンビネーションも可能!『ファイナルファンタジーXVI』🔔予約受付中🔔https://t.co/6BciWXOPkt #FF16 pic.twitter.com/iwELDr6S6nMarch 21, 2023
We've known since late last year that Final Fantasy 16 would let you fight alongside Torgal, but this is the first time we've seen the feature in action. Torgal flips the enemy into the air, spinning it rapidly there for a split second before Clive dives in to send the monster plummeting back down to Earth for the flashy finishing move.
This move is reminiscent of Devil May Cry 5's combat, where Nero could send an enemy skyward with a nifty move to pull off a chained combo in mid-air. This isn't a huge surprise, since Final Fantasy 16's combat is spearheaded by Devil May Cry 5 lead Ryota Suzuki, but it's nice to see pillars of the latter's combat making a clear impression on the new Square Enix game.
Instead of one character doing all the handiwork in combat, it looks like Final Fantasy 16 might be splitting its core moves across Clive and Torgal. Check out our full Final Fantasy 16 combat interview to get Suzuki's thoughts on how he went about restructuring the combat for a modern audience. 
There are now just a few more months to go until Final Fantasy 16 launches on June 22, exclusive for PS5.
You can also read our broader Final Fantasy 16 preview to see how we handled the combat in our hands-on session.