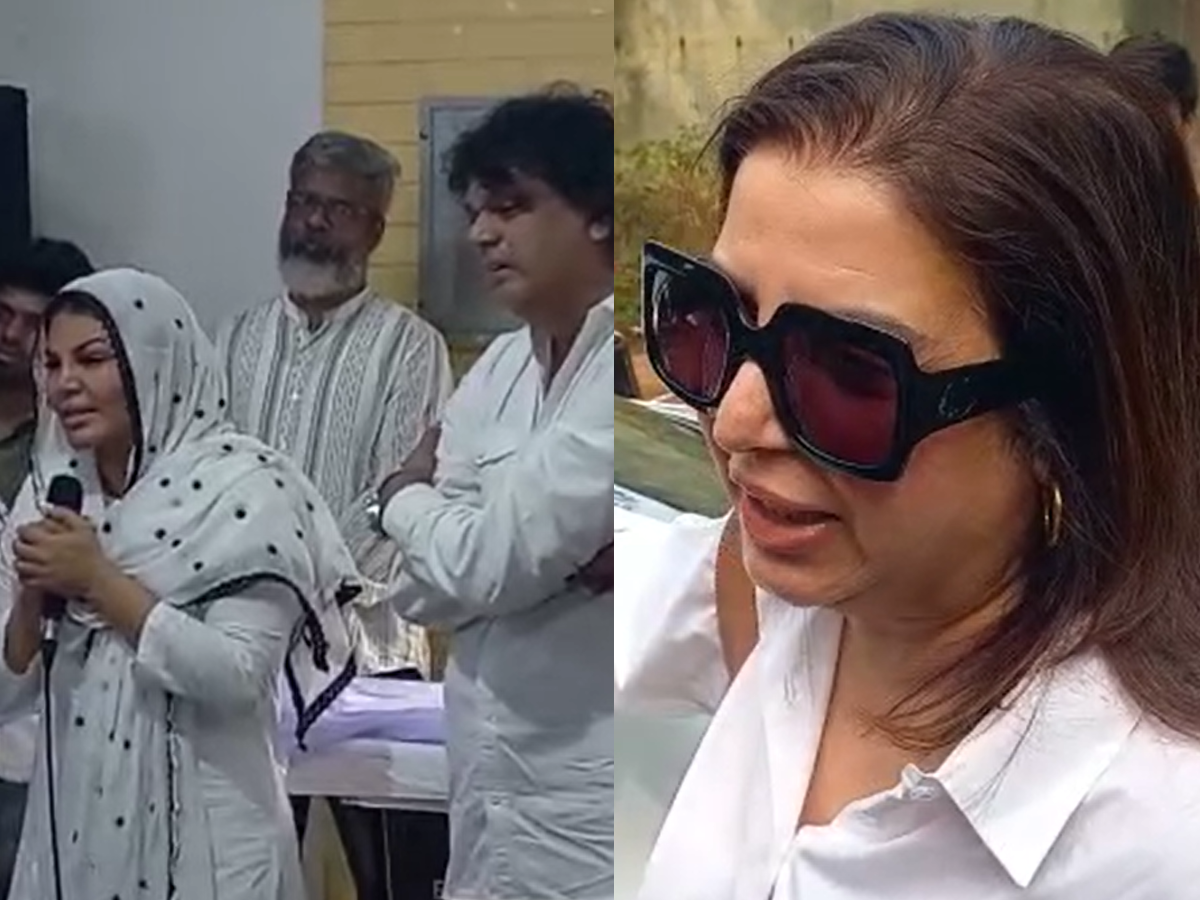 Rakhi Sawant's mother Jaya Bheda passed away on January 28 battling cancer. ETimes TV was the first one to share the news about her demise at the hospital in Mumbai. Her mother was admitted to Criticare Hospital for her treatment after she was diagnosed with a Brain tumor.
The funeral for Rakhi's mother is held at the cemetery in Oshiwara, Andheri. Rakhi and her brother Rakesh brought the mortal remains of their mother to the cemetery and they carried her to the cemetery hall for the last rites and burial. Her friends from the Industry Farah Khan, Rashami Desai, Sangeeta Kapure, and Ehsaan Qureshi arrive at the cemetery to attend the funeral.
Rakhi broke down in tears as the rituals began, Rashami tried consoling her but she cried inconsolably. Rakhi and her brother Rakesh chant the prayers for their mother one last time while Adil held her tight while she broke down.
Farah Khan arrived at the funeral and spoke to ETimes TV, she said, "It is extremely heartbreaking for anyone who loses their mother. Moms are always important. I haven't met her much but every time she was unwell I was on a call with Rakhi and I feel, you all should please give her some space while she is mourning. I am sure she has always made her mother proud and she will keep continuing to do that with her work."
Rashami Desai and her other friends refused to talk to media while leaving from the cemetery after the last rites. After performing the last rites, Rakhi and her brother shared their last message for their mother and thanked everyone who helped them emotionally and financially for their mother's treatment. Rakhi said, "I would like to thank everyone. Farah ma'am, Shilpa ma'am everyone for taking care of my mother. I didn't have a strong financial condition for her treatment but everyone helped me. She was a strong and brave woman, she fought cancer bravely. I pray to Jesus that cancer gets eradicated from this country. Till the end my mother was screaming, 'Dard ho raha hai, kidney mein, body mein, sir mein' (It is paining everywhere and can't bear it anymore)."