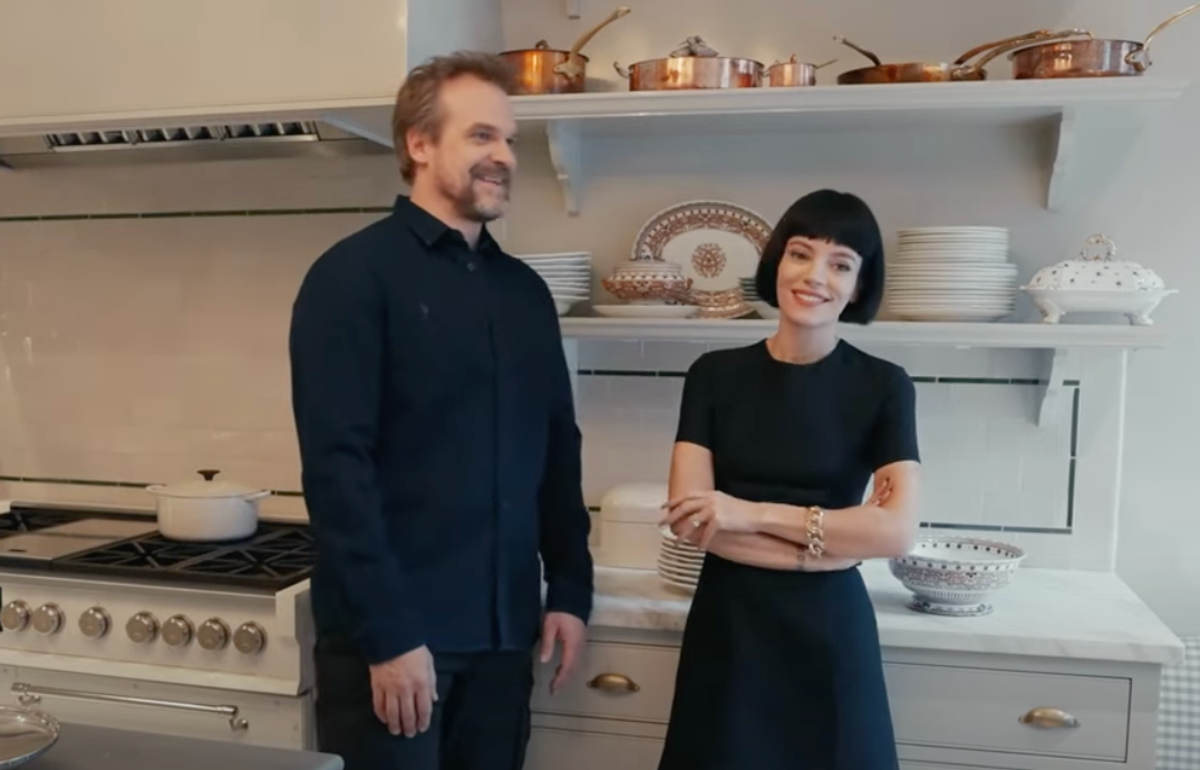 David Harbour and Lily Allen have shown off their Brooklyn "clown house," which has a $9,000 chandelier in it, prompting fans to praise their space.
The couple gave a tour of their brownstone, located in Brooklyn's Carroll Gardens neighbourhood, for a feature on the cover of Architectural Digest's March issue. The pair hired designer Billy Cotton and architect Ben Bischoff to create the home, which has been decorated with Mylar wallpaper and crystal chandeliers.
For the AD photoshoot, Allen and Harbour posed in their garden-themed living room, which featured multi-colored wallpaper and blue drapes on the walls. Some of the furniture in the room was green velvet including two chairs and a sofa.
The singer also described her home's kitchen area as the "beating heart of the house". In addition to all-white shelves and cabinets, the kitchen island's skirt, banquette, and chair were all made out of check fabric. The space was completed with a variety of items, including a $9,169 chandelier by Ralph Lauren and $280 pink and white dinner plates.
Allen wore a red Valentino dress for the photoshoot and posed in the main bathroom/sitting room. The space includes a pink door and tub, coral coloured chairs, and light blue wallpaper with pink flowers on it.  The primary bedroom also features some bright colours, such as light blue wallpaper and a bed covered in pink silk.
The musician joked about her style and how her family feels about it, adding to the publication: "My kids call this the clown house, but they say it in the most loving way."
Allen is the mother of two, Ethel, 11, and Marine, 10, whom she shares with ex-husband Sam Cooper.
On social media, fans have praised the home and expressed their desire to live there.
"RAH OK SO LILY ALLEN HAS MY DREAM HOUSE LIKE THAT? Ok," one person tweeted.
"Lily Allen and David Harbour's Italian nonna kitchen is my dream kitchen (in fact their whole house is my dream house)," another added.
A third said: "Lily Allen's house on insta is truly amazing."
Other people applauded the couple's decorating skills, one of which wrote: "Lily Allen and David Harbour's brooklyn townhouse is a rare [win] for rich people's interiors."
Architectural Digest also shared a video of the couple giving tour of the house, prompting fans to praise their relationship.
"A house ain't a home without love stored in its walls. You can feel how much love they have for eachother. So sweet," one person commented on the YouTube video.
"They are just such a cool couple and I love their quirky style. I was not expecting how floral some of their interior choices are, but I think they seem to be very attuned and open to each others' tastes," another added.
Elsewhere in the interview with Architectural Digest, Cotton said the couple's goal for their home was to look like it was inherited from "a kooky Italian nonna with fabulous taste," while still embodying the designers of a modern Brooklyn townhouse. Allen then praised her team for helping bring the finished product to life.
"I've always been interested in interiors, and I've always done my own homes. But this was a big undertaking, and I needed help. Together, Billy and I tried to reach for something weird and wonderful."
Harbour credited his spouse for her design skills, adding: "Lily is someone who lives with colour in a deeper way than most. Her taste is bold, silly, fun, eccentric—it's exciting."