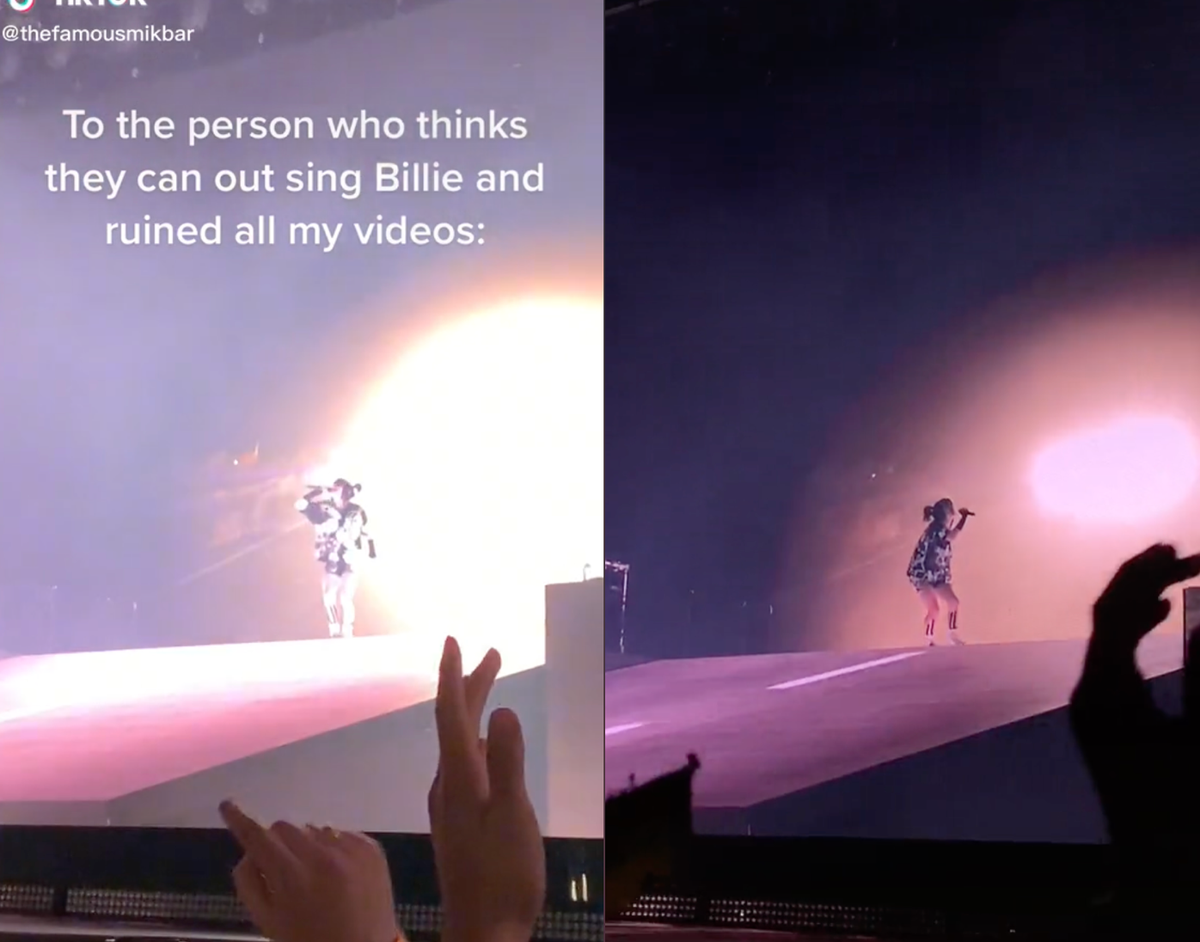 Resurfaced video of a fan who sang louder than Billie Eilish at a show has sparked a debate about concert etiquette.
YouTuber Tyler Oakley took to Twitter to post a viral TikTok video from September 2022 of fans at one of Eilish's concerts. It was filmed by TikTok user @thefamousmikbar, who criticised one concert attendee, saying: "To the person who thinks they can out sing Billie and ruined all my videos."
Throughout the different clips, a woman could be heard singing along, very loudly, to the songs that Eilish was performing. @thefamousmikbar mocked the fan in the caption of the video, which has more than 3.6 million views. "You're not the main character,"  she wrote, along with the rolling-eye emoji.
In his recent tweet, Oakley joined in on the criticism, writing: "The way this would ruin my entire experience, unfortunately.
"Concerts are to hear the artist sing live, not to hear some girl who thinks she's the artist people came for. like… if you want to perform, sing in the shower. & we shall disagree!"
Oakley also detailed why he takes on concerts in defence of artists and concert-goers in general, if they are surrounded by a fan who has an overpowering singing voice.
"I do think if the performer on stage has to compete with someone trying to riff & outsing from the audience, that might be distracting for the audience (clearly it was! people were looking back!). Etiquette!" he added.
As of 21 March, Oakley's post has more than 10.7 million views, with many Twitter users criticising his take on concert etiquette and explaining why they like singing as loud as they please at these events.
"If you want to have spectacular audio, listen to the studio recordings, that's what they are for. concerts are to live them, not to record them and show them on social media," one wrote.
"I don't know about you but I love going to concerts and trying to out sing one of the best voices of a generation," another added.
A third said: "I hate this new thing where you're supposed to stand still and not sing or dance at a concert. No. People paid to dance and sing along with their favourite artist. Stop whining."
On the other hand, some people agreed with the YouTuber and described what they thought were other examples of bad concert etiquette.
"This is like just as bad as all the fan clacking and whistle blowing that happens at edm shows during the songs," one person responded to the tweet. "This is probably worse though."
"Can we normalise not being weirdos at concerts plz?" another wrote. "There was a girl at the barrier for Lizzo who kept throwing a sign up trying to get called on stage blocking my view until me and multiple ppl asked her to stop…You're there to experience something, not be experienced by others!"
Some people acknowledged that there can be a balance between singing and how loud you sing at concerts, one of which explained: "It's great to sing along and enjoy the concert, but just be mindful of the people around you who paid to hear the artist & to enjoy the atmosphere also."
Over the weekend, another fan's loud singing at the opening night of Taylor Swift's Eras Tour also sparked a debate about concert etiquette. In a video TikTok, one concert guest could be hear screaming during the show, with Swift's voice drowned out by this shouting. While many fans responding by endorsing this concert behaviour, others felt like screaming was "inappropriate" because it was difficult for fans to hear Swift.