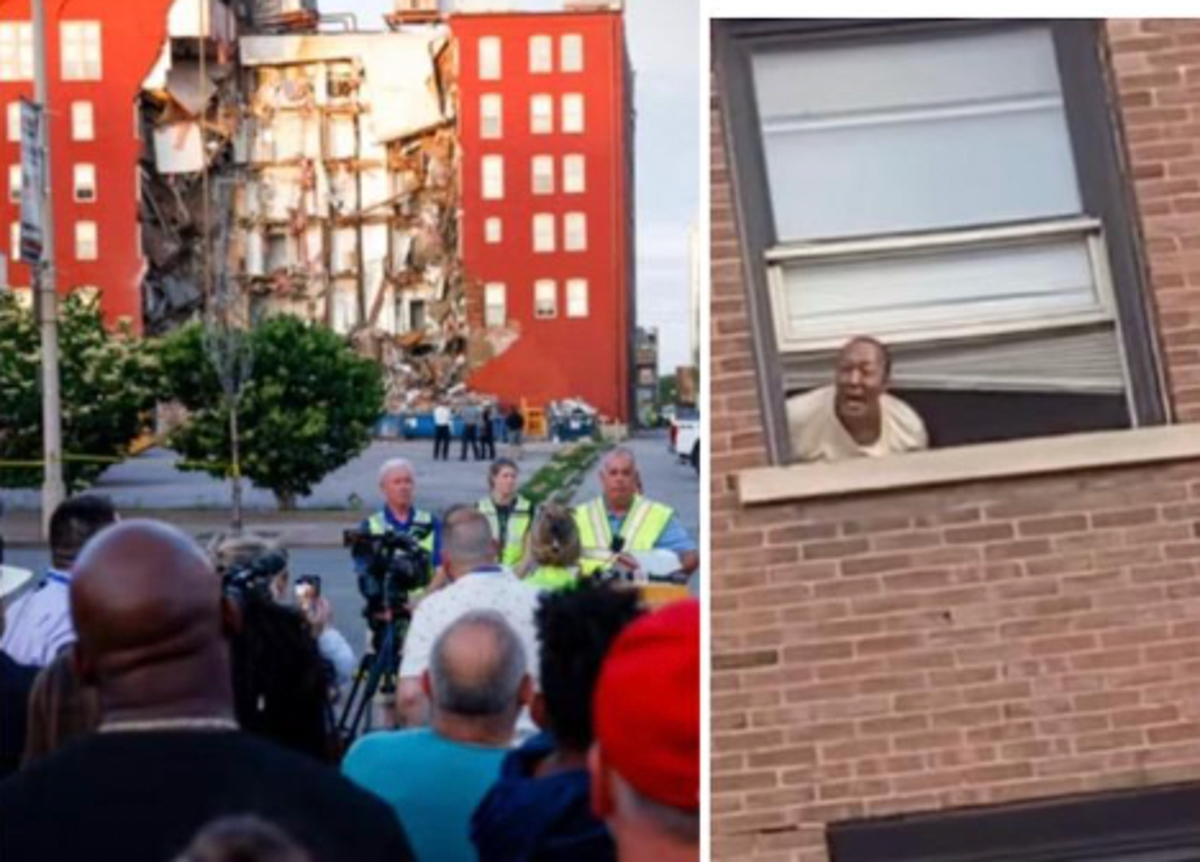 A woman who was rescued nearly 24 hours after the collapse of her apartment building in Davenport, Iowa, narrowly escaped getting caught up in a planned demolition. Her family are crediting her escape not to rescue crews but to people shouting her name from the street.
Lisa Brooks was speaking with a relative on the phone when her six-storey apartment complex on 324 Main Street fell down on Sunday evening. Eight people were rescued within the first twelve hours of the tragedy, but there were no signs of Ms Brooks.
For an entire day, family members hoped for a miracle amid reports by city officials that demolition was imminent as the structure was too unstable. But at the eleventh hour, Ms Brooks was rescued by firefighters after she managed to call her daughter and alert authorities to her whereabouts.
Ms Brooks' great-granddaughter Pauletta Joeanna told The Independent on Tuesday that Ms Brooks was unconscious for a long time. She attributed her great-grandmother's last-minute escape in part to family members who were at the scene. Dramatic footage posted by Ms Joeanna also shows Ms Brooks escape as she is lowered to safety by a firefighter.
"She's at home, she's fine now. She had passed out under the couch and the only reason she woke up is because we were yelling her name," Ms Joeanna said.
At a press conference on Tuesday, Davenport Mayor Mike Matson admitted that he does not know why Ms Brooks hadn't been found sooner despite the use of K-9 units to search for humans in the rubble.
"A common question is, why was she still there and why wasn't she found earlier? I'm going to be completely transparent with you, I do not know. We do not know. But understand that I, and the city, are committed to finding out why," Mr Matson said.
The mayor also confirmed that five tenants are unaccounted for. Two of them, Branden Colvin and Ryan Hitchcock, are believed to be in the building. On Tuesday morning, a crowd gathered in front of the building with signs reading "Corruption Collapses Communities" and chanting "Save Branden, save Ryan!"
The transition into a recovery phase and plans for the demolition were announced not even 24 hours after the collapse, but authorities have since said they began the permitting process but will stage the demolition in a moderate and controlled manner at a later time.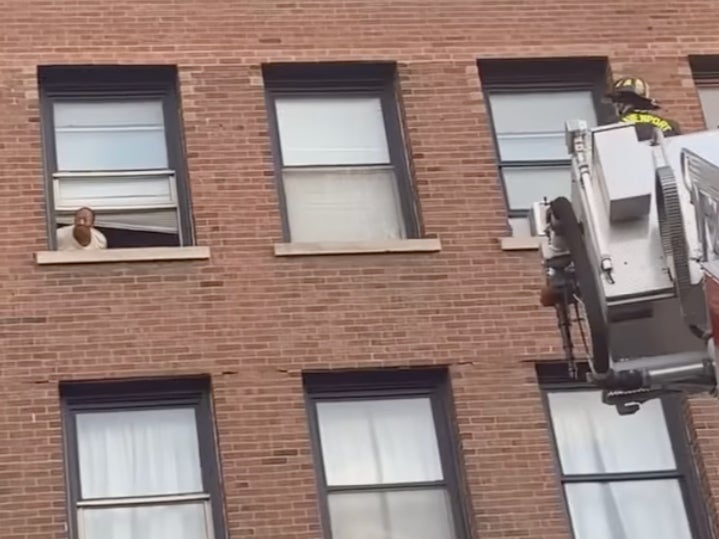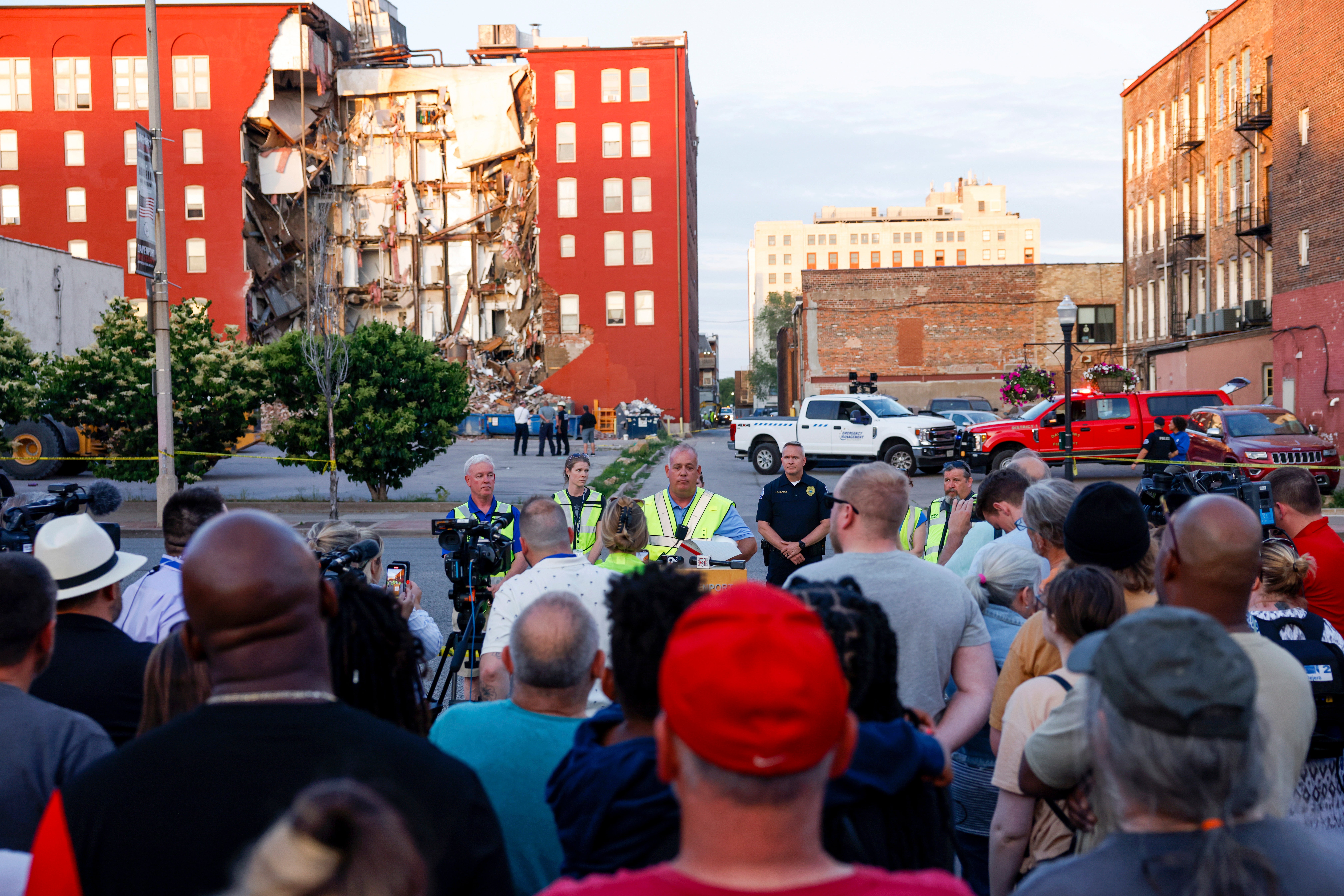 "In the interest of public safety, the City has been continually evaluating the timing of the demolition of 324 Main Street since its initial collapse 36 hours ago," a city strategy officer told KWQC in a statement.
"Demolition is a multi-phase process that includes permitting and staging of equipment that will begin today. The timing of the physical demolition of the property is still being evaluated. The building remains structurally insecure and in imminent danger of collapse."
Confronted by reporters, Mr Matson said that "demolitions plans have been continuously evaluated" but refused to address whether Ms Brooks' rescue was a determinant factor in the reassessment.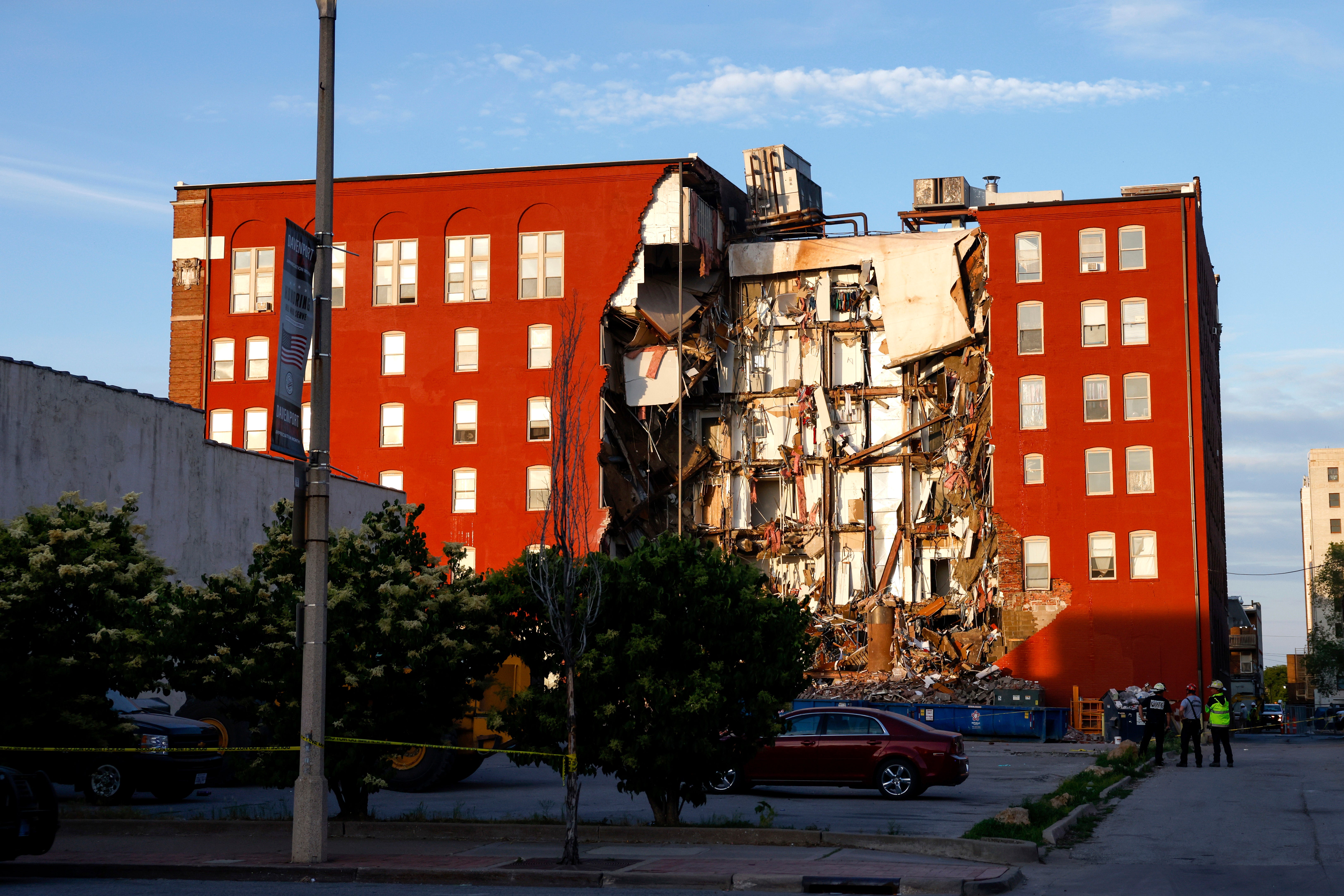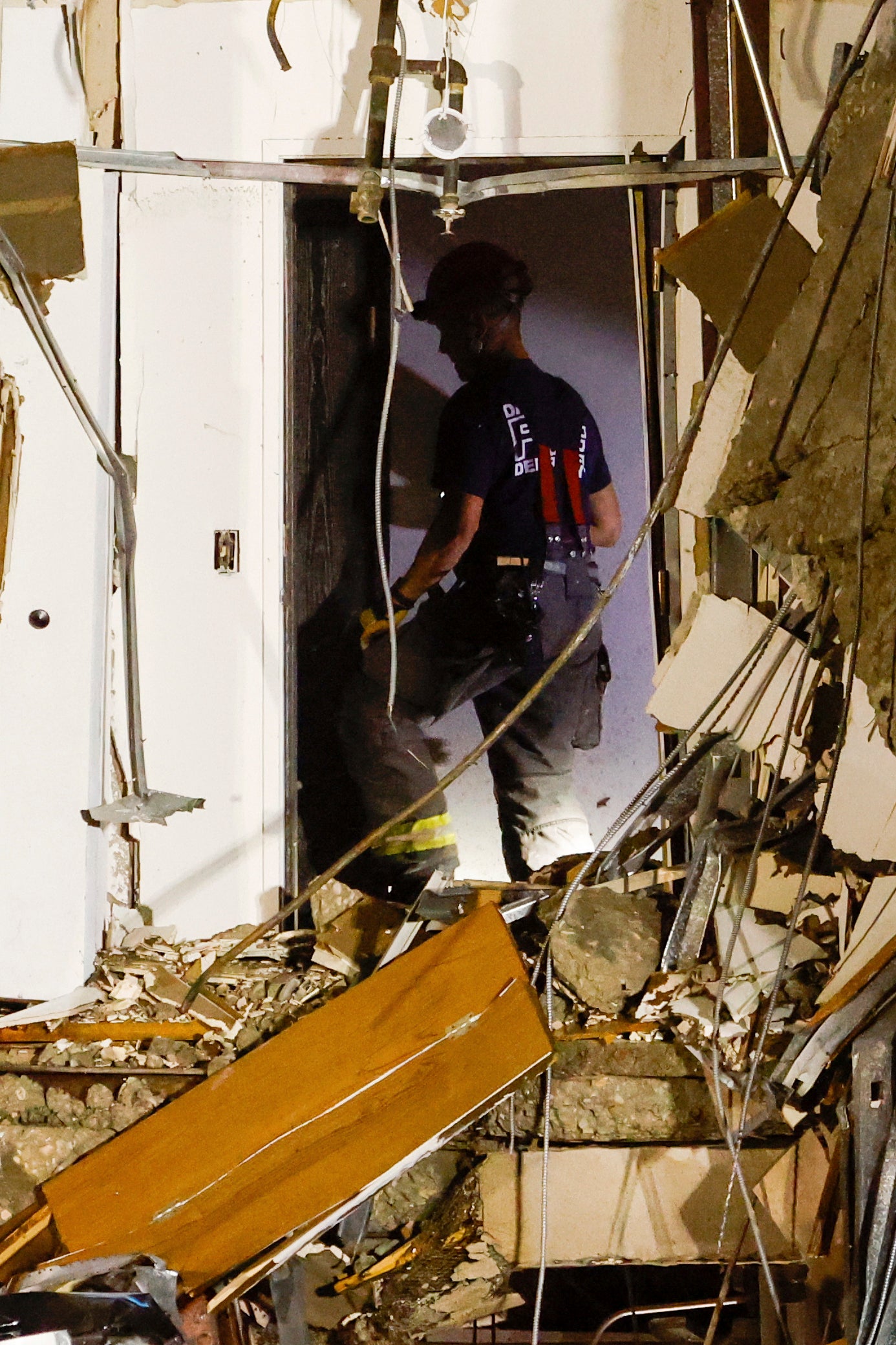 Davenport Police Chief Jeff Bledel said that the department had contingency meetings on Monday night with the families of Mr Colvin and Mr Hitchcock, the men feared to still be in the building, to debrief the ongoing operations.
Experts have said the structure built in the 1900s is extremely unstable. Because of the layout of the building, with the rear brick part holding together much of the steel structure, officials said there were likely no void spaces where trapped victims could have taken shelter.
Authorities said its brittle condition is worsening with time and the possibility of another collapse is now imminent.
"We want to get everyone out, we want to do it right now," Fire Marshal J Morris said as he broke down in tears at Tuesday's press conference. "So understand, it's not that we don't want to do this ... it's that we have to do it in a safe manner."
Mayor Matson praised first responders for risking their lives with their swift response and decried criticism sparked after the search was called off. He said surgeons were performing trauma surgeries in the surroundings of the collapsed building and firefighters had gone inside void places that were extremely dangerous to get into, with the only focus to save lives.
"All of those folks got here in the middle of the night, immediately assessing ... [knowing] that thing is unsafe and going anywhere," he said.
"There heroes that have gone inside this building ... get off of that. Do you want to come at somebody? Here, I'm standing right in front of you. They're the people who are saving lives."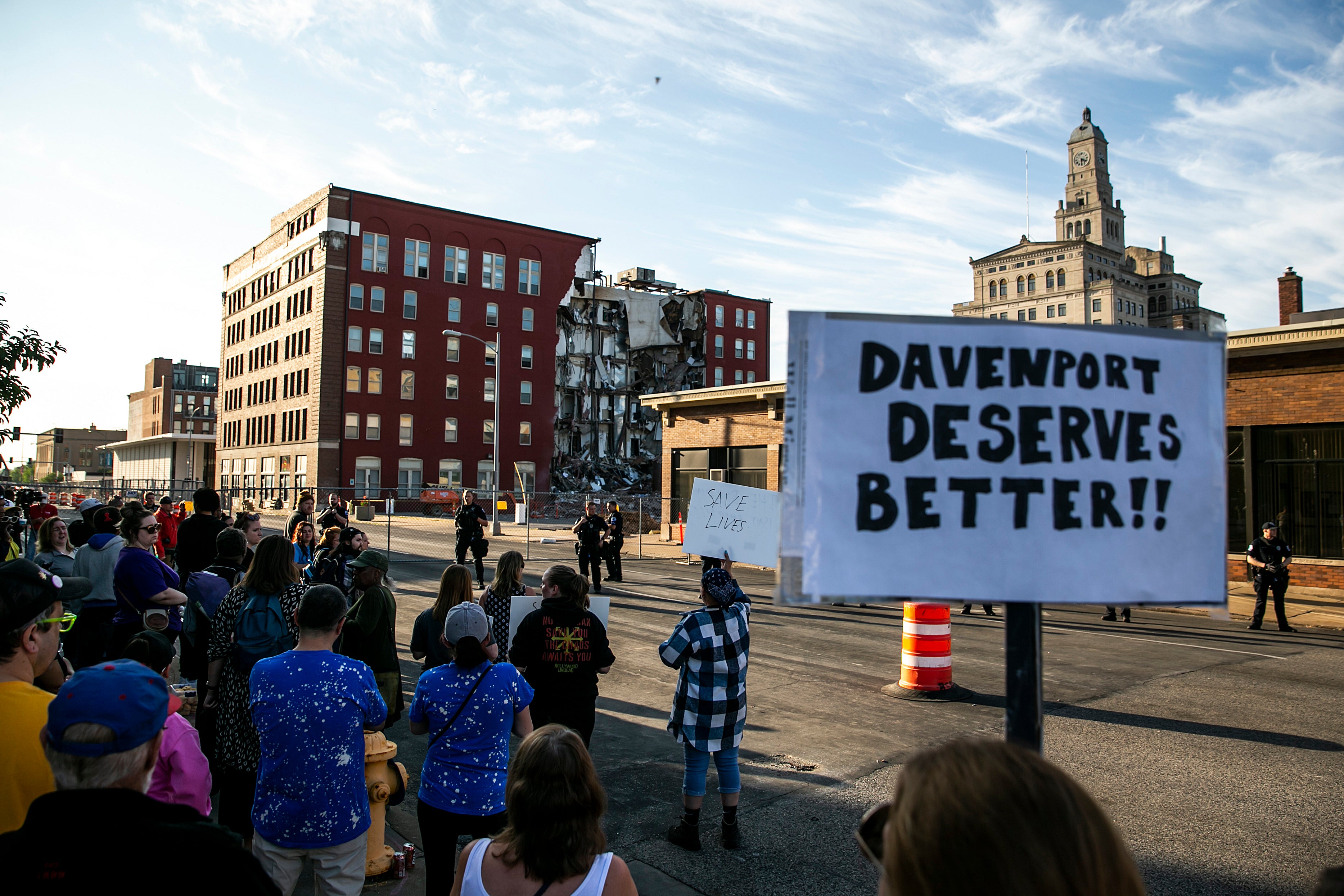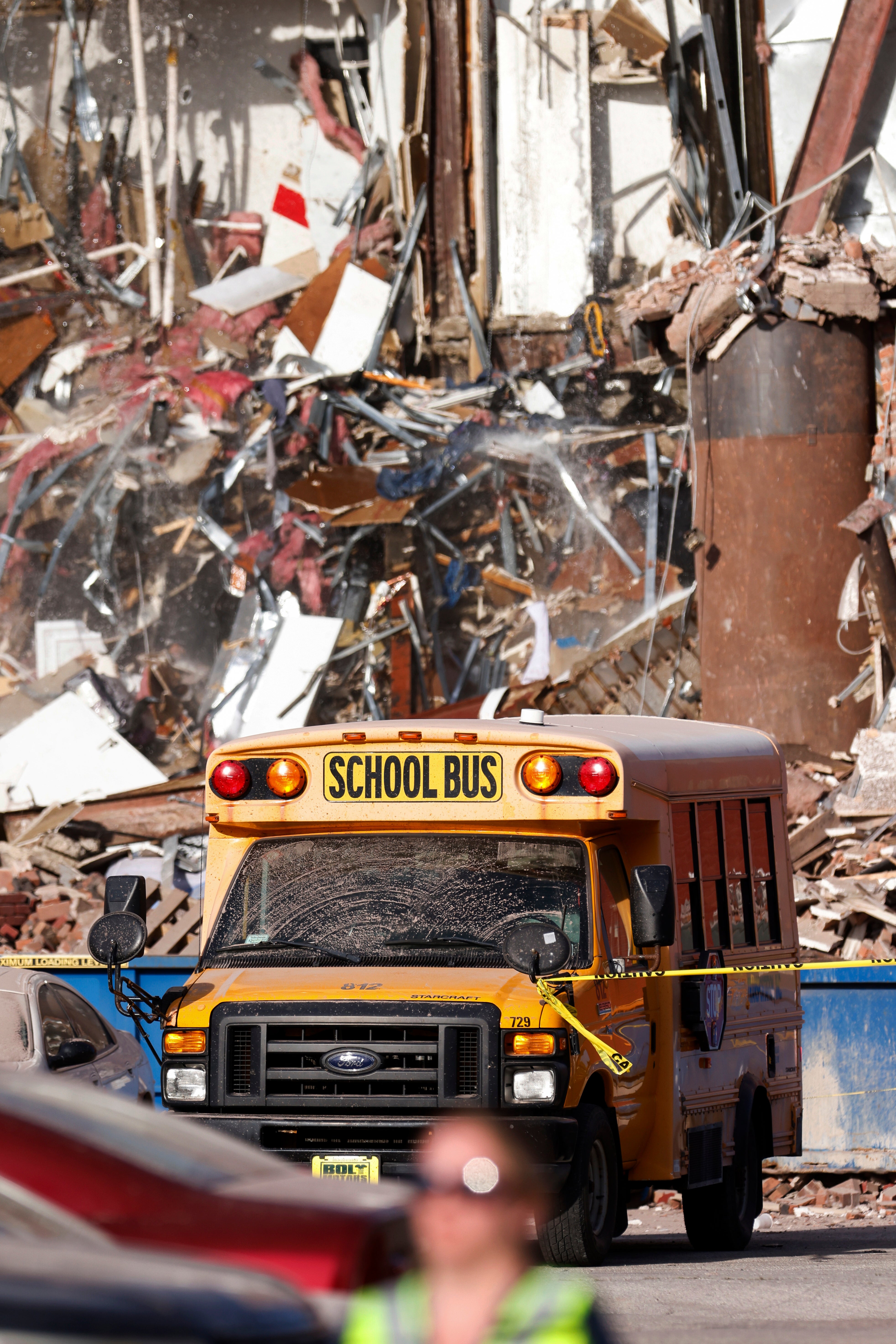 The city has been in contact with the building owner Andrew Wold. Mr Morris said that state agencies are coordinating what agency will take the lead in the investigation but no criminal charges have been filed yet.
Despite a myriad of reports from past and current tenants that the building's conditions were unsafe, a structural engineer hired by the owner deemed the structure safe.
Residents of the building had long complained about issues with it. Last year, nearly 20 permits were filed, mainly for plumbing or electrical issues, according to the Associated Press. The last permit for the building was filed on March 2 and had "misc" listed in the description.
Resident Todd Wilson said that he received a call from the city last year telling him to evacuate his apartment within 48 hours because bricks were falling off.
"What they did was they switched ownership and they gave them time to fix it, but they didn't do it properly," Mr Wilson told The Quad-City Times.
Jennifer Smith, whose business is located in the building, said she first heard about the explosion from her husband, who works for Mid-American Energy.
"It sounds bad, but we have been calling the city and giving complaints since December. Our bathroom caved in December," Ms Smith told the Quad-City Times. "The tenants told us the building was going to collapse."
Ms Smith said water damage has been apparent since they moved into their space in the winter. Her company's co-owner, Deonte Mack, said fire crews were in the building as recently as Thursday for an inspection.
The Quad-City Times reports the builder owner is 41-year-old Andrew Wold. According to a profile published on the outlet's website in 2016, Mr Wold is an avid real estate buyer with a large portfolio.
"I like to buy blocks," he said at the time. "I like to be able to control the area, to kind of police it."
A working phone number for Mr Wold was not immediately available.