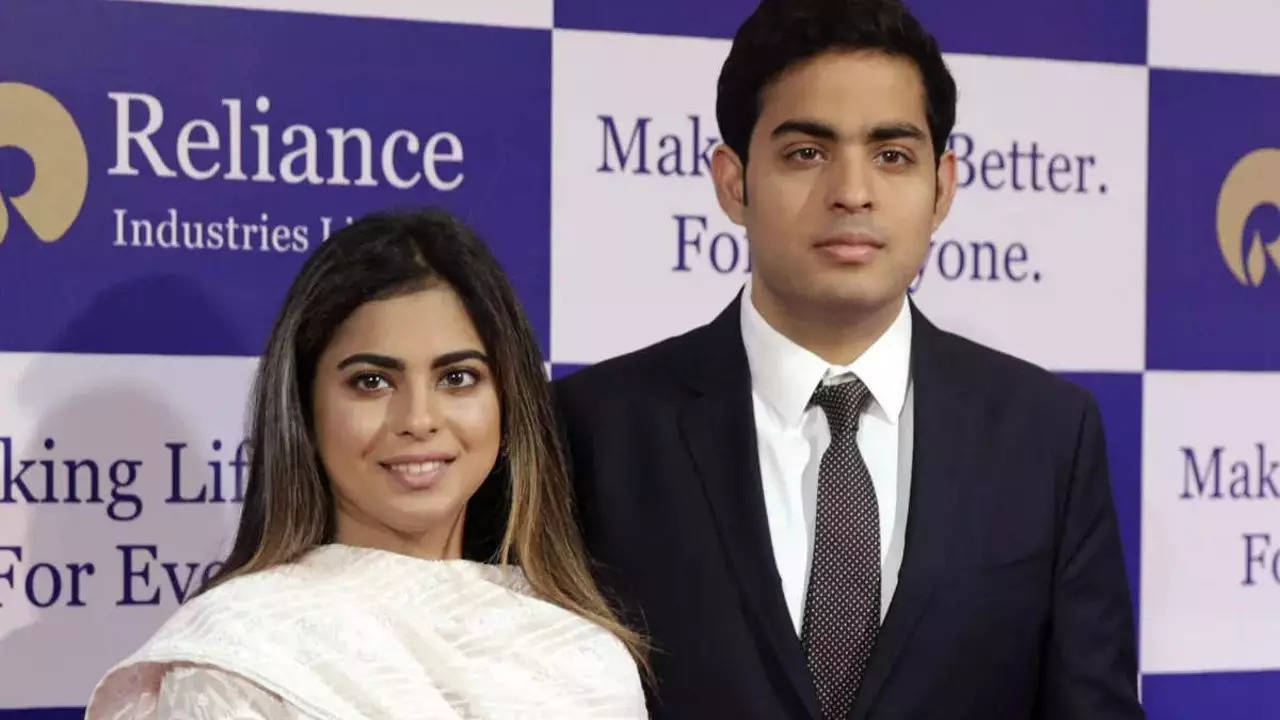 NEW DELHI: Mukesh Ambani, the chairman of India's most valued firm Reliance Industries, has taken the first step to pass on the reins of leadership to the next generation of Ambanis.
Earlier this week, Asia's richest man, decided to step down from the board of his $217 billion telecom arm, Reliance Jio and announced that his elder son, Akash Ambani, will step into his shoes as the chairman of board of directors of Jio.
There are also reports that daughter Isha Ambani will be named chairman of Reliance's retail unit. At present, she is the director of Reliance Retail Ventures.
However, daddy Ambani will continue to be the chairman and managing director of Reliance Industries Ltd. His wife Nita, 59, too is on board of Reliance.
Mukesh Ambani will also continue to be the chairman of Jio Platforms Ltd - the flagship company that owns all Jio digital services brands including Reliance Jio Infocomm.
In the company's annual general meeting (AGM) last year, Ambani had indicated that his children -- Akash, Isha and Anant -- will find a prominent place in the family's vast empire. He had then said: "I have no doubt whatsoever that the next generation of leaders at Reliance, led by Isha, Akash and Anant, will further enrich this precious legacy."
However, there is a stark difference in the form of empire that their father inherited and the one that they will be taking over. While Ambani was the main anchor of Reliance's successful journey over the years from textile to telecom, the genZ have a hefty task on their shoulders -- to carry on the legacy that their father built.
It all started with a man's vision...
With the dream of creating India's largest company, Dhirubhai Ambani started a yarn trading business from a small 500 square feet office in Mumbai in the 1960s. Known as Reliance Commercial Corporation, the company manufactured synthetic blended yarns and fabrics, polyester, blended yarns and fabric, polyester and more.
In 1977, the company got listed on the bourses as Reliance Textiles Ltd. The initial public offer created history by introducing a kind of equity cult in stock markets in India. It won't be wrong to say that the course of domestic equity indices changed since RIL's listing. The issue was oversubscribed 7 times, thereby strengthening its growth ambitions further. In 1985, the company's name was changed to Reliance Industries Ltd.
Dhirubhai was convinced that India could become an economic superpower within a short period of time and wanted Reliance to play an important role in realising that goal. Today, the Group's turnover represents nearly 3 per cent of India's GDP, according to the company's website.
In a way, Dhirubhai laid a perfect path for his sons to walk upon. He challenged the conventional wisdom by recognising the strategic significance of investors, discovering the vast untapped potential of the capital markets and channelising it for growth.
Legacy continued
Mukesh Ambani has been on RIL's board since 1977. He spearheaded the company's glorious journey from textiles to fibre, and further on to petrochemicals, refining and energy.
RIL became the first private company to be listed internationally in 1996. It was also the first private sector firm from India to be rated by international credit rating agencies.
In 2000, Reliance commissioned the world's largest grassroots refinery in Jamnagar in a record 36 months. Today, it has become the refining hub of the world. The refinery has a capacity of 660,000 barrels per day (33 million tonnes a year), and integrated it with petrochemicals, power generation, port and related infrastructure. He also set up another 580,000-barrels-per-day refinery next to the first one in Jamnagar.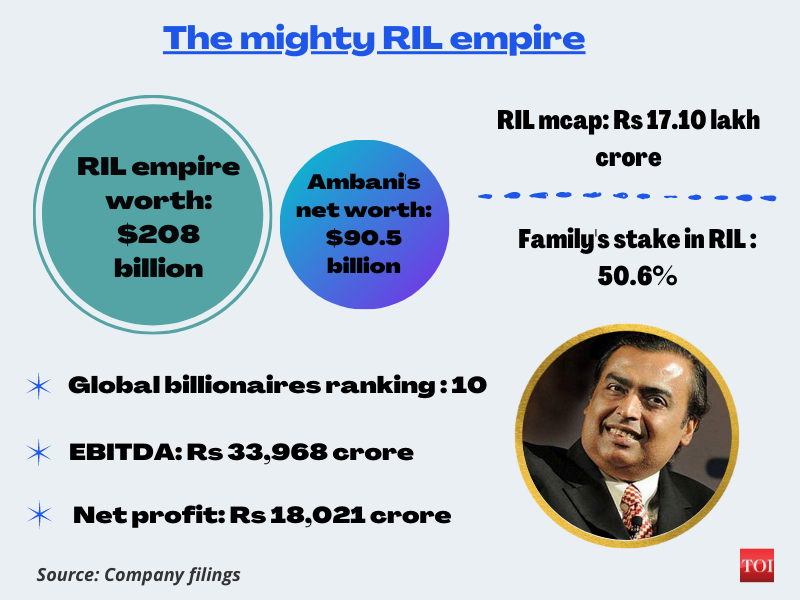 Two years later, RIL entered the telecom space with Jio and brought about a revolution in the way India connected. RIL ushered in a pan-India revolution through wireless broadband 4G services, thereby playing a huge role in bridging the country's digital divide. Jio Platforms houses India's youngest but largest telecom firm and apps.
Further, Reliance Retail was founded with a view to revolutionise the retail space. It caters to five key consumption baskets namely, consumer electronics, pharma, fashion & lifestyle, connectivity and grocery. Since its inception in 2006, the retail arm has grown to cater to millions of customers, and thousands of farmers and vendors.
In other words, in his 2 decades at the helm Ambani has transformed Reliance. The conglomerate's diversification into different sectors has gone into an overdrive over the past 5 years as it took on Amazon and Walmart in the budding e-retail space and also has plans to launch 5G in India.
The company now has decided to demerge its power generation, financial services and telecommunication arm into separate entities.
Withstanding turbulent times
Dhirubhai Ambani led the family -- along with his two sons Mukesh and Anil -- to great heights. But, the family plunged into chaos after his sudden death in 2002.
Differences cropped up between Mukesh and his younger brother Anil and after three years of a bitter relationship, mother Kokilaben in 2005 divided Reliance's assets. Mukesh got refining, petrochemicals, oil and gas and textile businesses, while Anil was made in charge of telecommunications, asset management, entertainment and power generation businesses.
Over years, Mukesh Ambani transformed Reliance into a behemoth with re-entry into the telecom business in the form of Reliance Jio as well as with forays into retailing and clean energy, while Anil Ambani's business empire crumbled.
Since 2019, Mukesh Ambani has been slowly overhauling the top-heavy hierarchy at Reliance to improve governance in line with global standards. He sold a 32.97 per cent stake in Jio Platforms to likes of Google, Facebook and other venture capitals and got a clutch of foreign investors in the retail venture.
In Reliance's new structure, different business verticals will be run like independent businesses. There will be no interdependencies between group companies for raising capital or debt servicing. The Ambani family is also consolidating its ownership in the company.
Biggest wealth creator
Reliance has always been a favoured stock for investors. In the company's 40th annual general meeting (AGM), back in 2017, Ambani had highlighted that an investment of Rs 1,000 in the company's shares in 1977 has turned into Rs 16.5 lakh in 2017.
Since 2019, RIL's stock price witnessed over 125 per cent jump from Rs 1,121.35 to Rs Rs 2,529 at present.
The share has been one of the biggest drivers of BSE sensex index. RIL managed to withstand the Covid-19 induced disruptions in the market and its stock has been a secure bet for the investors.
The stock recovered 186 per cent from pandemic low of Rs 883.85, to Rs 2,529 a piece at present.
Reliance has retained the top spot as India's most valuable company by market capitalisation since a long time now. It is the first Indian firm to have crossed Rs 17 lakh crore m-cap.
Data available with Refinitiv showed the firm's mcap jumped by a whopping 936 per cent from Rs 1.65 lakh crore in 1998 to Rs 17.10 lakh crore as of June 28. This clearly shows the stellar returns shareholders of the stock must have made.
A study released by Motilal Oswal in 2020 had found Reliance Industries to be the biggest wealth creator between 2016-21. The company created a wealth of Rs 9.7 lakh crore during this period.
This is by far the highest ever wealth the conglomerate has generated, beating its own previous record of Rs 5.6 lakh crore in 2014-19. The company accounted for 13.6 per cent of the total wealth created by top 10 companies during the period.
Who holds what
Reliance has three broad businesses - oil refining and petrochemicals, retail and digital services that include telecom. While retail and digital services are housed in separate wholly-owned subsidiaries, the oil-to-chemical or O2C business is a functional division of Reliance. The new energy business is also with the parent firm.
As per company filings, the Ambani family's current stake in Reliance has risen to 50.6 per cent from 47.27 per cent in March 2019.
Akash and Isha have been on the boards of Reliance Retail Ventures Ltd - the company that operates supermarkets offering consumer electronics, food and grocery, fashion, jewellery, footwear, and clothing, as well as the online retail venture, JioMart - and digital arm Jio Platforms Ltd (JPL) since October 2014.
Anant, 26, has recently been inducted as a director on RRVL. He has been a director on JPL since May 2020.
Ambani to go the Walton way?
According to a report by Bloomberg, for years Mukesh Ambani has studied the ways in which billionaire families, from the Waltons to the Kochs, passed on what they'd built to the next generation.
The report said that Ambani's succession plan shares elements with that of Walmart's Walton family, and could provide the framework for one of the biggest transfers of wealth in recent times. Ambani is considering moving his family's holdings into a trust-like structure that will control the Mumbai-listed flagship Reliance Industries, the report added.
The Walton family model reflects unusual prescience on the part of founder Sam, who built the now global giant from a handful of five-and-dime stores. He started preparing for succession in 1953 — almost 40 years before he died — by passing 80 per cent of the family business to his four children: Alice, Rob, Jim and John. That minimized estate taxes and helped the family retain control even as the company grew into the world's largest retailer.
The Waltons currently own about 47 per cent of Walmart through Walton Enterprises LLC and other family-owned trusts, according to data compiled by Bloomberg.
Akash gets Jio, retail for Isha
It is finally time for Asia's richest man to bring into reality his blueprint for the next stage of this mammoth $208 billion empire. Tuesday's announcement can be taken to be a trailer of an even bigger picture that is yet to come.
Akash, along with his twin sister Isha, have already played key roles in the company's shift towards retail and technology.
An economics graduate from Brown University in the US, Akash had been closely involved with the launch of JioPhone in 2017. Reports suggest he also played an instrumental role in RIL's acquisitions in the digital space and the development of new technologies such as artificial intelligence (AI) and blockchain.
Isha has a business management degree from Stanford. Fortune magazine last year referred to her as "Heiress on Duty" while ranking her the 21st most powerful woman in India. She is also involved in expanding Reliance's presence in fashion through the company's Ajio e-commerce app as well as Reliance's partnerships with top international brands.
As both Akash and Isha prepare to take over the reins from his father, how they manage the responsibilities and their strategic decisions will be closely watched by all quarters.
Going by Mukesh Ambani's words, "The best is yet to come."