Kentucky's home loss to South Carolina this week was one of the most shocking results of the season. For context: The Wildcats were favored by more against the Gamecocks than they were against Saint Peter's in last year's NCAA tournament. The loss only further increased the tension in Lexington, where John Calipari's program has slumped in recent years. With defending National Player of the Year Oscar Tshiebwe back, no one saw the Wildcats' struggles coming.

Here's a look at what has gone wrong for Kentucky as it teeters on the bubble in mid-January.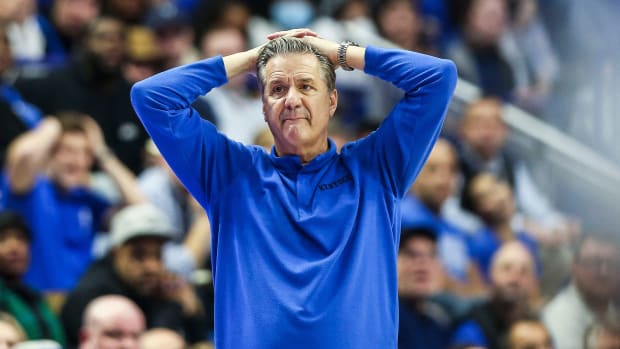 Poor Offensive Execution and Spacing
This Twitter thread from Field of 68 analyst (and former Clemson guard) Terrence Oglesby does a great job of capturing some of Kentucky's flaws offensively. In short, several of the staple actions in Kentucky's offense that have been modernized in recent years to increase spacing by other programs haven't been tweaked by the Wildcats, and there's a lack of purpose to the team's off-ball cutting and player movement that hurts its ability to get easy shots. As Oglesby puts it, "It's just so hard to win consistently when you rely on difficult shots to win." And when teams aren't afraid of your point guard (Sahvir Wheeler), power forward (Jacob Toppin or Chris Livingston) or center (Tshiebwe) from deep, difficult shots become more and more prevalent.
Data from Shot Quality backs that up: Kentucky ranks 342nd nationally in "rim and three rate," meaning it's taking more midrange jumpers than just about anyone in the country. That's generally not a recipe for success on the offensive end. It often feels like the Cats' best offense is just putting the ball on the rim and relying on Tshiebwe to go get it.
Bad Ball Screen Defense
Kentucky wasn't elite defensively last season, but the Wildcats have fallen off substantially from last year's 36th-ranked unit (per KenPom) to this season's group, which ranks 92nd. That drop becomes more puzzling when you consider that freshman Cason Wallace is an elite defensive player, both guarding the ball and getting steals in gaps. Many of Kentucky's issues on defense seem to stem from struggles defending ball screens, where Tshiebwe has gotten exposed some this year.
Alabama had tons of success attacking Tshiebwe in pick-and-roll situations, even playing him off the floor at times. Tshiebwe's the defending National Player of the Year and a necessity for this team on the glass, so it's not like sitting him is a real option. But his vulnerability in dealing with rollers in drop coverage has opened things up for opposing offenses, and poor rotations and communication haven't helped. Some of Kentucky's weak three-point defense can be attributed to bad luck, but not all of it can.
As Kentucky Goes, This Team Isn't That Talented
While Kentucky has enough talent to be better than its current 1–3 SEC mark, this is not some overwhelmingly talented roster. Maybe we'd perceive it differently had touted recruit Shaedon Sharpe not elected to forgo his collegiate career and head to the NBA a year early, but there's only one player on this team (Wallace) you can confidently say will have a long NBA career. Calipari has seemingly made a conscious decision lately (until the incoming 2023 class at least) to take more transfers and build a roster whose pieces fit together more smoothly than his one-and-done-heavy groups of the past. The problem right now is that the pieces don't seem to fit together any better than prior Kentucky teams, and this group isn't built to blow teams away on talent alone.
Again, had Sharpe played this year in Lexington, the talent disparity wouldn't be as noticeable. It also wouldn't shine through as much if Toppin had made the leap at power forward many expected in the preseason.
Watch college basketball with fuboTV. Start your free trial today.
A Lack of Effort
Perhaps the loss to South Carolina is enough to spark something in this Kentucky team, but the Wildcats' response to a disappointing start hasn't been the inspired one you'd expect from a team that has several players in their final year of college basketball. In postgame interviews, Tshiebwe did not mince words, saying "some of [my teammates] are not willing to fight" and even suggesting Calipari should have put in walk-ons to try to spark the team.
In some ways, Saturday's showdown with Tennessee in Knoxville could be the best thing for Kentucky right now. It's a low-expectation game the Wildcats are expected to lose on paper, against a team fully capable of bullying Kentucky physically if it doesn't bring the fight. If there's a time a fractured group could come together again, it would be for a game like this.
Institutional Dysfunction
The popular buzzword in college sports these days is "alignment"—coach, athletic director, president and all the other stakeholders in lockstep on key issues as things change rapidly in the industry. Institutional alignment appears to be lacking at Kentucky right now, most obviously illustrated by this summer's "basketball school" fiasco and reported on this week by The Athletic's Kyle Tucker.
Tucker reports that Calipari and athletic director Mitch Barnhart "no longer have a relationship of any significance" and "don't speak to each other." The "basketball school" comments tied back to Calipari's desire to build a new practice facility that Barnhart refuses to move forward on despite $30 million already pledged to the project. Tucker also reported resistance from Barnhart on Calipari expanding his support staff, the type of move that could potentially help Calipari from an X's and O's standpoint.