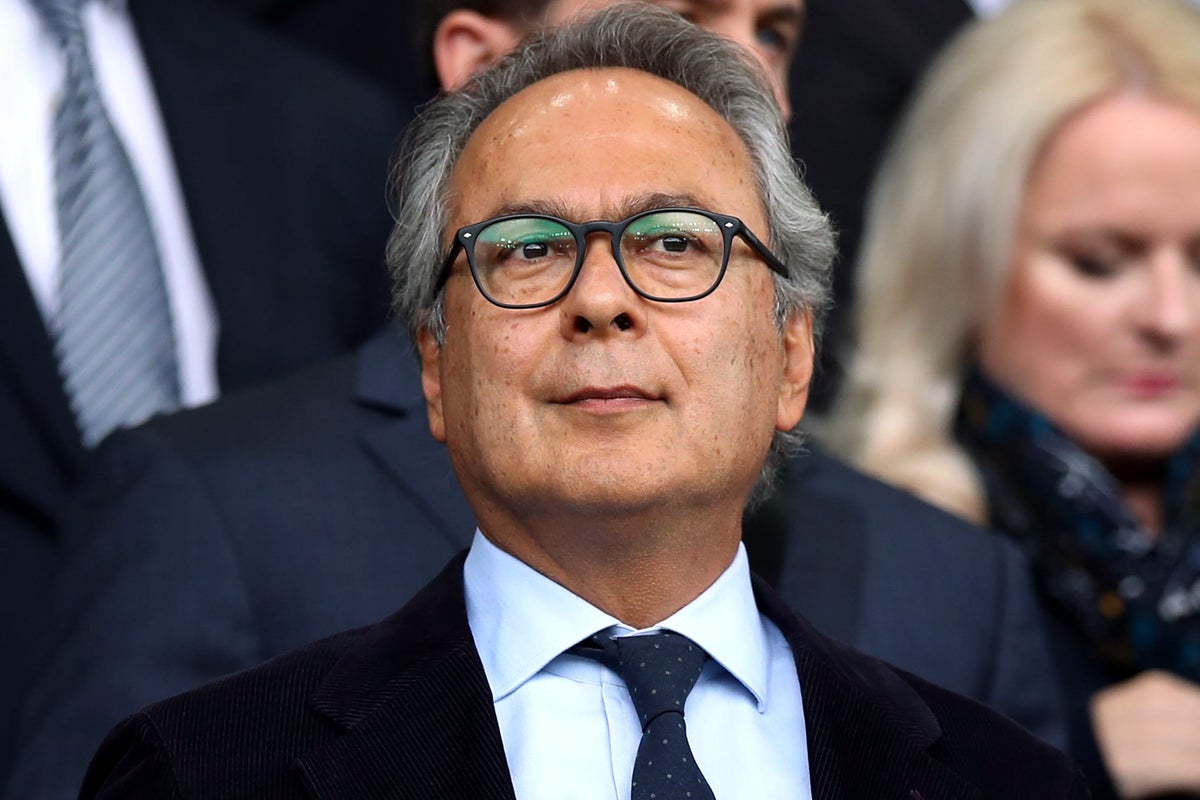 Everton owner Farhad Moshiri has insisted the troubled club is not for sale but said he is close to a deal with a minority investor to help finance their new stadium at Bramley-Moore Dock.
Moshiri has been searching for investment for almost a year and had described the cost of Bramley-Moore Dock as £500m before saying earlier this month it was £760m.
He had been in talks for several months with the American billionaire Maciej Kaminski but it is understood no discussions have taken place since the World Cup.
Moshiri claimed he has now found a partner who will provide extra funds and expertise as he said Everton, who are 19th in the Premier League and sacked manager Frank Lampard on Monday, are at their most critical time ever.
He told the club's Fan Advisory Board: "The club is not for sale but I have been talking to top investors, really quality, to bridge a gap on the stadium. I can do it myself and the reason I want to do it is to bring top sport investors to Everton. We are close to having a deal done. It is not selling the club at all. It is bringing more expertise in terms of sponsorship, commercial development and a lot of specialist sport investors have this pool of knowledge.
"The stadium is the best-performing area of our operation at the moment: on time, on budget. Once we get through the current underperformance fans can start dreaming with me.
"The stadium was never a luxury for Everton. For us, it was a necessity. If you want to start it today, the cost would be well in excess of £1.1 billion. This stadium lasts well past my tenure, well past our lives. It should be part of that hope for our fans to get us through this."
Moshiri was long-term business partners with Alisher Usmanov, the oligarch who was sanctioned after Russia's invasion of Ukraine, and Everton's finances have come under the spotlight after they cut ties with the billionaire. Usmanov's USM company had sponsored Everton's Finch Farm training ground and paid for the first option on the naming rights for Bramley-Moore Dock.
Supporters have called for the directors to be sacked but Moshiri said he had faith in the board, describing chairman Bill Kenwright as "one of the most loved and respected men in football" and praising chief executive Denise Barrett-Baxendale.
Moshiri did not address Lampard's departure or mention him in the video but said: "Our goal is never to be in the bottom three. This is the most critical time in our history. It is almost an existential point."
The British-Iranian billionaire insisted Everton, who have lost out to Tottenham for winger Arnaut Danjuma, will sign a forward in the January transfer window, adding: "I have no doubt the second half of the season will be stronger. Any deficiency in team performance will be dealt with."
Moshiri also admitted Everton's recruitment under his ownership has been poor but insisted: "In the six years since I bought the club, I never bought a single player."