EU moves to ban sale of forced labour products in pointed nod to Xinjiang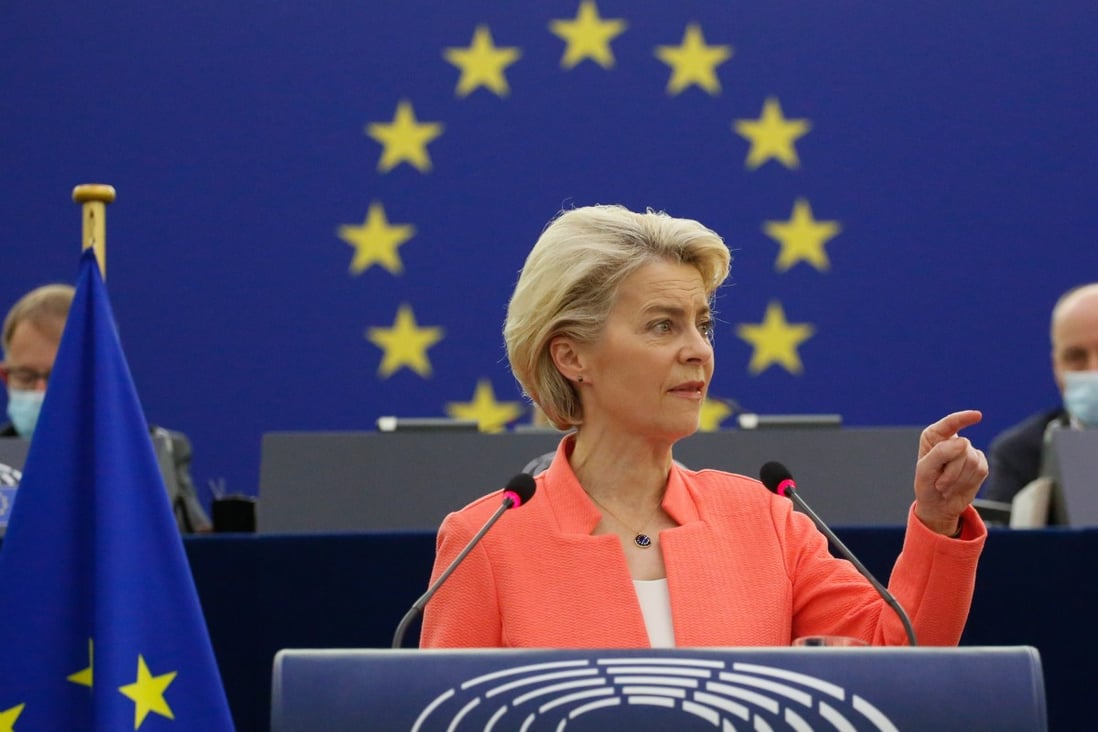 The European Union will move forward with a ban on forced labour products, European Commission President Ursula von der Leyen confirmed on Wednesday, a move widely seen as being directed at China.
Speaking at her second annual state-of-the-union address in Strasbourg, von der Leyen said that to ensure products made by people threatened or coerced into labour did not "end up for sale in shops here in Europe … we will propose a ban on products in our market that have been made by forced labour".
"Human rights are not for sale – at any price," she said.
The EU is expected to unveil a draft of its supply chain due diligence law aimed at tackling the issue later this year, among policy measures designed to tackle issues the bloc has with China.
Beijing has been accused of implementing a widespread programme of forced labour in the western region of Xinjiang, a charge it denies.
Von der Leyen's address was peppered with references to Europe's geopolitical concerns about China.
This week, Brussels will also announce further details of its nascent Indo-Pacific strategy. Von der Leyen said the plan was inspired by "the fact that autocratic regimes use [the region] to try to expand their influence".
"This is a template for how Europe can redesign its model to connect the world. We are good at financing roads. But it does not make sense for Europe to build a perfect road between a Chinese-owned copper mine and a Chinese-owned harbour," she said, alluding to the EU's new connectivity strategy she called "Global Gateway". It will also be revealed in draft form this month and is touted to rival China's Belt and Road Initiative.
She announced a new "European Chips Act" to reduce the EU's reliance on semiconductors from Asia as part of an overall strategy to boost the bloc's technological sovereignty.
"The aim is to jointly create a state-of-the-art European chip ecosystem, including production. That ensures our security of supply and will develop new markets for groundbreaking European tech," von der Leyen said.
On climate, she said "the goals President Xi [Jinping] has set for China are encouraging, but we call for that same leadership on setting out how China will get there".
"The world would be relieved if they showed they could peak emissions by mid-decade, and move away from coal at home and abroad."
Her speech comes amid pressure from the European Parliament to get tougher on China. MEPs have proposed a new position paper on China, making recommendations for changes in the EU's relationship with Beijing. The non-binding paper will be voted on this week.
Among other points, it calls on the EU to insist on a full investigation into the origins of the coronavirus pandemic, which was first detected in the central Chinese city of Wuhan. And it calls for the EU to use the debate around its stalled investment deal with China "as leverage to improve the protection of human rights and support for civil society" in mainland China and Hong Kong.
The report said the EU's new China policy should have six pillars, including cooperation on global challenges, engagement on international norms and human rights, building partnerships with like-minded partners, fostering strategic autonomy and defending European interests and values.
In a debate on Tuesday its main author, Belgian MEP Hilde Vautmans, said Europe "is not prepared" for the challenges posed by China.
"China's rise has only just begun. Some say Europe's decline started a long time ago. Let's prove them wrong and step up our ambition level, let's show that the time of naivety is over," Vautmans said.
European commissioner on international partnerships Jutta Urpilainen said "our values gap is growing", but she insisted that the EU's existing strategy for dealing with China was still relevant.
"I believe that our overall approach towards European Union-China relations, our multifaceted approach that treats China as a partner, competitor and rival, remains valid," Urpilainen said.
"China will remain an increasingly assertive global power that does not shy away from applying economic pressure on countries and actors whose policies it disagrees with. Our values gap is growing. So is the need for European Union solidarity and for signalling that certain actions are unacceptable," she added.
Urpilainen was delivering the remarks on behalf of Josep Borrell, foreign policy chief of the 27-member bloc.
The EU's relations with China had become "increasingly challenging" since the imposition of tit-for-tat sanctions by both sides over Beijing's treatment of Uygur Muslims in Xinjiang, she said.
European perceptions of China, its biggest trading partner, have undergone a sea change since the EU designated China a systemic rival in 2019, and over the course of the pandemic.
Brussels views Beijing as a partner on issues such as trade and climate change, but has stepped up efforts to confront China over issues such as Hong Kong and Xinjiang.
Urpilainen blamed China for the worsening bilateral ties, particularly Beijing's sanctioning of members of the parliament, which led to the suspension of the investment agreement that had taken seven years to negotiate. In May, MEPs voted to stall the deal until sanctions were removed.
A new rift has recently opened up in the EU-China relationship in Lithuania, where a row erupted over the opening of a "Taiwan Representative Office" in the capital Vilnius. Beijing said the move breached Brussels' one China policy, a claim denied by both Lithuania and the EU.
China responded by recalling its ambassador to Vilnius and insisting Lithuania do the same. Chinese freight trains bound for Lithuania were stalled, while certain export licences were revoked in response to the row, for which Vilnius has been seeking stronger support from the EU.
The highest-level support yet emerged in the form of a letter from Slovenian Prime Minister Janez Janša to other EU member state leaders, calling for them to use an informal dinner on October 5 as a forum to devise "concrete steps" to support Lithuania in the row. Slovenia is the current holder of the EU presidency.
"We will be able to face China successfully only with a united, coherent and common approach. We must stand by every EU member state that is facing pressure. While respecting our long-lasting one China policy, Taiwan remains our important partner. This should not be denied. Lithuania, as all EU member states, is a sovereign country and has every right to develop relations with Taiwan. We must show more proactive and assertive solidarity with Lithuania. We must show China that we stand with each other, and that we will not let China threaten any of us," read the letter, first reported by Politico.
At Tuesday's debate, Lithuanian MEP and former prime minister Andrius Kubilius, said the country had endured similar coercion in the past from the Soviet Union.
"Business with an authoritarian regime is a risky business, so today we need to send a clear, simple message: business with China, or in China, is a very risky business. And second, China is big and Lithuania is small, but we will not be defeated, because we are together," Kubilius said.
The report also called for the EU and its member states to shun the Beijing Winter Olympics next year unless the human rights situation in mainland China and Hong Kong improved and a bilateral human rights dialogue yielded tangible results.