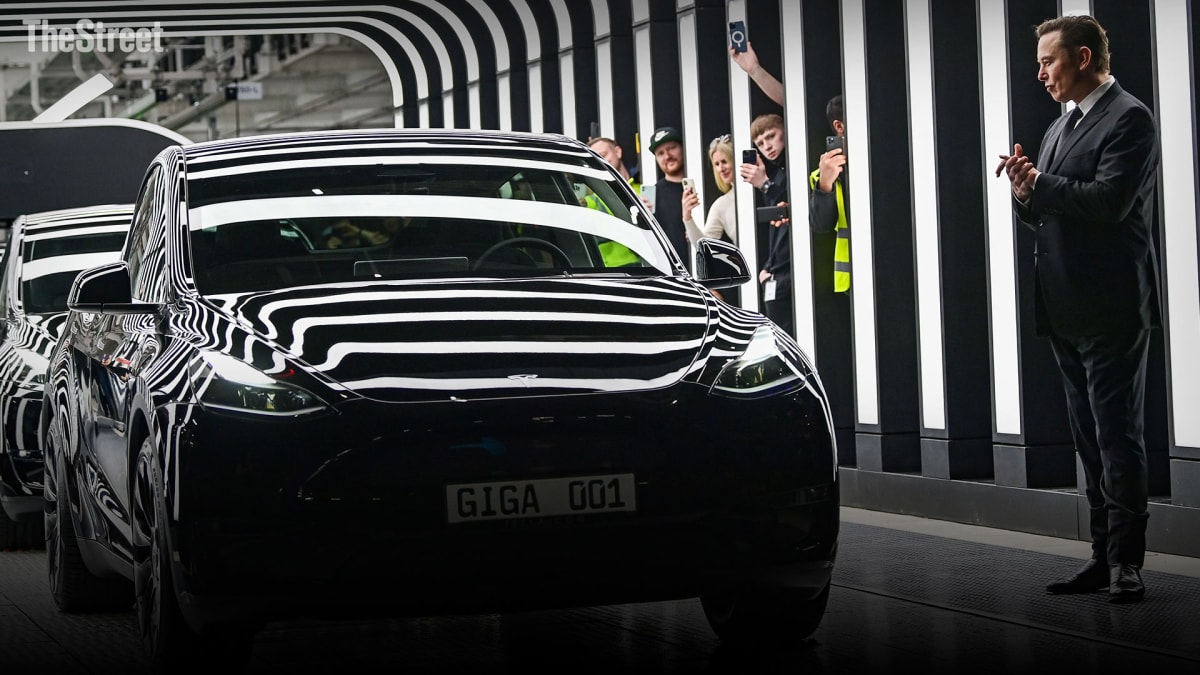 Margins, margins, margins. 
That's the word that's been fired at Tesla since the electric-vehicle maker on Jan. 12 started a wave of price cuts on its cars. 
In three months, the automaker, whose image is associated with high-end consumers and luxury, has lowered U.S. prices six times, including twice this month. 
These reductions affect all its models, from the very popular Model 3 sedan and Model Y midsize SUV to the flagship Model S sedan and Model X full-size SUV. 
This year, the price of the base Model 3 is down by about 15% and the base Model Y is down by 29%. 
As a result, these models have become affordable to a greater number of potential buyers. But analysts are worried that the price cuts will eat into Tesla's profit margins. 
The tradeoff from Tesla's point of view is that it can increase market share as competitors -- EV upstarts Rivian (RIVN) and Lucid (LCID) and legacy carmakers like Ford (F) and General Motors (GM) -- struggle to make money on EVs because their production and sales volumes are still low.
Higher Volume v. Higher Margin
This tradeoff was in play during the first-quarter earnings call on April 19. Chief Executive Elon Musk and Chief Financial Officer Zachary Kirkhorn said Tesla was likely to continue lowering prices in the near term in light of the economic slowdown and high interest rates. They defended the thinner profit margins, calling on investors to focus on the long term.
"We've taken a view that pushing for higher volumes and a larger fleet is the right choice here versus a lower volume and higher margin," Musk told analysts and investors. 
Tesla's automotive gross margin, which excludes sales of regulatory credits to other carmakers, fell to 19.3% in the first quarter, below the 20% threshold the group targeted. Three months ago, Kirkhorn had indicated that Tesla wanted a margin above 20% this year.
"It's difficult to say what the margin will be. It depends on what the macroeconomic environment is," Musk said, when he was asked to provide some color on the updated range of margins the carmaker would expect in the auto business. 
"If the [Federal Reserve] were to lower the rates, that would be super helpful for demand. If it isn't, that just raises the interest cost that buyers have to pay to buy a car."
In addition, Kirkhorn said, "what happens to margins over the next couple of quarters only matters in the context of what that means for our ability to reinvest into 2024 and 2025."
The two executives were then asked whether Tesla would be comfortable with a relatively low initial margin.
"That is exactly right," Musk responded. 
"I can't emphasize enough the just fundamental question of affordability for most people. Their ability to buy a car is a function of can they make monthly payments or not? And if interest rates are really high, like they're all right now, then in some cases people can't get a loan at all."  
He then said Tesla was in a very enviable strategic position, enabling it to lower prices, thus dispelling the assumption that the carmaker is weakened by its rivals.
'No One Else Can Do That': Musk
"Tesla is in a uniquely strong strategic position because we're the only ones making cars that technically we could sell for zero profit for now, and then yield actually tremendous economics in the future through autonomy," Musk asserted. "No one else can do that."
He repeated the argument when he was asked whether the strategy of lowering prices was not a tactic to annihilate the competition.
"We're not trying to, say, take pricing actions in order to deliberately undermine competitors or anything like that. We really don't think about competitors that much. We just look at do people like our cars? Can they afford our cars and those sort of things like improving service," the billionaire said.
He added that Tesla was designing cars to be autonomous, arguing that this generation of cars will have to be worth "a whole lot more in the future than it is now."
Tesla can "sell it at zero profit, but still have the net present value of future cash flows associated with that asset basically."
For Musk, the services Tesla offers to customers, such as the Full Self Driving advanced driver-assistance system, its charging network, its insurance products and more, ensure ongoing revenue streams that other companies don't have.
"We want all EVs to succeed too," the tech mogul said. "We're like opening up our superchargers [network], we've made up patents available for free. So it's like we're trying to be helpful here, so we're not trying to just destroy competitors or anything like that. We're trying to help competitors, frankly, in any way that we can."
Action Alerts PLUS offers expert portfolio guidance to help you make informed investing decisions. Sign up now.