In a nutshell: El Fenn has held the crown as Marrakech's "it" hotel for some years. Now this brightly decorated, super-chic boutique riad has added 10 more rooms right on the edge of the city's ancient Medina.
The neighbourhood
On the western edge of the warren of souks, homes, hammams and passageways that make up Marrakech's historic Medina. It's a handy 20 minutes' drive from Menara Airport, and a five-minute walk from central orientation point Djemma el Fna Square. Ten minutes' stroll from there will get you to the Koutoubia Mosque, the starting point for some walking tours (which the hotel has a fabulous view of from its rooftop). In short: dreamy for sightseeing and shopping in a city that's glorious for both. The entrance to El Fenn is on subtle passageway, so you might need to be met by a staff member on the main street outside, where taxis will drop you near its El Fenn boutique. The souks and boutiques around the hotel are primed for a freewheeling wander (be ready to get lost), but the savvy staff here can point you in the direction of specific specialities and treasures. It's the passion project of Vanessa Branson (sister of Richard) so you can be sure these folks know the luxury crowd.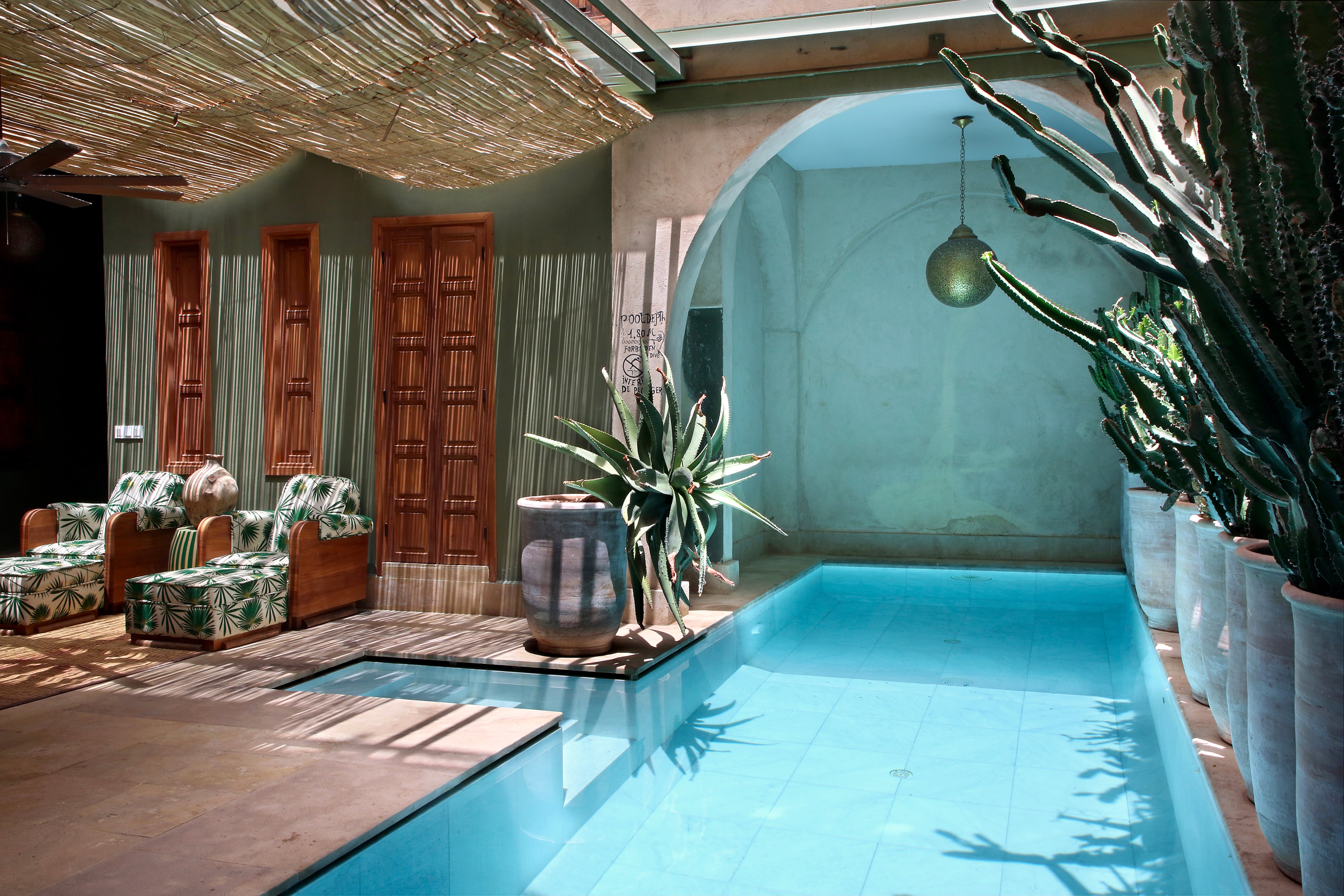 The vibe
It's got the kind of celeb-magnet exclusivity that the original Soho House hotels had – but far more effortlessly cool, and with much more attention to local culture, style and cuisine. Creative types lounge on the rooftop with laptops or margaritas, depending on the time of day; families and wealthy shoppers secrete themselves away in vast, high-ceilinged suites where they won't be bothered.
There's a soporific indulgence to the communal spaces, especially the checkerboard-tiled, mid-level patio with its own pool and butter-yellow loungers, where guests come to try cakes of the day at complimentary afternoon tea time. If you want to hide away, you won't be hounded by the discreet and unobtrusive staff; yet, if you want tips on where to shop or to book a bespoke tour, they're equipped with all the knowledge to help you.
"Home from home" is bandied around a lot in this business, but from the two cats snoozing at reception to the option to have a staff member come and light your room's fireplace on chilly nights, you'll definitely start to feel like a full-time resident.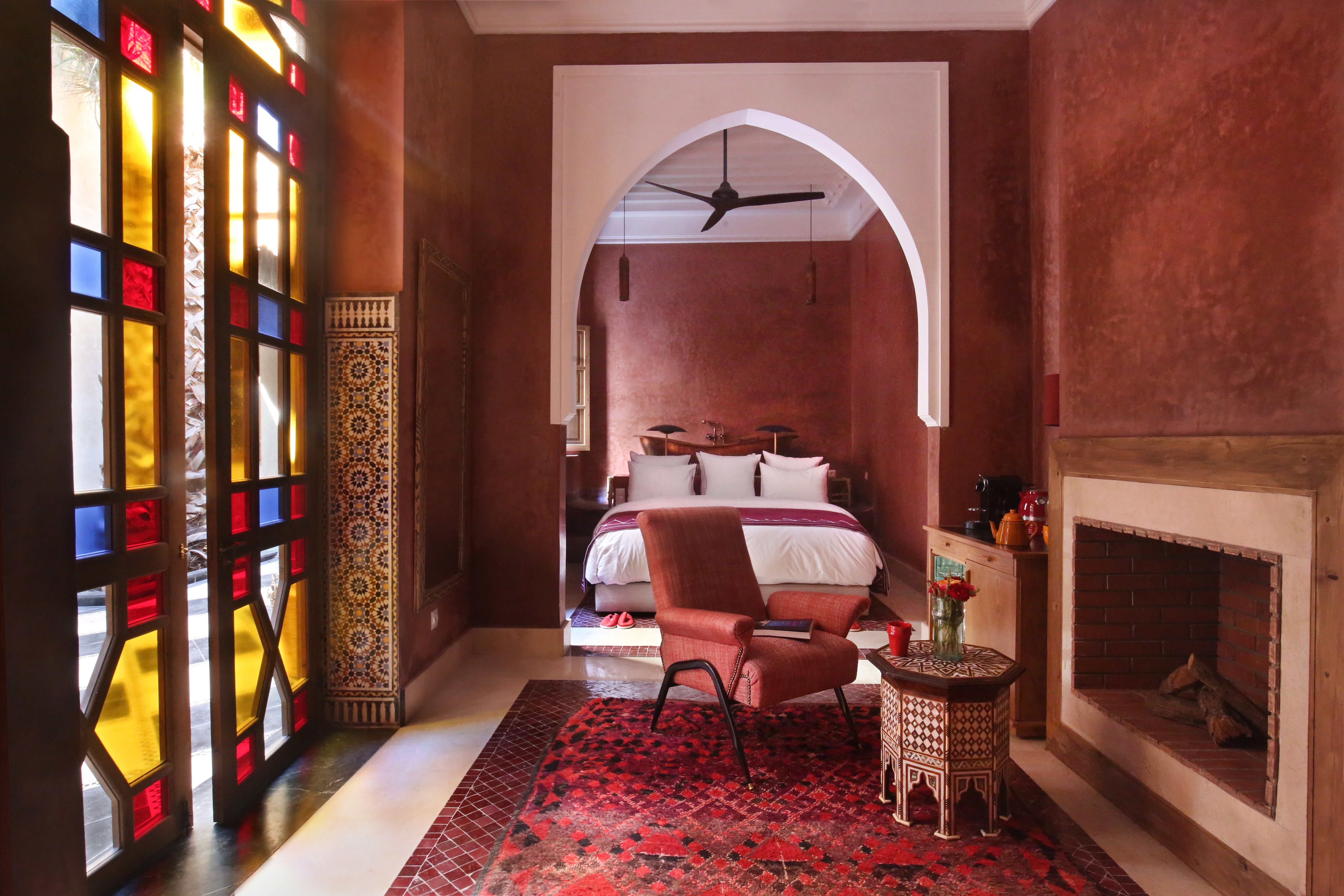 Bed and bath
The rooms are staggeringly gorgeous – high-ceilinged, paintbox-bright and individually designed. Chic shades of peacock-feather teal, forest green or dusky rose are offset by dark, carved-wood panels, intricate tiling, plush locally sourced rugs and even stained-glass doors. The aesthetic somehow manages to be lavish but quirky; unmistakably Moroccan but highly modern.
Huge bathrooms have his'n'hers, walk-in showers (mine was tiled entirely in jade-green mosaic tile reminiscent of the city's mosques and Le Jardin Secret gardens); some have photogenic, freestanding copper bathtubs. Many have their own brick-built fireplaces, with woodpiles in the high-ceilinged, majestic corridors (just call reception to ask for yours to be lit).
Previous visitors will want to bag one of the 10 brand-new "Colonel's House" rooms which were unveiled in December 2022 – designed by architect Sylvain Raguenau, they're inspired by Morocco's royal palaces, with hand-carved cedar wood ceilings and tadelakt lime plastering created by local artisans to celebrate the country's design heritage.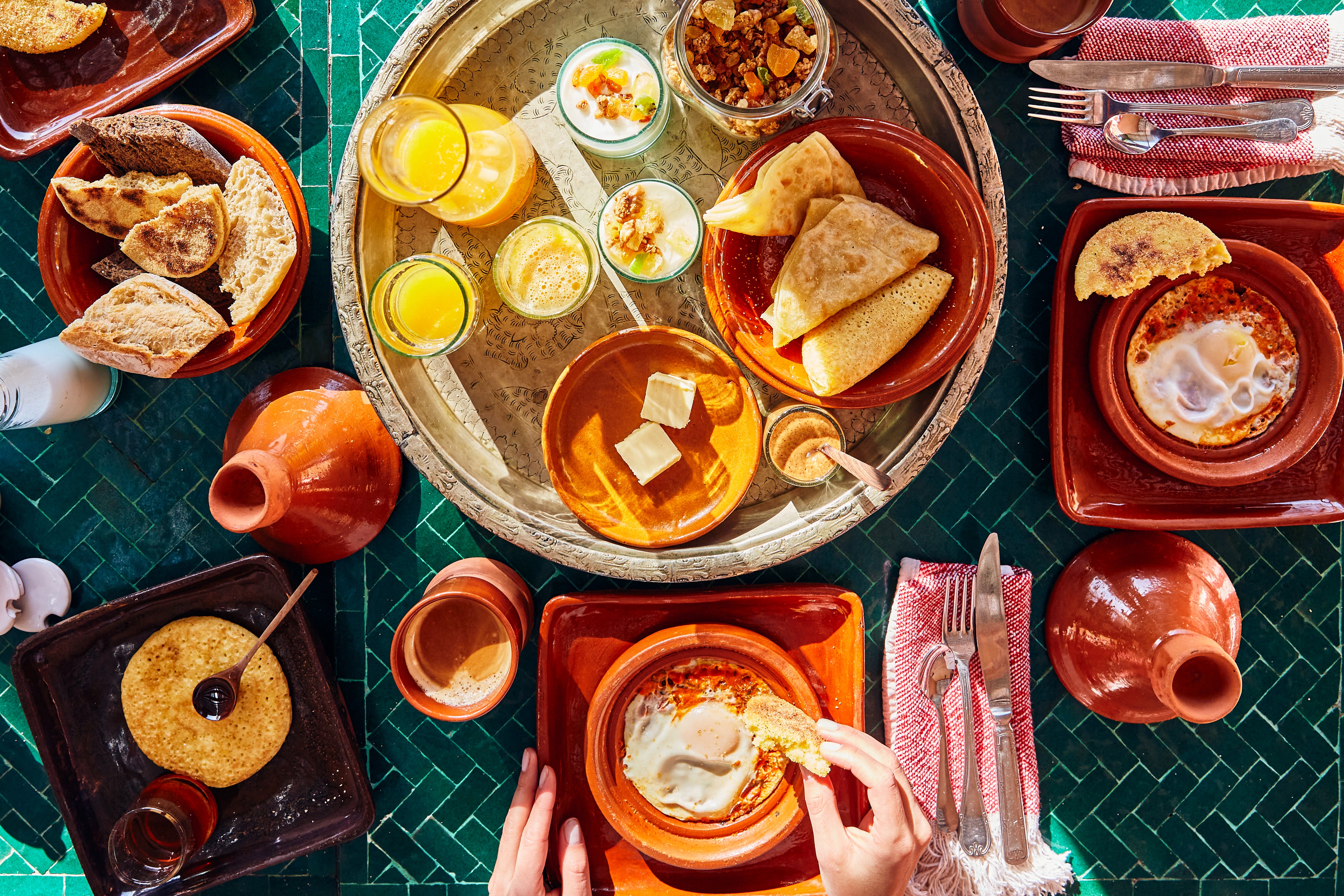 Food and drink
You can opt to have your rate-inclusive breakfast either in the sleepy, vine-trailed courtyard in the middle of the property, or on the rooftop (which has a sheltered dining area in the cooler months). Served from 8am to a leisurely 11.30, it's as stylish and local a spread as you'd expect here: a whole carafe of freshly-squeeze orange juice, coffee or tea, fresh bread and homemade pastries, local jams and honey, and a hot option. These range from shakshuka baked eggs to avocado toast with harissa flakes and warm Moroccan crumpets with honey butter and fruit.
There's a poolside daytime menu as well as a lunch seating (think Nicoise salad, lamb burgers and "Moroccan style" fish and chips); by evening the rooftop restaurant has two sittings you can book, so get in early even if you're staying. The glam a la carte menu covers chi-chi scallops, rack of lamb, risotto and grilled seabass, as well as incredibly tempting wines and desserts. Great for a last-night-in-Marrakech blowout feast (though it's not insanely spendy – average main course price is £15).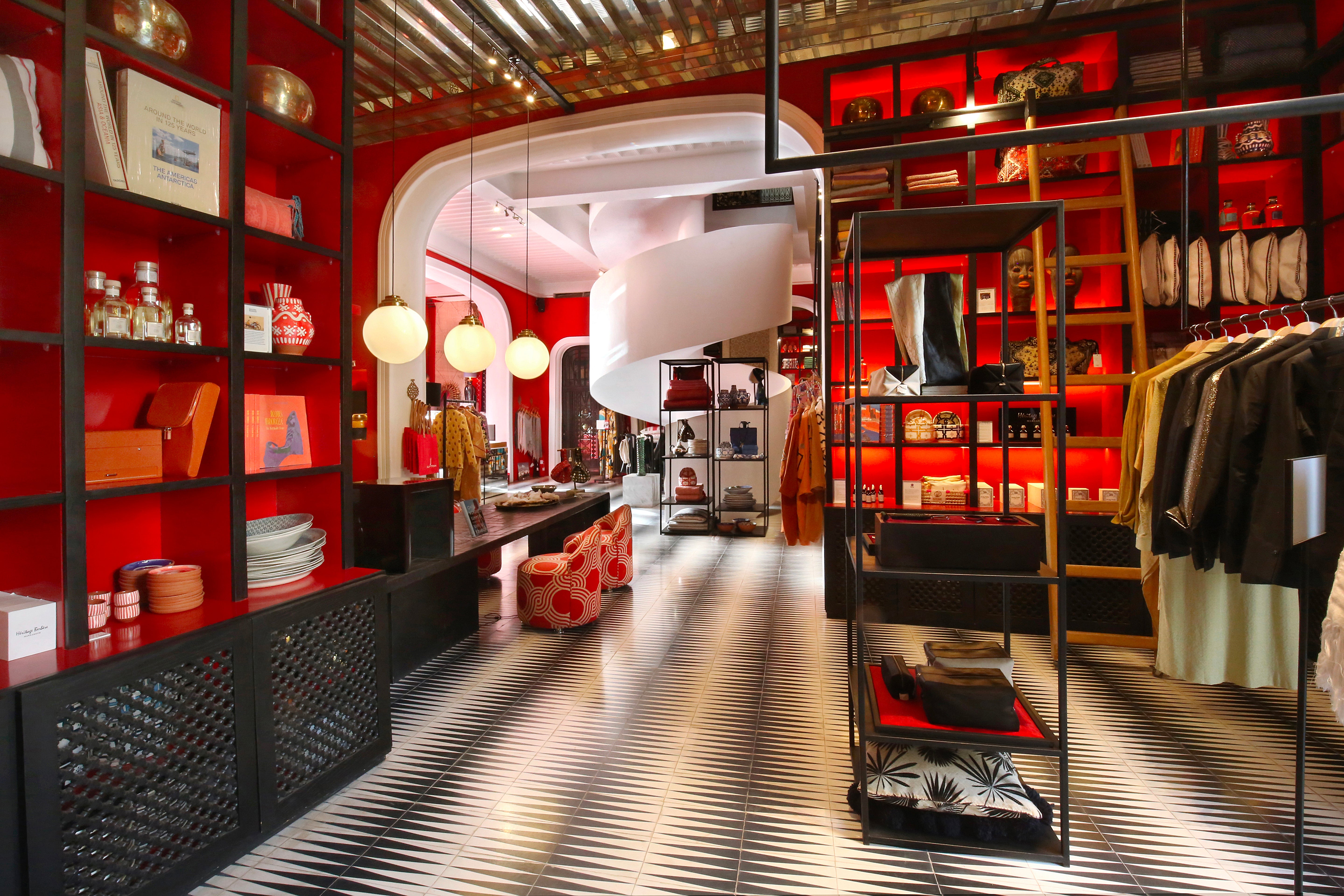 Public areas
It's all about the rooftop here – huge, plush, scarlet-striped loungers and squishy daybeds surround a plunge pool just big enough to swim a mini-length of. There's tons of space for lunch tables and daybeds around the cocktail bar, while the separate restaurant section (also in scarlet and white) is much mellower. Those buried in a good book may want to lounge on the mid-level courtyard with its own (unheated, so chillier) pool. The bijou spa, trimmed with enormous succulents, is another highlight here: book a low-key aromatherapy massage or traditional Moroccan hammam treatment in one of a couple of rooms set around a heated plunge pool. They're also reasonably priced (£35 for a 50-minute massage). It's a peaceful spot to slink down to in your bathrobe with a magazine, too.
Lastly, don't miss the boutique on the ground floor, found through a warren of Instagram-perfect courtyards with hammocks and rose-petal-strewn fountains. It stocks lots of the sort of things you'll find in the souks – ceramics, pillowcases, rugs, kaftans – but these are rather more upmarket versions often sourced from local designers.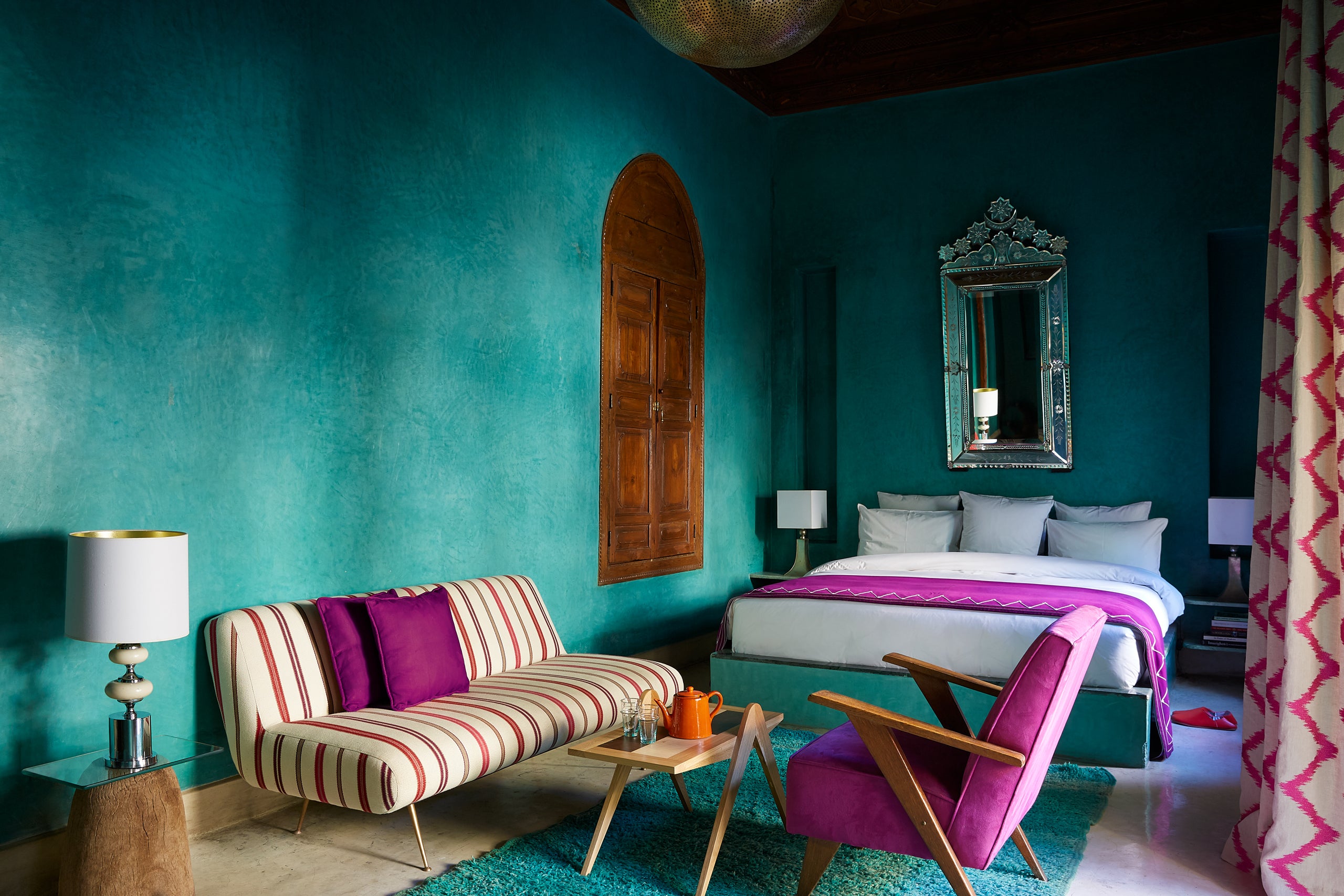 Nuts and bolts
Room count: 42, across 13 interconnecting riads.
Freebies: Breakfast, afternoon tea with homemade cakes, Nespresso coffee via in-room machines, herbal teas, bottled water.
Wifi: Free.
Extra charges: None, though you can arrange an airport transfer for slightly more than you'd pay for a city taxi.
Disability access: Though riads are not ideal for disabled guests with their cut-out doors and narrow passageways, it does have ground floor rooms and a lift to the rooftop.
Pet policy: Not allowed.
Bottom line
Best thing: Multiple plunge pools and quiet places to lounge, while being right inside the hectic Medina.
Worst thing: The food and drink is on the pricier side for Marrakech; if you're worried about your bill mounting up, head out for the plentiful cheap eats around the souks.
Perfect for: Marrakech visitors who adore Moroccan style and opulent interiors.
Not right for: Families with young children – lots of steps, marble surfaces and pools, plus a hushed atmosphere in parts.
Instagram from: Just beyond the rooftop cocktail bar, with the Koutoubia Mosque in the background.
Room rate: Doubles from £318, including breakfast and afternoon tea.