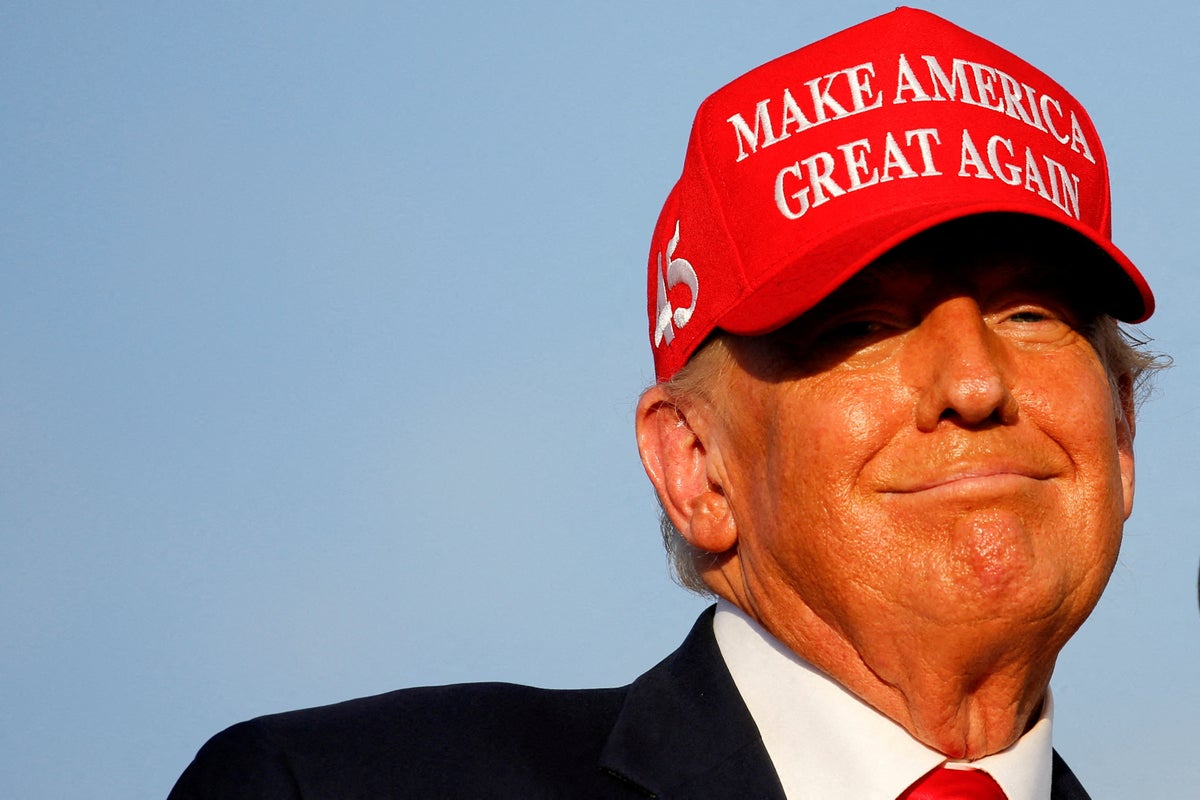 Donald Trump's robust fundraising campaign has reportedly collected more than $1.5m since he announced his impending "arrest" on 18 March.
His early-morning announcement on Truth Social, which reportedly surprised some advisers at his Mar-a-Lago compound in Florida, fuelled a media frenzy in the days that followed. As The Independent previously reported, political action committees associated with the former president seized on headlines and responses to his claims with several messages to supporters to contribute to his 2024 presidential campaign.
According to The Washington Post, those efforts appear to have netted more than $1.5m, as his advisers look to capitalise on coverage from right-wing media outlets.
Mr Trump's claim and his repeated demands for his supporters to "protest" what he predicted was his imminent indictment and arrest appeared to be based on his interpretation of reports that the New York County District Attorney in Manhattan was preparing charges against him. The former president's team later clarified that he did not receive any communications from prosecutors.
But his posts fanned the flames of unrest with incendiary rhetoric while Mr Trump's allies rushed to his defence and mounted an offensive on his behalf, alleging that the Manhattan district attorney's office is pursuing a politically motivated investigation.
His narrative of political persecution to raise money for his 2024 campaign mirrors similar tactics that his fundraising arms have used in the wake of a federal law enforcement search of Mar-a-Lago last year and his spurious attempts to overturn the 2020 presidential election.
Mr Trump's campaign raised roughly $9.5m within the six weeks after his formal campaign launch on 15 November 2022, a smaller haul than the roughly $11.8m raised by Trump-affiliated entities in the six weeks preceding his 2024 announcement. Still, the former president has amassed a campaign war chest with tens of millions of dollars.
The House select committee investigating the attack on the US Capitol reported that Mr Trump's fundraising arms collected more than $100m in the first week after Election Day in 2020 alone.
His campaign and allies raised $250m from their baseless claims that the 2020 presidential election was stolen from him, the committee found. Last year, the panel's senior investigative counsel Amanda Wick said Mr Trump's campaign "pushed false election claims to fundraise, telling supporters it would be used to fight voter fraud that did not exist."
Following the FBI search of the his Mar-a-Lago compound in August 2022, the campaign reportedly topped $1m in contributions on at least two days after the search.