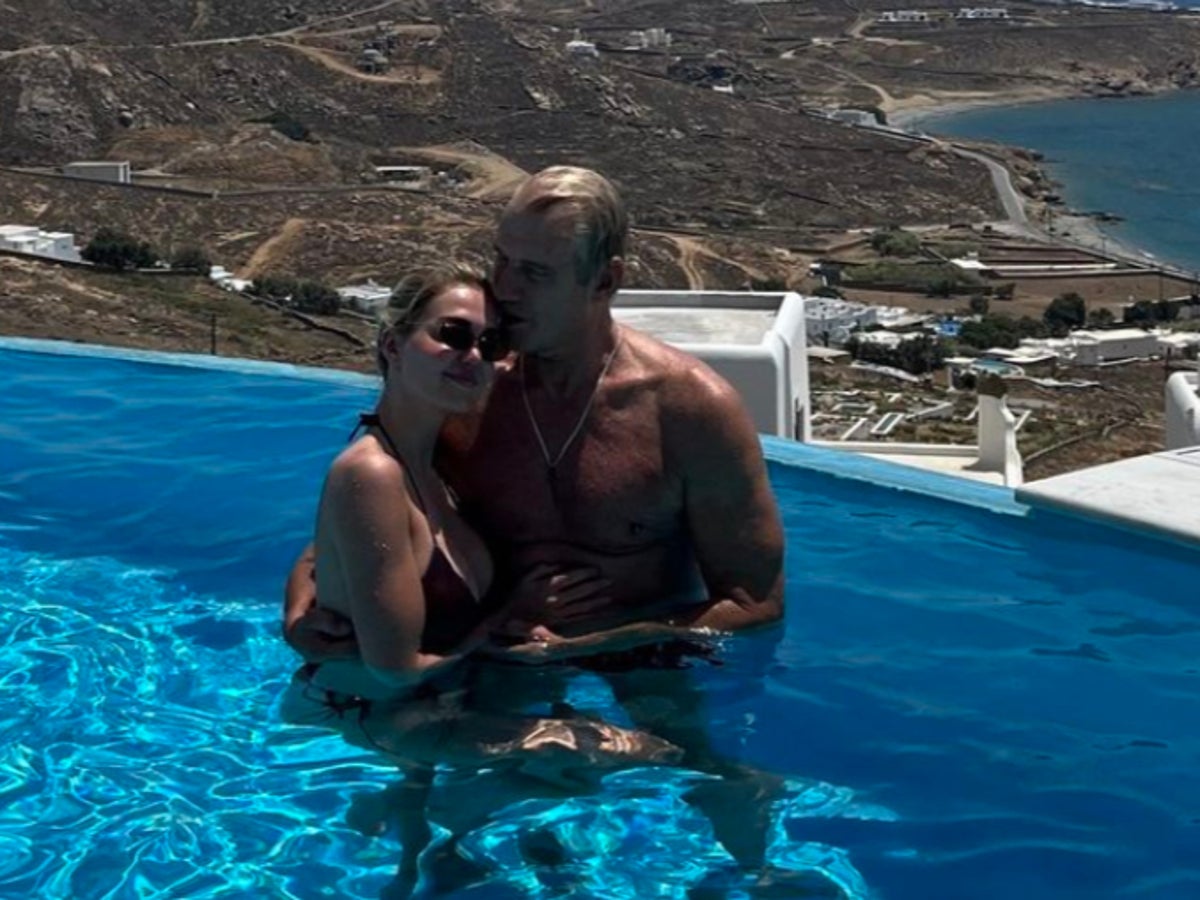 Action star Dolph Lundgren, 65, has married his personal trainer Emma Krokdal, 27.
The Swedish actor, best known for his role as the Soviet boxer Ivan Drago in the 1985 film Rocky IV, married his fiancé at their villa on the Greek island of Mykonos.
He told People: "We chose to celebrate our love by getting married at our villa in Mykonos with family and a few close friends.
"With both Covid and a long road of challenging medical treatments, we've had to push our marriage plans many times.
"We felt it was finally the right time to celebrate love, life and happiness – in the land of the Gods."
Lundgren proposed to Krokdal, a personal trainer from Norway, in June 2020.
Speaking about their relationship in an interview with journalist Graham Bensinger back in May, Lundgren said it took a while for their romance to come to fruition.
"I didn't know why she liked me at all, but I suppose she saw something there. She didn't know about my acting career, she didn't know anything about me," he said.
Dolph Lundgren and Emma Krokdal got engaged in 2020

— (Instagram via @emmakrokdal)
In June 2022, Lundgren brought Krokdal to her first red carpet event for Minions: The Rise of Gru premiere with his daughters Ida, 26, and Greta, 20.
The actor – who has also starred in The Expendables, Creed II and Masters Of The Universe – also told Bensinger that his bride is "very mature for her age".
"She's had an interesting life," he said. "She came over here from a small town in Norway. She was married here and she went through a difficult divorce and went through a lot of stuff that most young people her age don't have to deal with."
Lungren added: "So she's quite mature and at the same time, I think I'm quite youthful."
Dolph Lundgren and Emma Krokdal

— (Instagram via @Emma Krokdal)
Earlier this year, the actor said he has been privately struggling with cancer for eight years.
He told Bensinger that doctors in Los Angeles found a tumour in his kidney in 2015. Five years later, more tumours were discovered, including one in his liver.
After seeking a second opinion, Lundgren found a doctor who was able to treat his kidney cancer by targeting a mutation he had that is common in lung cancer.
Lungren said that last year, his tumour had "finally" shrunk to 90 per cent.
Dolph Lundgren and Emma Krokdal in Mykonos, Greece

— (Instagram / @dolphlundgren)
"Now I'm in the process of taking out the remaining scar tissue of these tumours," he said.
"You appreciate every day I can be with people I love," said the actor of his perspective after being diagnosed with cancer. "You just appreciate, you know, having been lucky enough to be alive and appreciate every moment there is."
With additional reporting from Press Association.