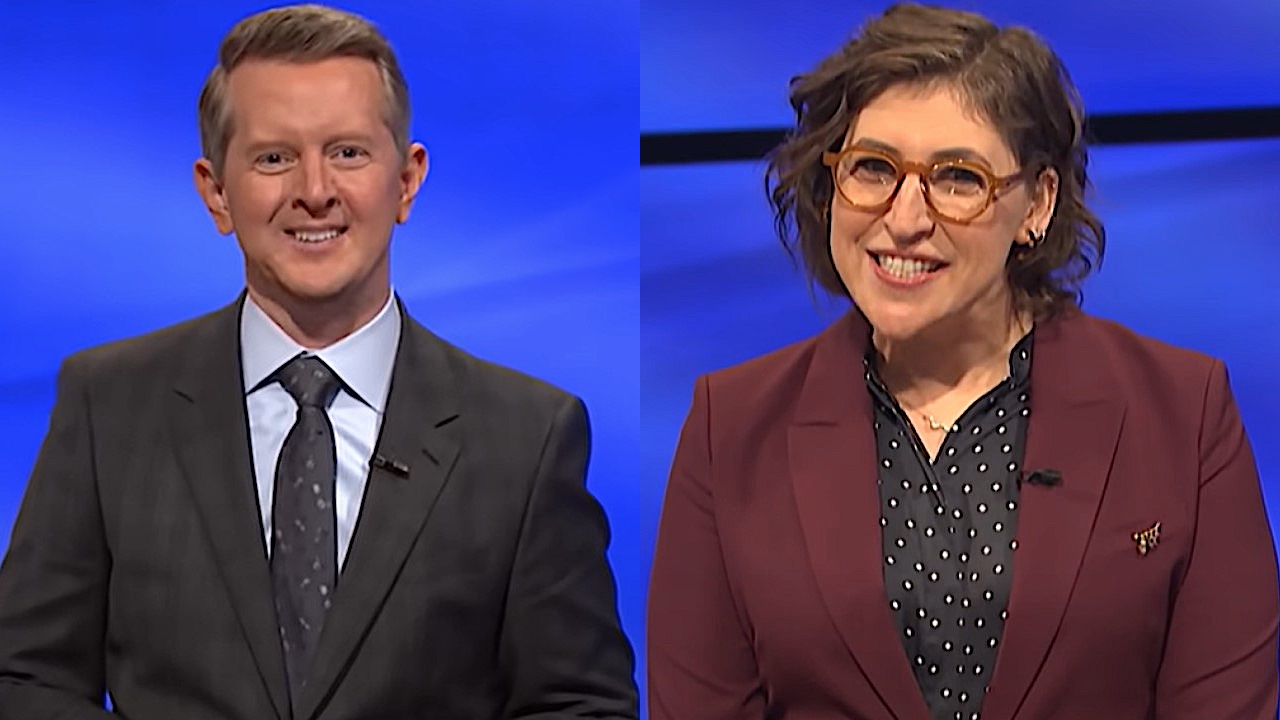 Jeopardy! fans were relieved to find some stability in the iconic quiz show last summer, when Ken Jennings and Mayim Bialik were officially named permanent co-hosts. However, even ahead of that announcement, plenty of viewers had already begun to pit the Jeopardy! GOAT against The Big Bang Theory actress, voicing support for one to get the job over the other, and that's a conversation that continues on message boards today. Executive producer Michael Davies is aware of the discord, and he revealed how audience preference plays into the ratings, as well as the "incredible fracture" that faced them when they started.
Both Ken Jennings and Mayim Bialik have their passionate supporters — and often-loud critics — when they take their turn behind the lectern. But Michael Davies is the one behind the curtain keeping an eye on the all-important numbers, and he revealed to Vulture how the ratings are affected when one is hosting compared to the other, saying: 
According to Michael Davies, there is no discernible difference in the ratings between Ken Jennings' episodes and Mayim Bialik's. It does seem natural that fans would have a preference, and it's also pretty easy to believe that the game show's loyal fans will tune in, regardless of if their preferred host is on that day. The EP seemed to confirm that, as he continued: 
More than just the viewers' preference, the contestants themselves have weighed in, with Jeopardy! Masters contestant Mattea Roach previously voicing their support for Ken Jennings, saying there's something special about being on stage with one of the biggest winners in Jeopardy! history. Another recent contestant shared a blunt opinion about Mayim Bialik and the way she delivers the clues. Jennings, meanwhile, has had to defend himself against perceived mistakes multiple times. Michael Davies stands by both of his co-hosts, especially after what they and the rest of the crew endured after Alex Trebek's death in 2020. He said: 
Ken Jennings jumped in as a guest host following the death of the longtime host, and that was followed by a carousel of celebrities who were seemingly auditioning for a permanent spot. In the end, then-executive producer Mike Richards was named host of the syndicated episodes, with Mayim Bialik joining as the host of primetime tournaments. 
However, that plan was highly criticized, as it came amid the resurfacing of several offensive comments Mike Richards had made on a podcast years prior, in addition to discrimination lawsuits from his time on The Price Is Right. After just one day into his new role as host, Richards was fired from Jeopardy! and as EP of Wheel of Fortune, with Michael Davies taking the reins of the quiz show and adding Ken Jennings to assist Mayim Bialik on syndicated episodes. 
Those were tumultuous times, indeed, so regardless of fans' preference between Ken Jennings and Mayim Bialik, hopefully we can all agree the show has taken a step in the right direction. Check your local listings to find Jeopardy! in syndication, and Jeopardy! Masters is wrapping its first-season run at 8 p.m. ET May 23 and 24 on ABC.