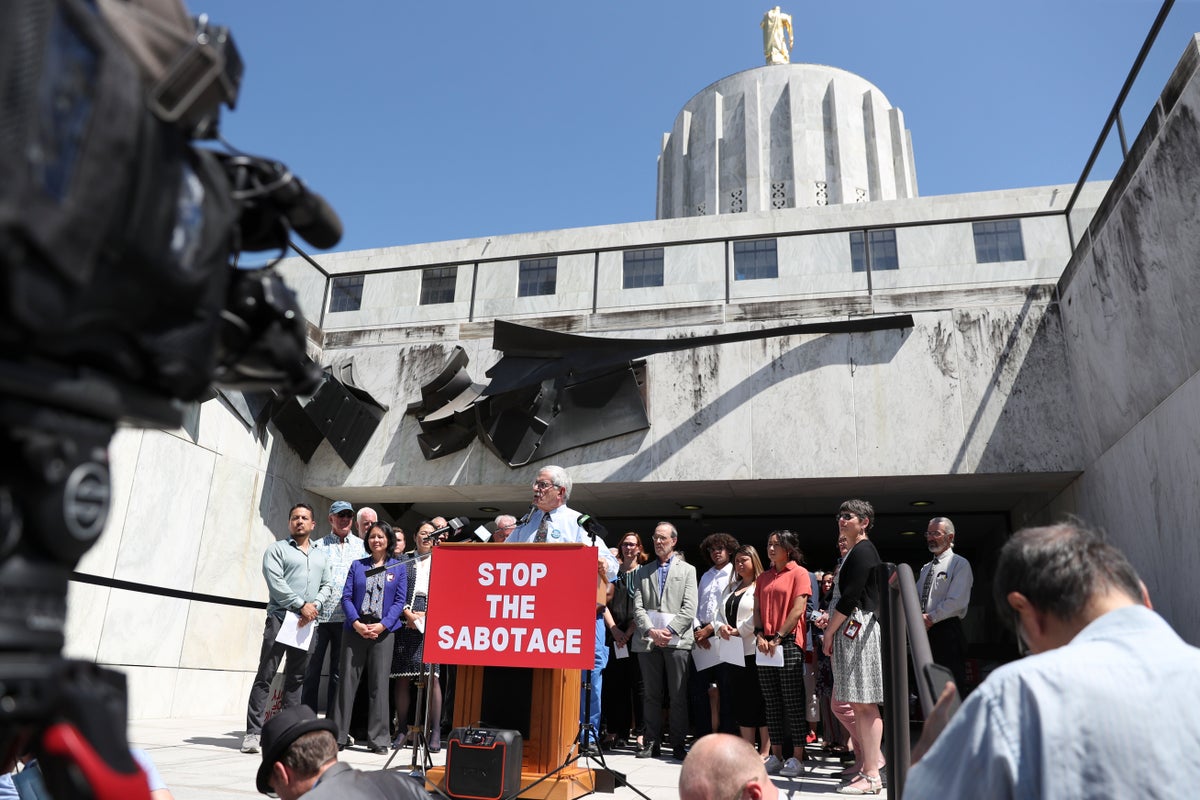 Oregon Democratic lawmakers stood on the steps of the state Capitol Tuesday and implored Republicans, who have been boycotting the Senate for over a month, to return and vote on bills, saying lives are literally at stake.
Several statehouses around the nation, including Montana and Tennessee, have been ideological battlegrounds this year. Republicans in the Oregon statehouse conducted walkouts in 2019, 2020 and 2021 to deny quora, but this one is the most serious yet, threatening hundreds of bills and the approval of state budgets for the next two years.
Neither side is budging on a bill on protections for abortion and transgender care, with Democrats saying it isn't negotiable and minority Republicans insisting it die or be changed. It's down to a matter of which side blinks first. If there's no compromise well before the session is constitutionally required to end by June 25, the hundreds of bills that haven't passed both the House and Senate will die.
Sen. Jeff Golden, a Democrat who represents southern Oregon's Rogue Valley, said among them are bills to improve response and protections from wildfires like ones that devastated parts of the state in 2020.
"Like the other bills you've been hearing about, these are teetering on the edge. We are looking at serious damage — as in life-and-death kind of damage — if we abandon these bills now," Golden told reporters and supporters under a hot sun, a harbinger of the coming dry season in this drought-stricken state.
Rep. Travis Nelson, a Democrat who is a registered nurse, said also among measures frozen by the Republicans' longest walkout in state history is a bipartisan opioid harm-reduction package that includes making overdose medication like Naloxone available in restaurants, grocery stores, police departments and schools.
"This is going to save lives and give people a chance to recover, and we must pass this bill," said Nelson, who wore blue nursing scrubs at the news conference and rally.
Rep. David Gomberg, a Democrat who represents the coast, said a bill he worked on with Democrats and Republicans would provide $70 million in support for small farmers, fishermen, small businesses and create more housing. If another bipartisan measure, aimed at attracting the semiconductor industry, dies, Oregon stands to lose billions of dollars in federal funds to other states, Gomberg said. A related bill passed before the walkout with broad support.
Seismically vulnerable dams would be replaced by another bill that's at stake. Without it, Oregon could lose out on $60 million in federal matching funds, Gomberg said.
Jan Kaplan, president of the city council of the coastal town of Newport, said dams that create reservoirs for Newport's drinking water are the most seismically vulnerable in the state.
"Even a modest earthquake could cause the dams to fail and send water rushing through a neighborhood just downhill. People would die," Kaplan said. "The flood would breach Highway 101, our principal coastal arterial."
The boycott has prevented the Senate from reaching the two-thirds quorum required to vote on bills, with all but two of the 12 Republicans and the lone Independent staying away.
Senate Minority Leader Sen. Tim Knopp was unmoved by the Democrats' dire warnings.
"Well, there are always lives at stake as it relates to policy that is being debated here in the state Capitol," Knopp told reporters. "However, unfortunately, their ire is misplaced, and the Senate Democrats could have ended this weeks ago."
"Seems to me that the people that actually need to yield are the people that are in charge of the Legislature, that are supposed to be the leaders of the Legislature," Knopp said.
The walkout happened despite a ballot measure, approved by Oregon voters last November, that disqualifies lawmakers with 10 or more unexcused absences from being reelected in the next term. The measure, now part of the state Constitution, is expected to be challenged in court by Republican senators if the secretary of state's office prevents them from registering as candidates.
On June 1, Democrats in the Senate voted to fine senators $325 every time their absence denies the chamber the two-thirds quorum it needs to conduct business.