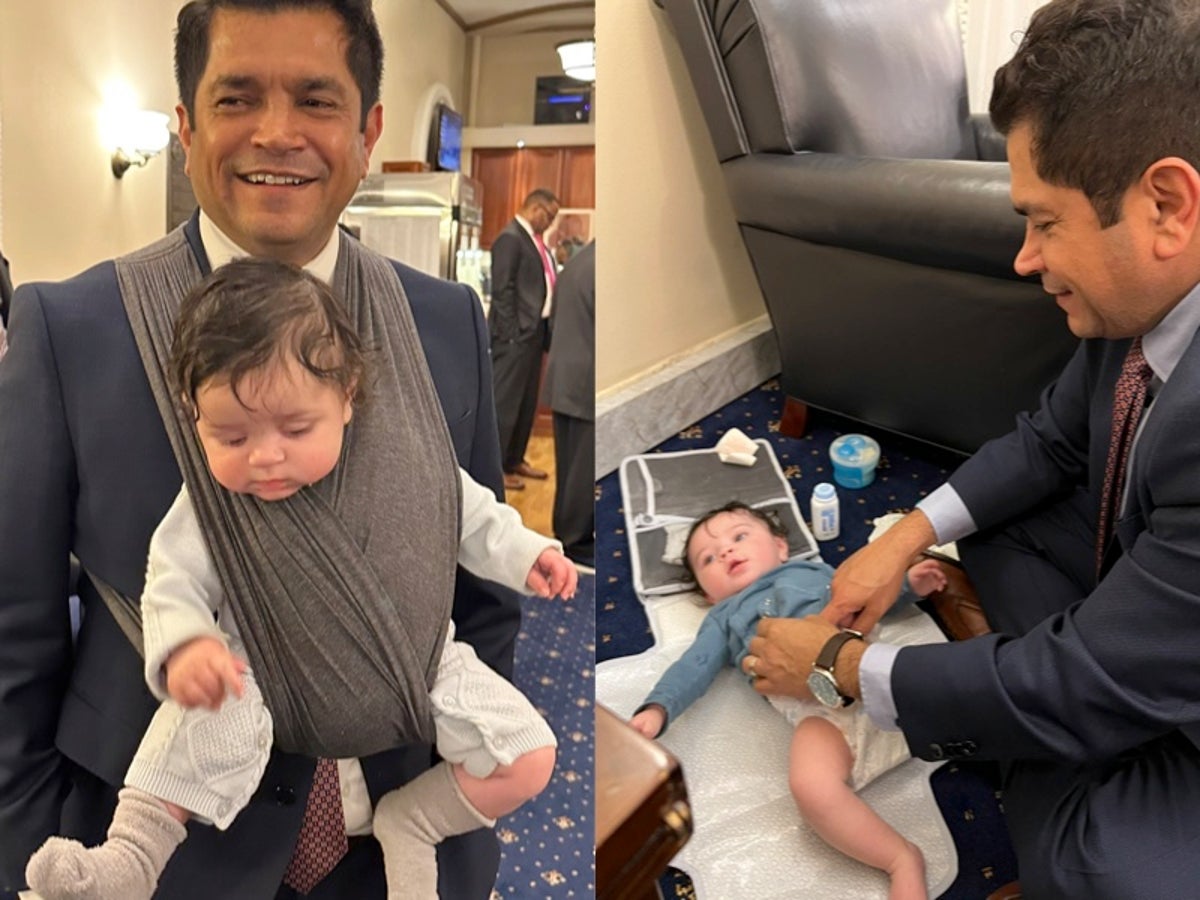 As the chaos on Capitol Hill over the next speaker of the House of Representatives continues, one Democratic congressman has made sure the three consecutive days of voting doesn't interfere with his dad duties.
On 3 January, Democratic congressman Jimmy Gomez and his family arrived at the Capitol Building in Washington DC, where he was expecting to be sworn in for his fourth term as representative of California's 34th congressional district.
"The fam's in DC! Is it too early to teach my son the 'I'm just a bill' song?" tweeted Gomez on Tuesday, just as voting over the next speaker of the House began. What he didn't anticipate was to be locked into a now three-day stalemate over the next speaker of the House.
So, when the Republican members of the House failed to elect a speaker, Gomez went into dad mode and baby-carried his four-month-old son, Hodge – documenting his day on Twitter as the voting continued.
A viral tweet from California representative Tony Cárdenas shows Gomez with his son, strapped in the carrier, as the doting dad worked in Congress. "This baby was born on the first round of votes. He's now 4 months old," joked Cárdenas.
"2 bottle feeds and multiple diaper changes on the Democratic cloak room floor. This speaker vote is taking forever!" read one tweet from Gomez, with a picture of baby Hodge inside the Capitol while dressed in a wool knit onesie.
Later that day, Gomez was even wearing Hodge when he cast his vote for Democratic leader Hakeem Jeffries as speaker of the House on behalf of himself, his constituents and, of course, his son.
"On behalf of my son Hodge and all the working families who need an expanded #ChildTaxCredit, I cast my vote for Hakeem Jeffries," Gomez said on Tuesday in a video from the vote, as Democratic congresswoman Alexandria Ocasio-Cortez patted baby Hodge on the belly.
The following day, Gomez was "back at it again" with his son Hodge at the Capitol, this time in an even cuter outfit. One picture showed the Democratic congressman changing his son's diaper, while another saw Gomez and Texas Congressman Joaquin Castro swapping parenting tips in the House Democratic Cloakroom.
In the afternoon, Gomez and Hodge had some quality father-son time in Gomez's new office post-diaper change. According to Today, Gomez's office is located in the Cannon House Office building on Capitol Hill. All the restrooms in Cannon, including the men's bathrooms, have baby changing stations, which Gomez said was a recent update to the building.
"He was probably the first baby to be changed on it," he told the outlet. "But that took another 30 minutes."
The representative even got some help from another Capitol Hill dad, Chasten Buttigieg – the husband of US Secretary of Transportation, Pete Buttigieg, and a father of twins.
"Seems like you might be there a while. Let me know if you need to borrow any supplies! Play mat, books, toys, travel cribs…" he tweeted at Gomez, who replied that his son could use some books to keep him entertained.
Buttigieg successfully delivered the baby supplies for Hodge, while the dads snapped a selfie with the four-month-old and Gomez's wife, Mary Hodge. "Drop off complete! Thank you for the supplies and daycare tips!" Gomez said.
Speaking to Today, Democratic congressman Jimmy Gomez shared how bringing his son to cast his vote for speaker was a "special day" for him, as both an American and a father.
"I was doing it because I wanted to have Hodge there and I wanted to show him off," he told the outlet. "He's my son and I'm proud of him. Hopefully I won't be the last member to babywear on the floor or to babywear and vote."
Gomez, whose parents and four siblings are from Mexico, added that not only have his immigrant parents seen their son on the floor of the House of Representatives, but now their grandchild too. "Now their grandchild has been on the floor of the House of Representatives," he said. "For me, it was a special day as a father and as an American."
For him, bringing his son Hodge to the Capitol was also about sending a message that fathers and mothers are equally responsible for caring for their children. In fact, Gomez said he thinks it's "manly to take care of your son."
"When you're a parent, it's just about getting it done," he said. "It's not about, 'What is a man's role?' and, 'What is a woman's role?'"
"In the end, we have to normalise dads taking their kids with them, be it stay-at-home dads or working dads. When I took him to the floor, I think people were surprised – but it wasn't a big deal. I think it does send a powerful message that us guys need to do our part. We don't risk our lives bringing children into the world – women do."