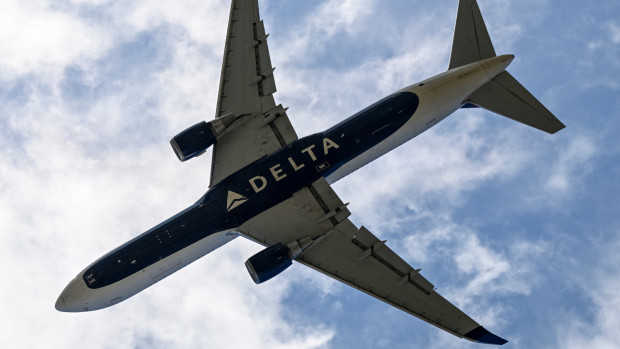 There are all kinds of reasons a plane may have to make an emergency detour and even landing.
Aircraft are equipped to be able to land in the rare case that the engine or other plane part gives way but passengers who fight, make threats or otherwise endanger the safety of those aboard is a much more common reason for this to happen. Occasionally, there are also medical emergencies that cannot be dealt with in the air.
Don't Miss: Woman banned from United Airlines for diverting flight 'over wine'
The latest unusual reason for a plane diversion occurred on a Sept. 1 Delta Air Lines (DAL) -) flight from Atlanta in the U.S. to Spain's Barcelona. The Airbus A350 (EADSF) -) was two hours into the eight-and-a-half-hour flight to Europe when the pilot told the 336 passengers onboard that they would have to turn around due to a "biohazard issue."
A Delta Airlines Airbus A350 turned around back to Atlanta Friday night because of diarrhea throughout the airplane from a passenger and it's a biohazard. 👀🥴

The FAA flight strip for DL194 was posted to Reddit (📷xStang05x) Also a passenger posted here asking why her son's… pic.twitter.com/VWbkB47wF1

— Thenewarea51 (@thenewarea51) September 3, 2023
'They want us to come back to Atlanta,' pilot tells passengers
"We've had a passenger who's had diarrhea all the way through the airplane, so they want us to come back to Atlanta," the pilot is heard saying in the overheard announcement later shared on Twitter by one of the passengers on the flight.
Delta later confirmed to media outlets that there was a "medical issue" but that the cleaning team in Atlanta "worked as quickly and safely as possible to thoroughly clean the airplane and get our customers to their final destination." 
The plane had already passed over parts of Georgia, North Carolina, and Virginia but was forced to turn around and land in Atlanta at 10:39 p.m. Flight-tracking data shows that the Delta plane made it to Barcelona five hours later than the scheduled arrival.
A flight strip from the flight shared on Reddit also shows that the air traffic instructions were "Divert to ATL — passenger diarrhea all over aircraft — biohazard." 
While the off-putting nature of the incident caused many quips and "crappy situation" puns on social media, some sympathized with both the person with the diarrhea and the fellow travelers.
Social media weighs in: 'What a horror show for everyone involved'
"Imagine it running under the seats soaking everyone's carry-on bags," wrote Reddit user r/EaterOfFood.
Another claimed that a friend who was on the flight sent her a text about it as soon as they landed.
"She said it was all over the airplane, running down the aisle," r/Saussice wrote. "I cannot — or maybe more accurately do not want to — imagine that. What a horror show for everyone involved."
While the airline did not share what caused the passenger to fall ill, flights have been diverted due to passenger food poisoning in the past. The most well-known incident occurred when 197 people aboard a Japan Air Lines flight from Alaska to Copenhagen got food poisoning after eating the in-flight meal of ham omelettes.
More recently, a TUI Airways flight shuttling holidayers from the United Kingdom to Florida had to make an unplanned 24-hour stopover in Maine after one of the two pilots became "incapacitated" due to food poisoning in October 2022. 
The second pilot landed the plane safely in Bangor but the British sunseekers and other American travelers had to wait 24 hours before a replacement crew could be found to rub the flight to its destination.