Delhi: Over 63mm rainfall in just 3 days makes it wettest January in 27 years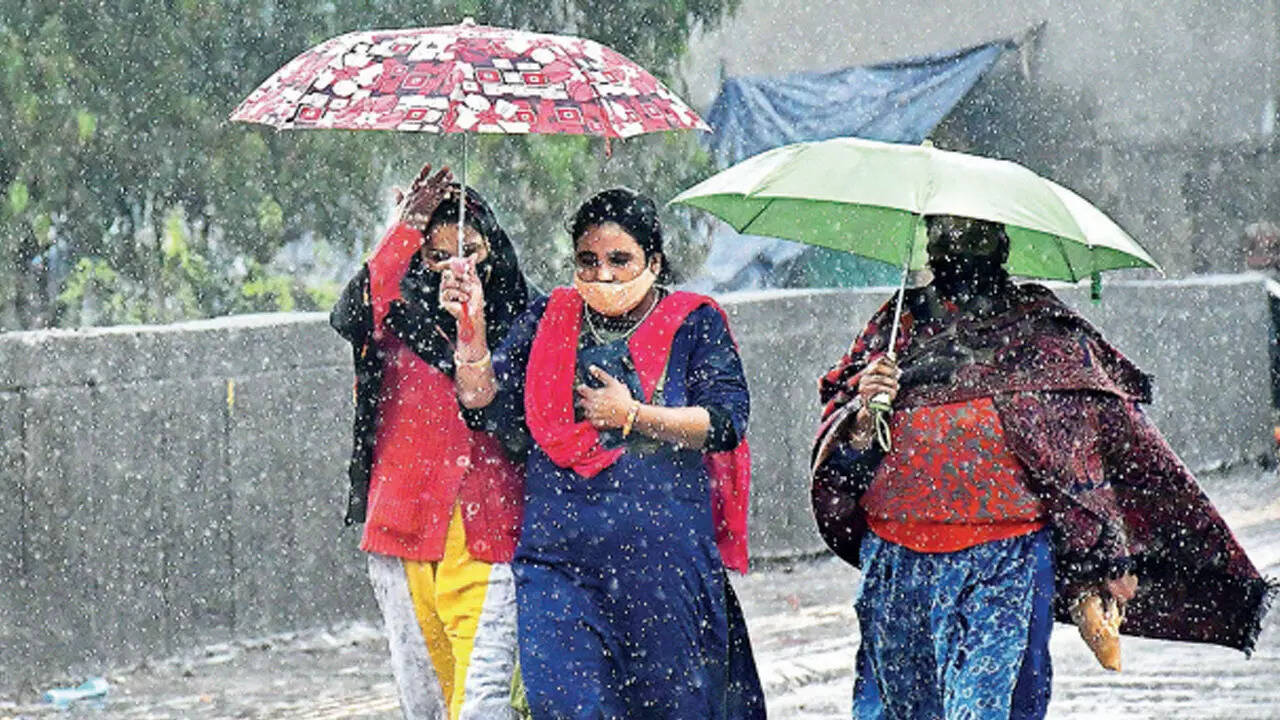 NEW DELHI: The city logged 63.6mm of rainfall in the last three days, making it the wettest January in the past 27 years. Before this, Safdarjung, the city's base weather station, had received 69.8mm of rainfall in January 1995.
The rain also cleaned the air with air quality index (AQI) remaining in the "satisfactory" category for 48 hours. It was the first January to experience a "satisfactory" air day since Central Pollution Control Board started maintaining AQI from April 2015. Two "satisfactory" days in January this year also made it rarer. The AQI was 91 on Saturday, which improved to 69 on Sunday.
RK Jenamani, senior scientist at IMD, said, "Under the influence of the most active western disturbance of this season, Delhi received rain for two and a half days. This western disturbance was unique because of three factors - it remained for a longer period over north Pakistan and adjoining plains, vertical extension of the system was stronger and extended up to the upper troposphere and it picked very high moisture from Arabian Sea."
Safdarjung recorded 5.4mm rainfall on Sunday between 8.30am and 5.30pm. Narela received the highest rainfall (12.1mm), while Lodhi Road logged 5.6mm. Rain was now unlikely till January 18.
Delhi recorded the lowest maximum temperature of the season at 15 degrees Celsius, four notches below normal. The minimum temperature settled at 13.8 degrees Celsius, seven degrees above normal. "The day and night temperatures remained almost the same for 48 hours. There was a marginal difference in minimum and maximum temperatures due to the western disturbance," said Jenamani.
Gufran Beig, founder project director, SAFAR, said. "Due to unprecedented rain in January, AQI has been unusually low since Saturday. It's rare that two consecutive satisfactory days were recorded in January."
SAFAR said, "From Monday, air pollutants may gradually accumulate in the air in the absence of rainfall and relatively moderate ventilation. AQI is likely to be satisfactory on Monday and degrade to moderate on January 11 and 12 due to low wind speeds."
Anumita Roychowdhury, executive director, research and advocacy, Centre for Science and Environment, said, "Rain and improved wind speed washed out the pollutants. We will have to see how pollution bounces back after the rain stops and moisture content increases, while the cold conditions continue to prevail."