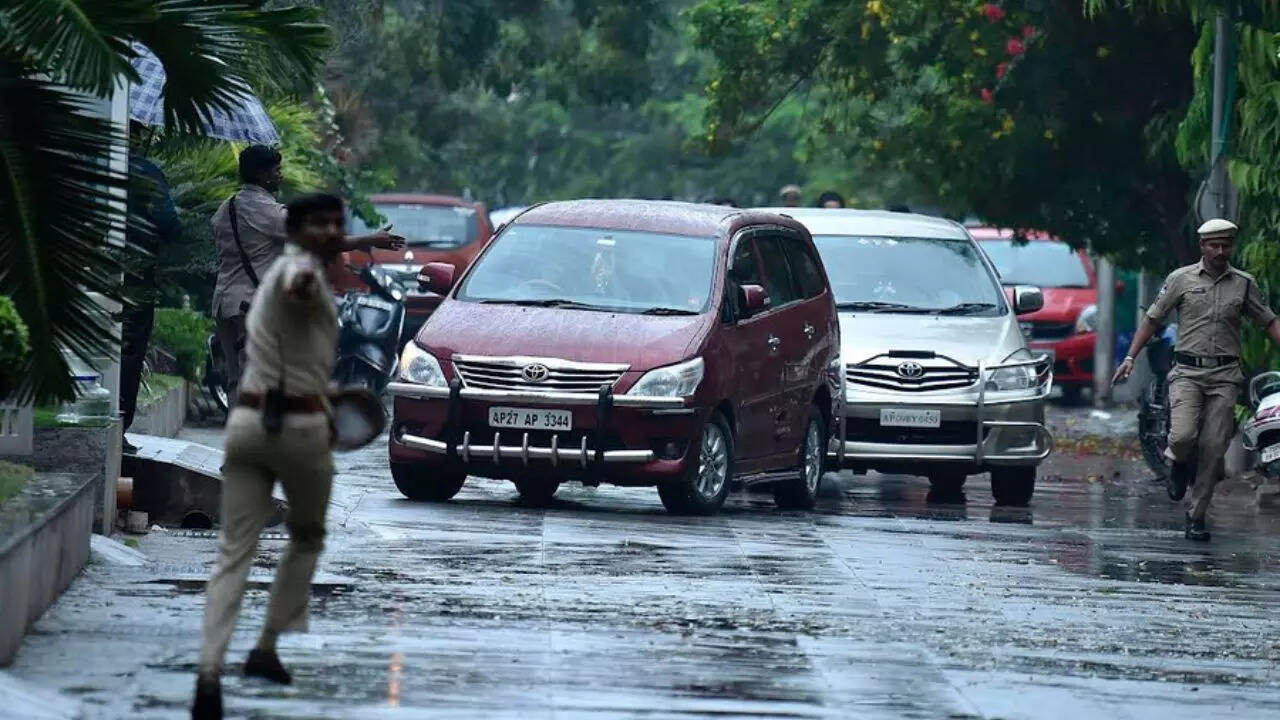 HYDERABAD: Central Bureau of Investigation (CBI) has recorded the statements of Telangana chief minister K Chandrashekar Rao's daughter Kalvakuntla Kavita in the Delhi Excise police scam on Sunday after questioning for seven hours.
Though Kavita was served notice as a witness, CBI grilled her regarding her links to the several arrested accused P Sarath Chandra Reddy of Aurobindo pharma, Amit Arora and other accused. Earlier Enforcement Directorate (ED) had already alleged that Kavita acted on behalf of the South cartel to bribe AAP government officials and ministers.
After the questioning, Kavita came out of her residence waving to a large group of followers who gathered to express solidarity with her.Kavita left to Pragati Bhavan, the official residence of chief minister K Chandrashekar Rao, after questioning.
A team of five CBI officials led by agencies Delhi Anti-Corruption Branch DIG Raghavendra Vatsa examined Kavita regarding her alleged role in the scam. CBI also asked her regarding the change of mobile phone devices, four of which one number and three on other numbers during the recent past. The investigating agency suspects that all those linked to the scam have destroyed the evidence by changing the devices.
A woman officer was also part of the CBI team that grilled Kavita. The grilling took place at her residence in Banjara Hills. A legal counsel of Kavita was also at her house during the questioning.
A case has been registered with CBI against Manish Sisodia, deputy chief minister of Delhi and 14 others regarding the allegations about the excise policy of Delhi for the year 2021-22
In the notice served CBI said that during the investigation, they found that Kavita was acquainted with specific facts of the case.
The statement of accused Amit Arora to the Enforcement Director revealed that the South cartel of Liquor contractors that paid Rs 100 crore to Aam Admi party government key functionaries was led by P Sarath of Aurobindo Pharma, MLC Kavita and MP Magunta Srinivasulu Reddy.
Both CBI and ED are simultaneously probing the case. They have arrested businessman Abhishek Boinpally, former trade commissioner Arun Ramachandra Pillai, and P Sarath Reddy of Aurobindo in the case so far.
Both CBI and ED have so far arrested businessman Abhishek Boinpallya close aide of Kavita, former trade commissioner Arun Ramachandra Pillai, P Sarath Reddy of Aurobindo Pharma.
CBI is probing whether Kavita had played an intermediary role, collected bribes from the cartel, and paid it to the Ministers and officials in Aam Admi Party government.
In the evening, after CBI officials left Kavita's residence, TRS Minister Talasani Srinivas Yadav, MLAs and MPs visited her house and expressed their solidarity.
CBI is likely to question Kavita again, depending on the evidence that emerges.