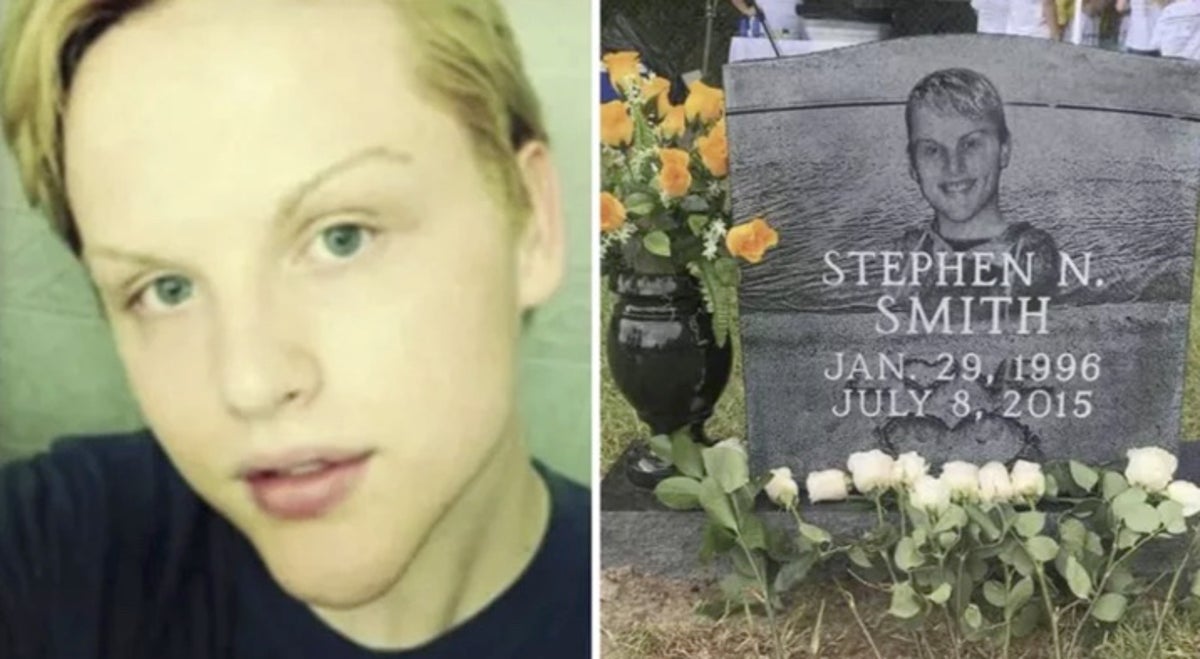 Stephen Smith was just 19 when his body was found in the middle of a road in Hampton County, South Carolina, in July 2015.
His death was ultimately ruled a hit-and-run – but it's a conclusion that investigators, Smith's family and members of the local community have never believed.
Along with inconsistencies in the scene and the victim's body, there was also the fact that one name repeatedly cropped up throughout the investigation: Murdaugh.
Six years later, that name would shoot to international attention when the family patriarch Alex Murdaugh murdered his wife Maggie and son Paul in a brutal double homicide.
In February, Murdaugh was convicted of their murders and sentenced to life in prison. He is also awaiting charges over a vast financial fraud scheme.
Now, the focus has shifted to other mystery deaths with potential ties to the powerful legal dynasty.
For almost eight years, Smith's mother Sandy Smith has maintained that her son was murdered and his body left in the road by his killer.
Finally, South Carolina investigators have revealed that she was right all along.
In a bombshell move on Tuesday, the South Carolina Law Enforcement Division (SLED) confirmed that the 19-year-old's death was a homicide.
But who killed him? And why has it taken so long to get answers over his death?
Here's what we know so far about Smith's death:
Mysterious death
Smith, a 19-year-old openly gay teenager and nursing student, was found dead in the middle of a road in Hampton County on 8 July 2015 – his body found around 15 miles from the Murdaugh family's Moselle estate where Maggie and Paul were murdered six years later.
Smith had suffered blunt force trauma to the head and his death was officially ruled a hit-and-run and closed.
Yet, police reports revealed that the scene, and some of Smith's injuries, were inconsistent with being struck by a car.
In Monday's press conference, Ms Smith's attorneys said they believe he was killed "somewhere else" before his body was "placed" in the middle of Sandy Run Road.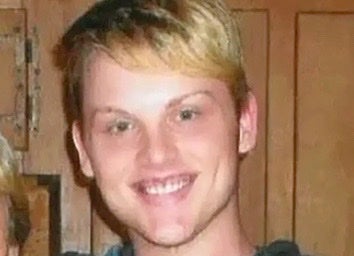 "We think he did not die on that road that night," said attorney Eric Bland, adding that they "don't expect it to be vehicular manslaughter".
Attorney Ronnie Richter added that the events surrounding Smith's death do not fit with the official account of how he died – nor with Smith's habits and behaviours.
There were no skid marks around his body, no vehicular debris, and Smith's loosely tied shoes were still on his feet, he said – all evidence which cast doubts on him being struck and killed by a vehicle.
Smith's car was also three miles down the road with the gas cap removed.
"While it appeared he had broken down and walked for help, he never called for help from his cellphone he had on his body," said Mr Richter.
Ms Smith told reporters that her son was cautious person who would not have walked along the road – especially given a route through the fields would have been quicker.
He also wouldn't have left his wallet in his car, she said, and would have called his twin sister for help if he got stuck.
Because he was openly gay in the lowcountry, Mr Bland said that Smith "had to be cautious" and had to have something of a "secret life".
"Being gay in the lowcountry is not easy, he had to live a secret, careful life," he said.
Mr Bland added that Smith's injuries did not suggest he was struck by a vehicle, saying that he only had shoulder up injuries and therefore did not appear to have been struck by a bumper.
Ties to the Murdaugh family
There have long been murmurings in the community that a "Murdaugh boy" may have been involved in Smith's death.
In the initial case, the Murdaugh name came up 40 times in documents, reported Live5News.
Smith had been a classmate of Buster Murdaugh – Alex and Maggie Murdaugh's eldest and now only surviving son – and there were rumours that the two had some sort of relationship.
Earlier this month, when Murdaugh was led out of the courthouse after being sentenced for his family's murders, a bystander shouted that "Buster is next" for "justice" – an apparent reference to the Smith case.
Investigators have not announced any connection between the Murdaugh family and Smith's death and no charges have ever been filed.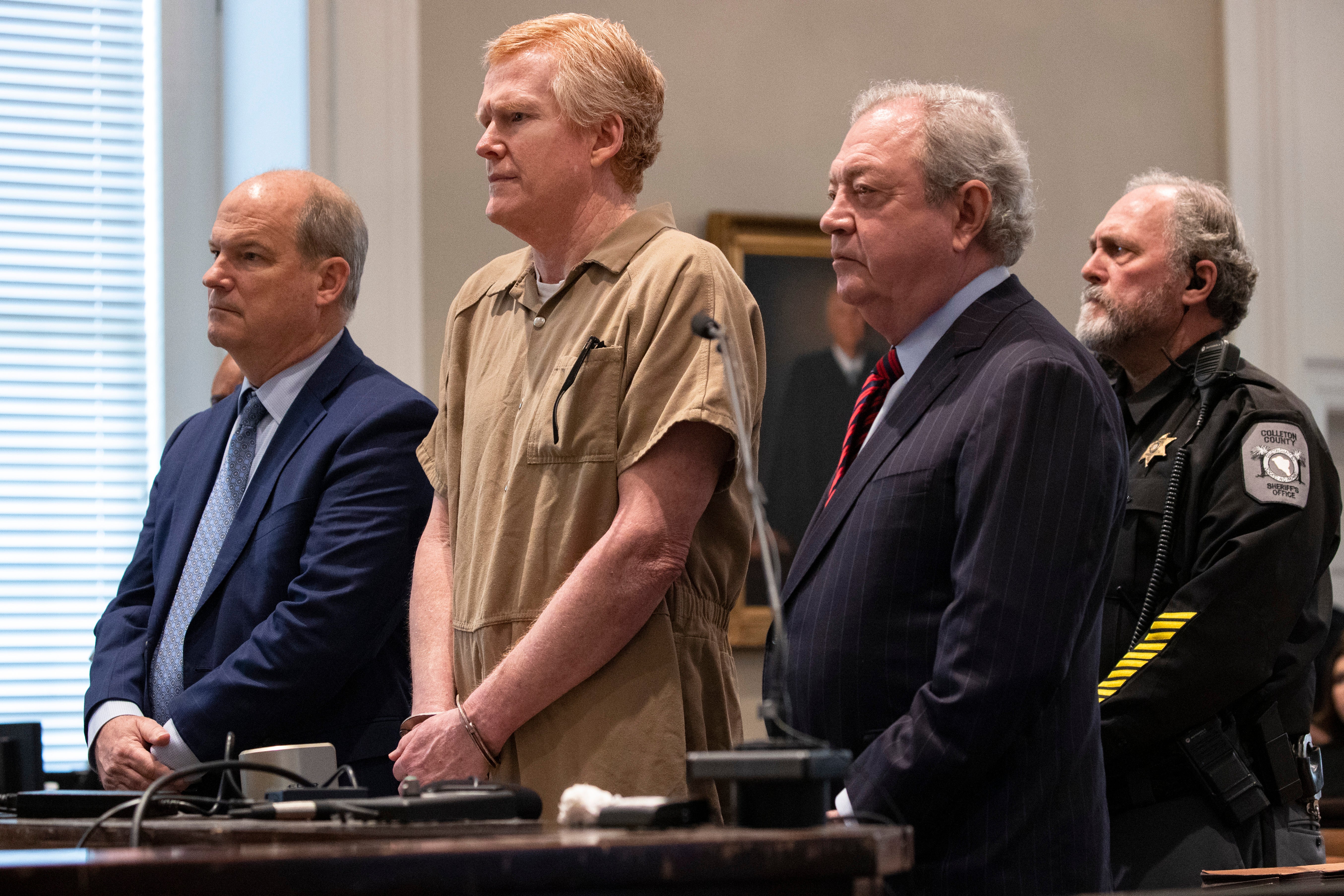 Despite the connection to the Murdaughs, Mr Bland said on Monday that the independent investigation is not about the legal dynasty.
"This is not an Alex Murdaugh 2.0 or any other Murdaugh 2.0. This is a Stephen Smith 2.0," he said.
"This is about Stephen," he said, adding that they just want to "give a mother answers" about her son's death.
A bombshell letter
A bombshell letter sent by Ms Smith to the FBI in 2016 has now resurfaced revealing that the grieving mother identified Buster as the prime suspect in her son's murder many years ago.
Ms Smith sent a letter to the FBI back on 28 September 2016 asking the federal agency to investigate his mysterious death.
In the letter, obtained by local outlet FITS News and released on 21 March, Ms Smith wrote that an alleged witness had told a family member that Buster had murdered her son – by beating him to death with a baseball bat.
The unidentified witness – who claimed they were present during the murder – was then allegedly coerced into silence by Buster who threatened to kill them if they spoke up about what had happened.
The bombshell letter also claimed that Randy Murdaugh – Buster's uncle and Alex Murdaugh's brother – contacted Smith's parents hours after his body was discovered offering to represent them pro bono.
"We also weren't sure how he found out so quickly – even before it was confirmed to be our son," she said.
Ms Smith said that Randy then quickly stopped answering the family's calls.
It was around that time – just days after Smith's death – that she said her son's twin sister Stephanie Joyner was approached "multiple times by peers telling her that Solicitor Murdaugh's nephews were responsible".
This – and Randy's sudden departure from representing them – raised the family's suspicions.
Not long after that, Smith's brother Chris was then approached by the individual claiming to be a firsthand witness to his murder.
"The witness said they were out smashing mailboxes when they came upon Stephen, and Buster seized the opportunity," she wrote in her letter.
"The young man [said] that Buster threatened to kill him if he ever spoke up. This information was given to investigators but nothing has come of it."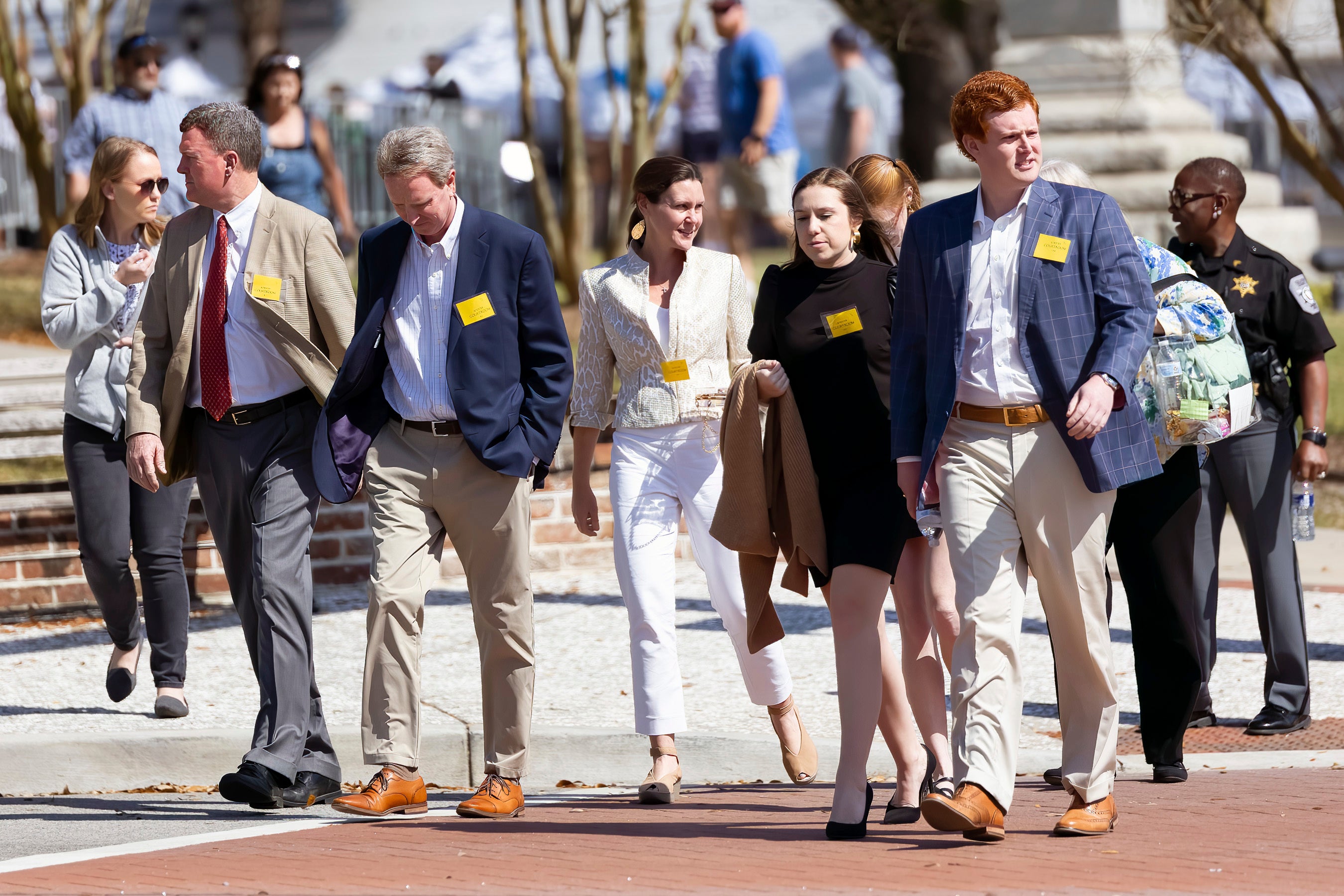 The witness allegedly told Chris that Smith was killed because he was gay.
Ms Smith also told the FBI that she had been tipped off about a conversation between a schoolmate of Paul's and school officials in which the classmate had "claimed to have knowledge of the murder and implicated Buster as the murderer".
Prior to his death, she said that her son had told friends he was "involved romantically with someone from a prominent family in the county who was hiding his sexuality".
Ms Smith also claimed that Buster got rid of his vehicle in the aftermath of the murder.
She wrote that she believes her son's DNA could have been in the vehicle as – based on the lack of blood on the scene and the location of Smith's own car – her son was "transported to that site" where his body was found.
In the four-page letter, Ms Smith outlines several other alleged revelations detailing how the investigation appeared to have been "derailed" by local investigators and the prominent Murdaugh family – to cover up her son's murder.
"It has been apparent from the first week of this investigation that authorities are covering up critical evidence, and we no longer know who to trust," she wrote.
Ms Smith wrote that she and Smith's father were initially told that her son was shot. Then, they were told he was killed in a hit-and-run. They were then told he was beaten to death but investigators told them to continue to say it was a hit-and-run as they didn't want to alert the killer, the letter states.
The Independent has reached out to the attorneys representing both Buster Murdaugh and Sandy Smith about the letter
Case reopened
For six years after Smith's death, the case was closed and went cold.
Then, on 7 June 2021, Murdaugh gunned down his wife Maggie and son Paul on the affluent family's sprawling 1,700-acre estate in Islandton.
This propelled the Smith case into the spotlight once more.
Just days after the murders, SLED – the agency probing the murders – announced that it was reopening an investigation into Smith's death.
It is not clear what information prompted the launch of the investigation into Smith's death and no further details have been released.
In January 2023, SLED only said it had "made progress" in the case.
During Monday's press conference, Mr Bland said that a grand jury had been called to investigate Smith's death but said that it was now "no longer in panel".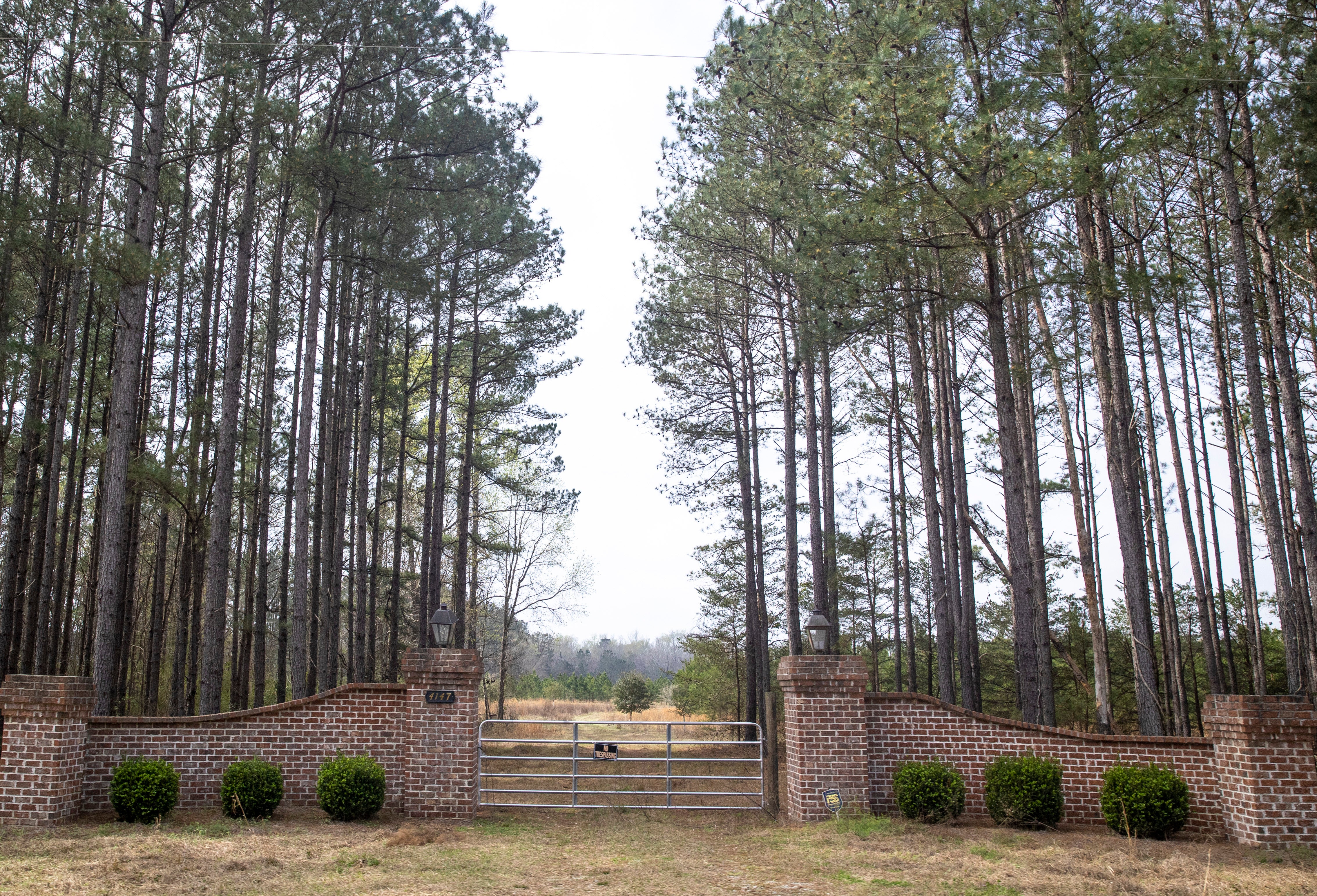 This means that the panel either returned an indictment and the attorney general is sitting on it or there is not enough information for an indictment, he said.
He added that he believed it was the latter.
Death ruled a homicide
After Smith's mother spent almost eight years fighting to get answers about what happened to her son, SLED confirmed on 21 March that his death was officially being investigated as a homicide.
In a bombshell development, SLED chief Mark Keel informed the Smith family in a phone call, Ms Smith's attorneys said.
"SLED is investigating Stephen Smith's 2015 death as a homicide and been investigating this since 2021," agency spokesperson Renée Wunderlich said Tuesday.
Attorneys Mr Bland and Mr Richter described the update as "extraordinary" and "a shocking announcement after eight years of being proclaimed a highway vehicular manslaughter"
They said that law enforcement did not need to exhume Smith's body to reach the conclusion that there was foul play in his death.
"SLED officials have revealed that they did not need to exhume Stephen Smith's body to convince them that his death was a homicide," the attorneys said in a joint statement.
"However, they will be present and participate in any exhumation of Stephen's body to gather more evidence. We are committed to finding out what really happened, and getting the peace and justice the Smith family deserves."
"We have a chance to right eight years of wrongs, and we intend to do just that," Mr Bland added.
The attorneys added that SLED officials had also "welcomed a partnership" with the attorneys representing Smith's family and believe that "working together will help to bring new leads and information to light and will ultimately lead to a resolution in this case".
GoFundMe campaign
Following Murdaugh's conviction earlier this month, Ms Smith had launched a GoFundMe campaign to raise money to pay for her son's body to be exhumed and for an independent autopsy conducted.
"We feel it's critical to seek a new goal - an independent exhumation and autopsy - and we're launching Justice for Stephen N. Smith with that immediate goal in mind," the fundraiser said.
"While the state can elect and fund an exhumation and new autopsy, it is our understanding that it would be carried out at MUSC, where his death was initially classified as hit-and-run despite no evidence to support it.
"We need a new, unbiased look at his body and an accurate determination of his cause of death based on facts. There was no debris in the road, and his injuries were not consistent with a hit-and-run."
The family was seeking $7,000 for the independent autopsy and with help paying for a private medical examiner at a rate of around $750 per hour.
By early Monday morning, more than $65,000 was raised taking the Smith family well beyond the goal.
In an update, Ms Smith thanked supporters for their contributions and said the family plans to begin the exhumation "immediately".
"I could not have imagined when we began this fundraiser that it would take off the way that it did," she wrote.
"Thank you for not allowing Stephen's story to be swept under a rug. We will pursue the exhumation immediately and provide updates along the way."
New investigation
Using the GoFundMe donations, attorney Mr Bland said that investigators will be hired to "start over" on the case – coming to it "from scratch" and "without preconceived notions".
Firstly, he explained that he and Mr Richter will file a petition in the next week to 10 days asking a judge for permission to exhume Smith's body.
He said he hopes the judge will see there is "good cause" to believe that "a fresh set of eyes, new autopsy could heed a different conclusion" as to what happened to the 19-year-old victim.
The investigation will also "look at [Stephen's life]" focusing on the 90 days before his death on 8 July 2015 including who he was associating with, who his friends were, who he was dating at the time, his communications and plans he had made prior to his death.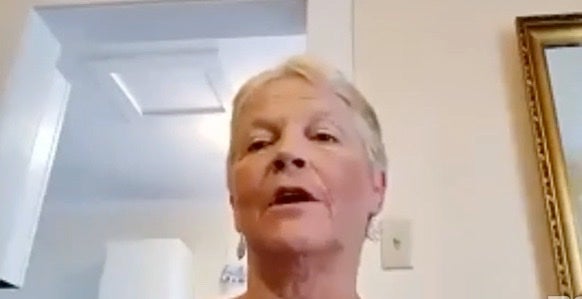 "A lot of pre-death communications can be relevant and the post-death communications of some people could be relevant," he said. He did not reveal who he could be referring to.
He pointed to the techniques used in Murdaugh's murder trial which used cellphone data such as GPS data and call logs to track the victims' and killer's movements – saying that they would be looking to employ similar technological techniques as part of the investigation.
If the investigation does lead to the same conclusion as the initial investigation – that Smith was the victim of a hit-and-run – Mr Bland pointed out that the individual or individuals responsible are still walking free and need to be brought to justice.
Any information gathered through the independent probe will be shared with SLED, he said.
Ms Smith said she hopes to finally learn the "real reason" for her son's death.
"I hope to find the real reason for Stephen's death and the real why," she said at the press conference.
Buster breaks silence
As Smith's family held a press conference, Buster broke his silence to address the "vicious rumours" about Smith's mysterious death.
Buster, 26, released a statement through attorney Jim Griffin on Monday denying any involvement in the teenager's death.
"I have tried my best to ignore the vicious rumors about my involvement in Stephen Smith's tragic death that continue to be published in the media as I grieve over the brutal murders of my mother and brother. I love them so much and miss them terribly," said Buster in the statement.
"I haven't spoken up until now because I want to live in private while I cope with their deaths and my father's incarceration.
"Before, during and since my father's trial, I have been targeted and harassed by the media and followers of this story.
"This has gone on far too long. These baseless rumors of my involvement with Stephen and his death are false.
"I unequivocally deny any involvement in his death, and my heart goes out to the Smith family. I am requesting that the media immediately stop publishing these defamatory comments and rumours about me."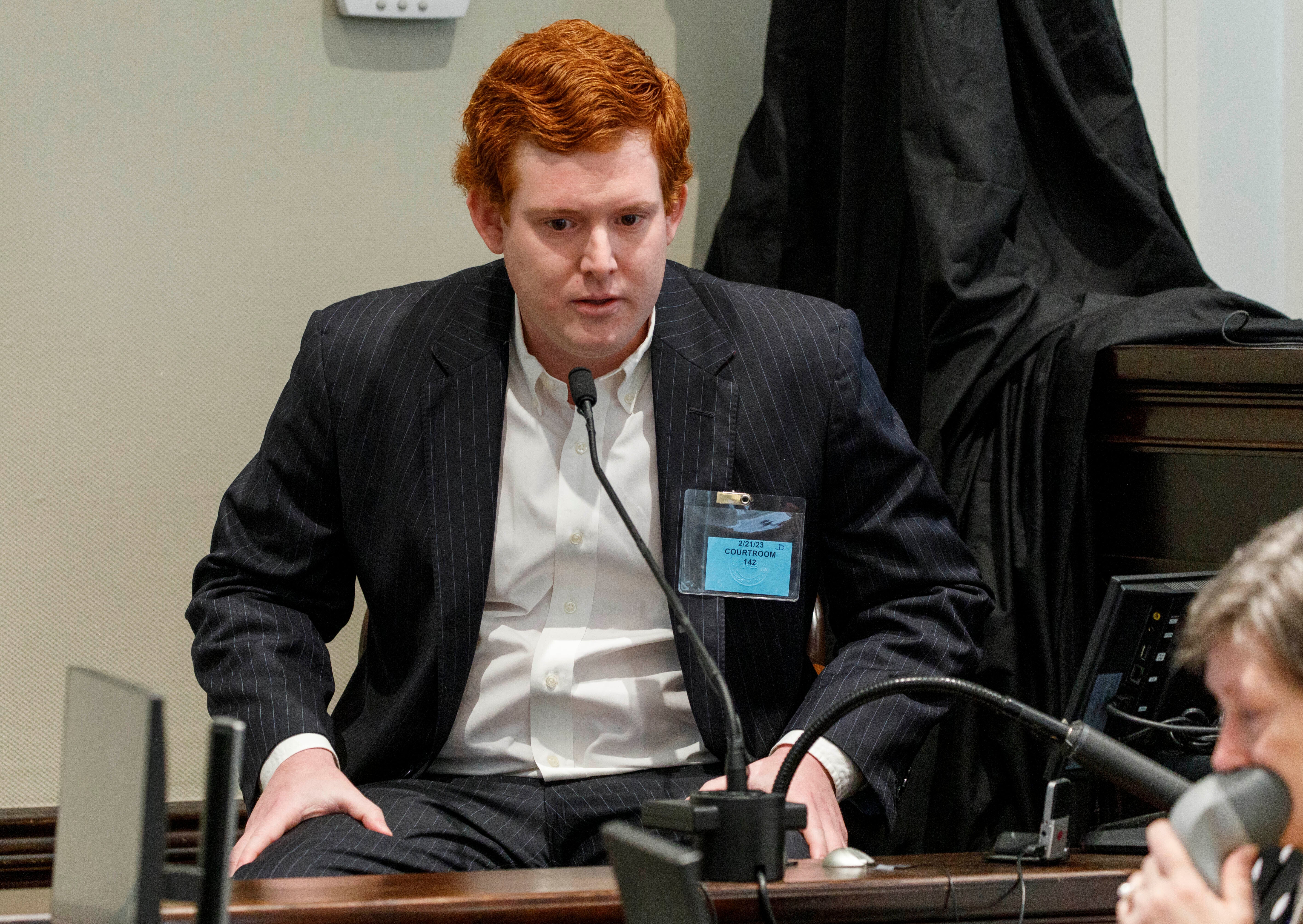 In the weeks since his father's high-profile murder conviction, Buster, 26, and his girlfriend Brooklynn White have filed multiple police reports complaining about being followed and harassed by members of the media.
Buster, the eldest and now only living son of Maggie and Alex Murdaugh, stood by his father throughout his trial for the brutal double murders of his mother and brother Paul – attending each day of the court's proceedings with his family members in a show of support.
Buster also testified in his father's defence saying that Murdaugh had been "destroyed" and "heartbroken" in the aftermath of the deaths of his mother and brother.
But, after Murdaugh's conviction for the double murders, the spotlight then turned to Buster.
As his father was led out of the courthouse after being sentenced to life in prison, a bystander shouted "Buster is next" for "justice" – an apparent reference to the Smith case.