Dan Levy makes Met Gala debut in eccentric outfit honouring AIDS activist and 'queer love'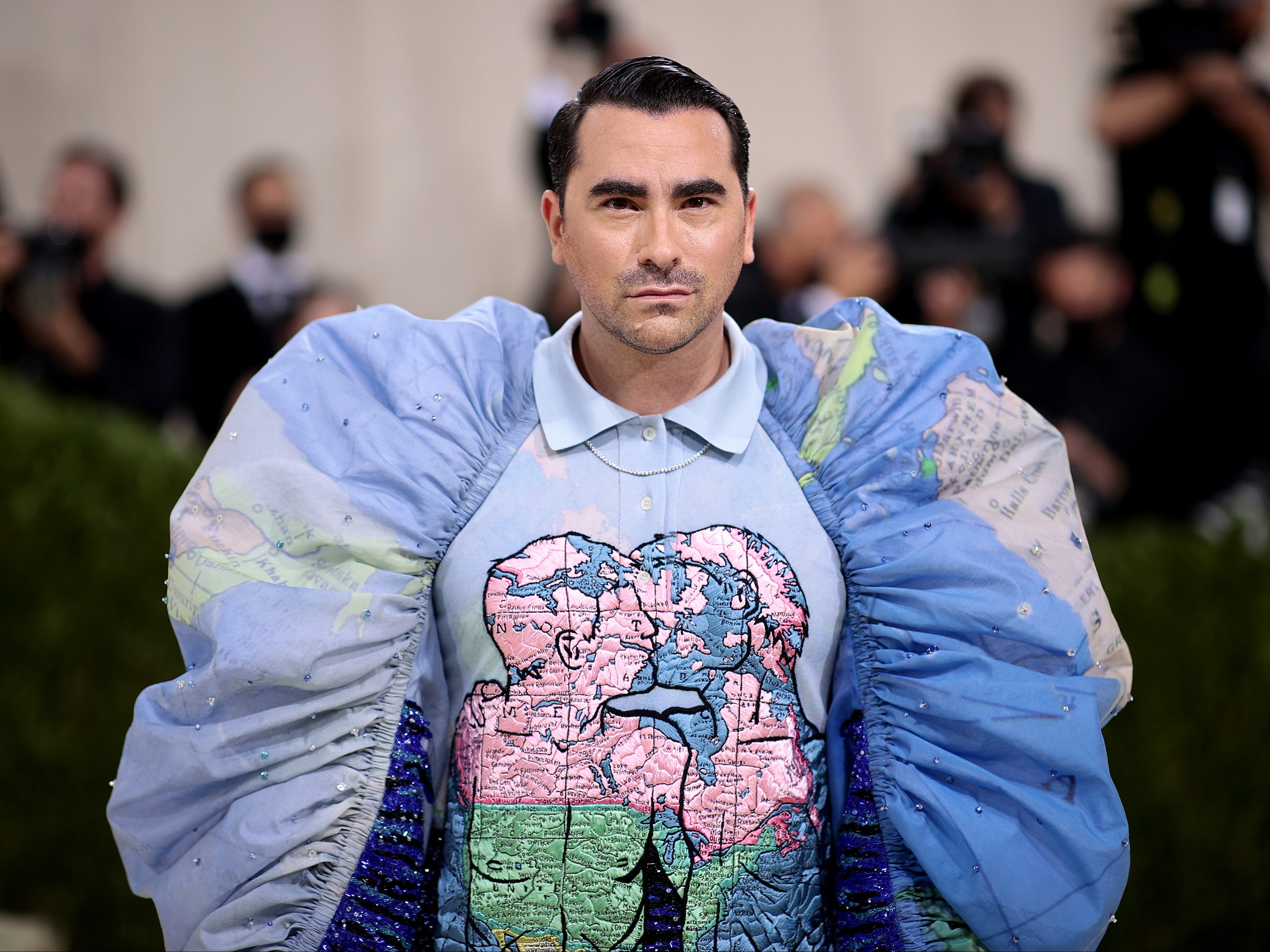 Dan Levy has officially made his Met Gala red-carpet debut, and, as expected, the "Schitt's Creek" creator, writer and star did not disappoint: His eccentric ensemble is not only breath-taking, but celebrates the LGBTQ+ community — past, present, and future.
Collaborating with Loewe designer Jonathan Anderson, Levy set out to create a custom red-carpet look that would honour "the resilience and the love and the joy" of the LGBTQ+ community, telling Vanity Fair:  "I had asked Jonathan if he would be into dressing me just because…I just love his perspective on fashion and thought that he'd be a really great person to collaborate with on this."
He's so thoughtful, unexpected, and artful in his approach to what he wants to say with the clothes that he designs…. Fortunately, he said yes, and fortunately he did have some great ideas."
Levy and Anderson worked together to create the comedian's Met Gala look, utilising the artwork of artist and AIDS activist David Wojnarowicz, whose work often referenced his political activism and personal struggle with AIDS.
Adapting two of Wojnarowicz most popular pieces — F*** You F--got F***er, 1984, and Untitled (One Day This Kid…), 1990–91 — Levy told Vanity Fair they hoped to express the artist's motifs of  lauding  "queer love and queer visibility" while simultaneously reiterating that "there's a lot more that needs to be done."
Prior to the event, Levy took to Instagram to tease his upcoming look, providing additional historical context: "With support from the estate of American multimedia artist and LGBTQIA+ activist, David Wojnarovicz (1954-1992), Jonathan and the design team built upon an image of two men kissing from Wojnarovicz's work, F*** You F****ot F***er, named after a homophobic cartoon the artist had come across."
As a fervent and unashamed cartophile, I am #dying over this Met Gala look, worn by @danjlevy and created by David Wojnarowicz for Loewe. I actually cannot look away. pic.twitter.com/QtVCmMypNJ

— Dr Effie Karageorgos (@eleaud) September 13, 2021
"But rather than feed on the message of hate, we wanted to celebrate queer love and visibility - acknowledging how hard artists like Wojnarovicz had to fight, while also presenting the imagery in a way that offered a hopeful message. Tonight, we're celebrating the resilience, the love, and the joy of the community while honoring a crucial American voice that was taken from us too soon."
Levy also added that Lowe had made a donation to Visual AIDS, an organisation Wojnarovicz supported, that promotes AIDS awareness and education.
Dan Levy is the whole world #MetGala pic.twitter.com/DoFZtqTEGH

— Chicks in the Office (@ChicksInTheOff) September 13, 2021
David Rose would certainly be proud. We that know we are.