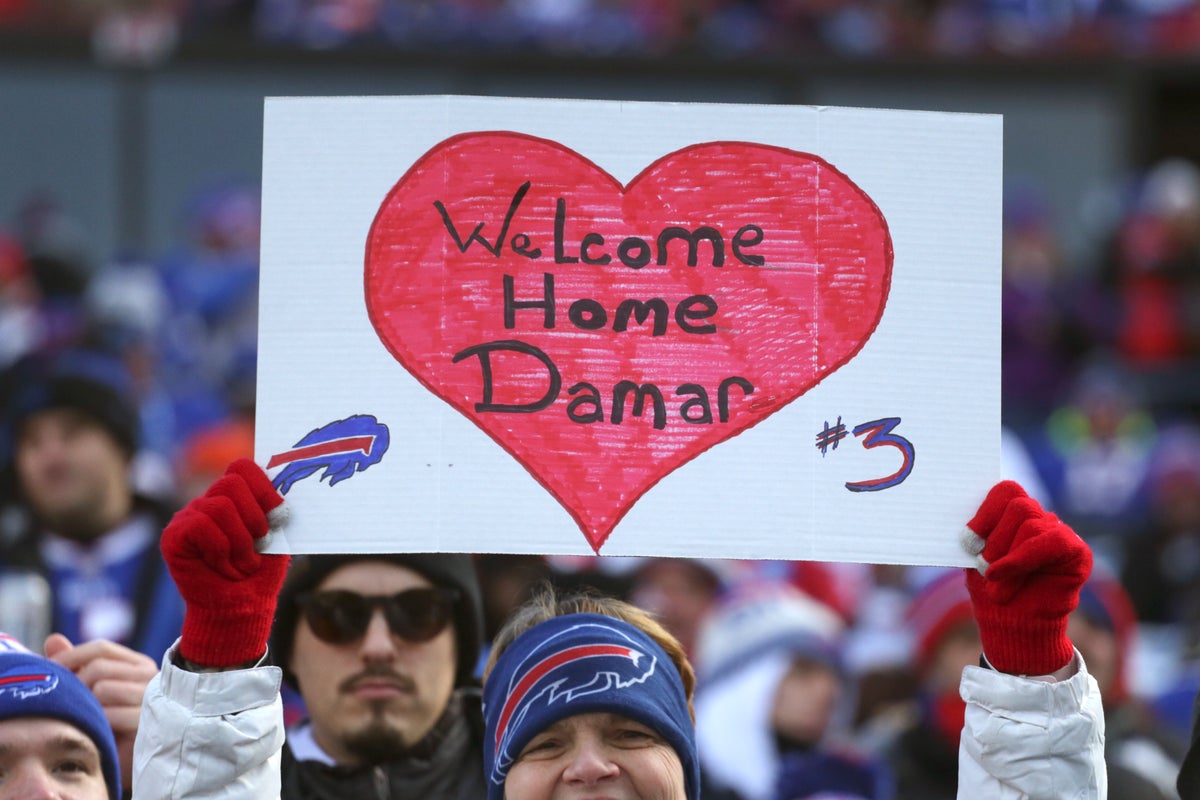 Damar Hamlin delivered a heart gesture towards Buffalo Bills fans after making an emotional return to Highmark Stadium on Sunday.
The NFL safety was present for the play-off match during the divisional round against the Cincinnati Bengals just 20 days after suffering a cardiac arrest on the field.
After footage emerged of Hamlin entering the stadium in a team cart, the 24-year-old was then escorted to a private suite.
Despite not speaking to the media, Hamlin responded to an emotional reception from Bills fans, making a heart sign gesture with his hands before sparking support for his teammates by urging spectators to make noise.
Hamlin, who was discharged from hospital just nine days ago, has been visiting the team facility "almost daily," according to head coach Sean McDermott.
Hamlin's presence was unable to inspire the Bills to the AFC Championship game, with quarterback Joe Burrow inspiring the Bengals to a 27-10 victory.
The win gives Cincinnati a chance to return to the Super Bowl in a rematch of last year's AFC Championship game against the Kansas City Chiefs.
It is the first time in franchise history that the Bengals have returned to the AFC Championship game in successive years.
The Bills, meanwhile, look to bounce back next season, with Hamlin adamant they can compete for a Super Bowl title again.
"We'll be back… don't even trip," said Hamlin.
While McDermott provided an update on Hamlin's condition.
"It's limited, just overall," said the Bills head coach. "But he comes in and really just started really today or yesterday and just trying to get back to a little bit of a routine and just get himself acclimated again and taking it one step, one baby step at a time here."