Cyclonic storm weakens to depression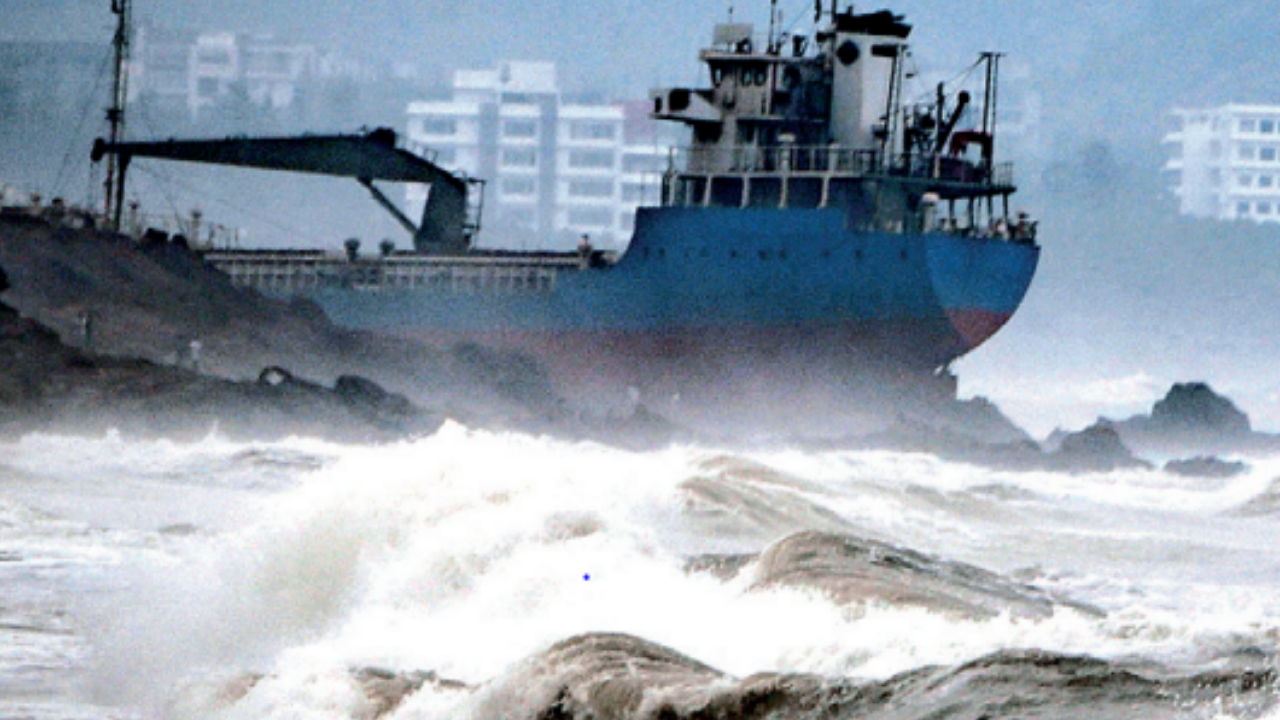 VISAKHAPATNAM: The severe cyclonic storm Asani crossed the coast between Machilipatnam and Narsapur on Wednesday evening as a deep depression. Tuesday's severe cyclonic storm weakened into a cyclone on Wednesday morning and it further degraded into a deep depression by evening. Heavy rains and strong winds were reported in this landfall stretch.
According to IMD officials, the surface winds gusted to 55-65 kmph at the time of the crossing of the cyclone – between 5:30 pm to 7:30 pm.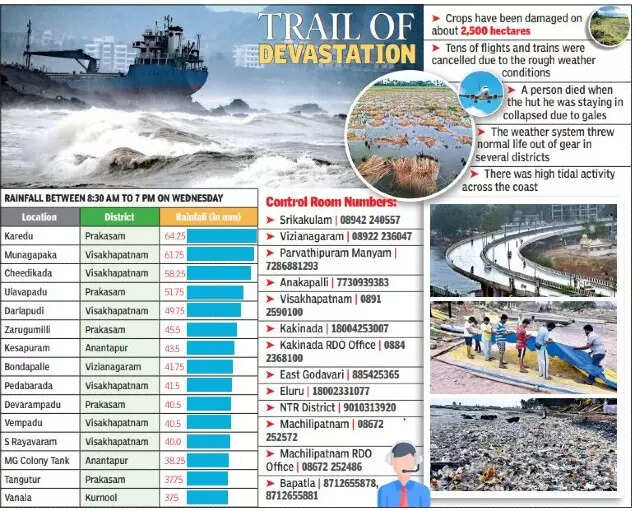 As per the projections, the storm is very likely to move north-northeastwards along Yanam, Kakinada and Tuni coasts till the early hours of May 12, Thursday. The system is expected to further weaken into a depression by Thursday morning. The intensity of wind speeds will also drop to 45-50 kmph.
Even though the cyclone brought a respite from scorching temperatures for last four days, the untimely rains played havoc for farmers. As per an estimates, crops have been damaged in about 2,500 hectares. Mango and paddy farmers were worst affected in the south coastal Andhra Pradesh districts. One person died in Konaseema district as the hut he was staying collapsed due to the strong gales from the cyclone.
Tens of flights from Visakhapatnam and Vijayawada airports were cancelled on Wednesday due to the inclement weather conditions.
The heavy rains brought normal life to a standstill in the south coastal Andhra Pradesh districts, particularly in the combined Prakasam, Nellore, Guntur and Krishna districts.
Inugunta in Nellore district received 13 cm rainfall between 8:30 am on May 10 and 8:30 am on May 11. More than 75 places recorded more than 5 cm rainfall on Tuesday and four places on Wednesday. The maximum temperatures in a majority of the districts remained under 35 degrees Celsius on Wednesday.
Kalugotla (Kurnool district) recorded the maximum temperature of the day of 38.5 degrees Celsius. The maximum temperatures, which hovered around 44-45 degrees Celsius till May 4, took a plunge for the last one week due to the brewing of this weather system.
No major damage was reported to the infrastructure. As the cyclone has already weakened into a deep depression, the conditions in the state may improve by Thursday evening. However, heavy rains with squally winds may continue in the coastal districts. The officials in the districts asked the public to be cautious about the storm.
According to IMD's forecast, squally winds with a speed of 45-55 kmph gusting to 65 kmph is likely to prevail along and off all the districts of coastal Andhra Pradesh on Thursday. Isolated places of north coastal Andhra may receive heavy rainfall.