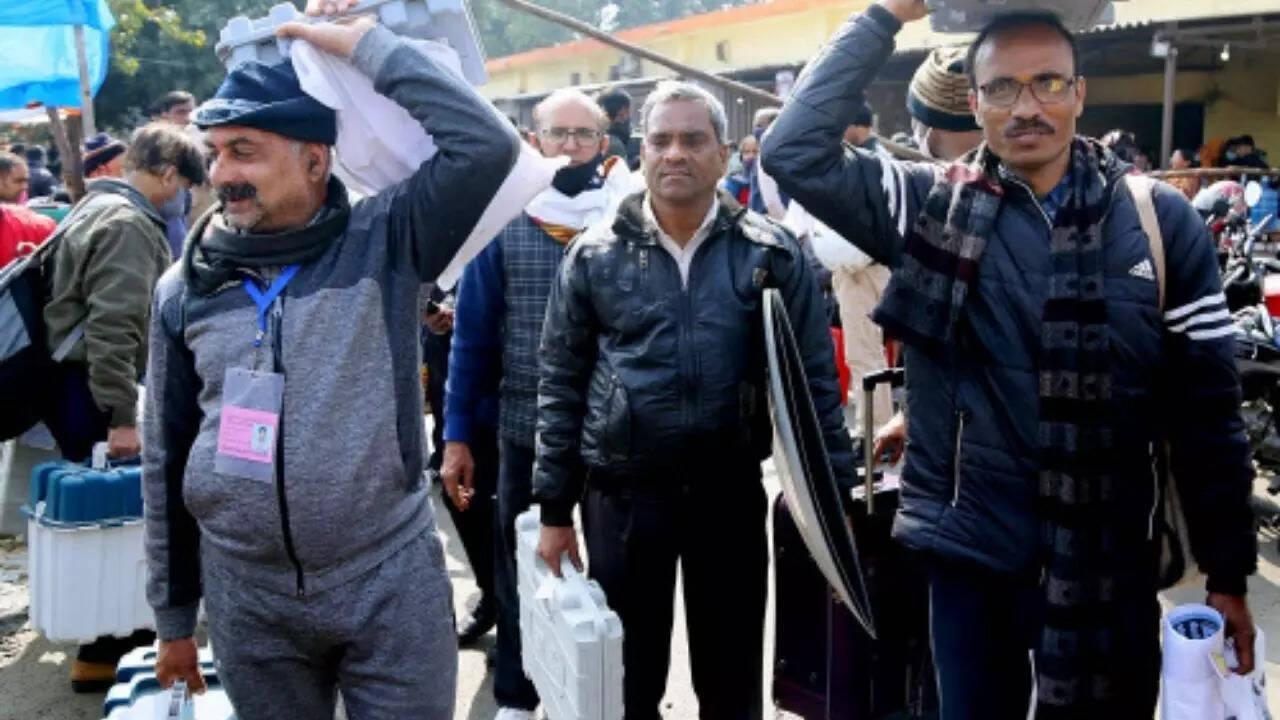 LUCKNOW: Claims and counterclaims on the impacts of farmers' protest, law and order situation and communal division would be put to test as the western frontier of Uttar Pradesh votes in the first phase on Thursday.
As it happens in a long-drawn electoral battle, the voting trend in the opening round would set the momentum for the remaining six. Therefore, keen on drawing the first blood, the dramatis personae have led a high-voltage campaign despite Covid restrictions, to drive home their message.
From Prime Minister Narendra Modi to home minister Amit Shah and from chief minister Yogi Adityanath to SP-RLD spearheads, Akhilesh Yadav and Jayant Chaudhary, all have raised the pitch of canvassing in these 11 districts.
While the BJP unleashed all its star campaigners to do door-to-door campaigns and virtual rallies, Akhilesh and Jayant banked more on press conferences. It was Mayawati, however, who started the first on-ground rally in Agra, considered to be Dalit capital of Uttar Pradesh. Congress general secretary Priyanka Gandhi, too, has been busy seeking votes for her candidates.
Assembly elections 2022: Complete coveragePoll scheduleDetailed coverageUP electionsPunjab electionsUttarakhand electionsGoa electionsManipur elections
The round will decide the fate of nine ministers -- Suresh Rana (Thana Bhawan), Atul Garg (Ghaziabad), Shrikant Sharma (Mathura), Sandeep Singh (Atrauli), Anil Sharma (Shikarpur) Kapil Dev Agarwal (Muzaffarnagar), Dinesh Khatik (Hastinapur), GS Dharmesh (Agra Cantt) and Chaudhary Laxmi Narain (Chhata).
Among other prominent contestants are former Uttarakhand governor Baby Rani Maurya from Agra Rural, BJP state vice-president and defence minister Rajnath Singh's son Pankaj Singh from Noida, four-time former Congress MLA Pradeep Mathur, Congress turncoat and two-time MLA Pankaj Malik and RLD's strongman Madan Bhaiya.
The 58 constituencies going to the polls in 11 districts have large and even spread of Jats, Muslims and Dalits. Although it's unofficially known as the Jat Belt of UP for big concentration of the caste, fFor gaining an upper hand, political parties seek consolidation of any two of these. This cluster is dominated by farmers, especially the cane farmers, and is very close to the site of protest against farm laws in 2020-21.
In 2017, cashing in on a sharp division between Jats and Muslims in the aftermath of 2013 Muzaffarnagar riots, BJP had swept the region, winning 53 out of 58 seats. That's why stakes are highest for it, especially in the changed scenario following farmers' protest.
SP and BSP could win just two each in previous elections and RLD one -- the family bastion of Chaudharys, Chhaprauli. However the RLD MLA Sahender Singh Ramala crossed over to BJP in 2018, leaving it with a naught.
That reverse must be pinching Jayant who is now heading RLD after the demise of his father, Ajit Singh. In alliance with SP now, he hopes RLD would do much better this time. His hope emanates from the post-farmers protest scenario which, many believe, has brought Jats and Muslims to one forum.
Capitalising on farmers' anger over issues like three farm laws, sugarcane dues and stray cattle, has been at the core of SP-RLD combine's strategy. "There is also an emotional fator backing Jayant as a large section of Jats may have liked to establish him as the inheritor of his father's political legacy," says a political analyst.
BJP leaders, on the other hand, have constantly reminded the voters about the 'days of lawlessness'. Shah launched his door-to-door campaign from Kairana to remind the voters of the 'pain of exodus' during SP's rule in 2016. The RLD supporters, especially Jats, have been warned that backing Jayant could be an open invitation to those 'black days'. Shah has already hosted prominent Jat leaders to win their confidence. The party also hopes that a large number of beneficiaries of government schemes and free foodgrain in the past two years, would stand by it
BJP has fielded 17 Jats while the RLD has fielded 12 and SP six. The SP-RLD combine has also fielded 11 Muslim candidates. Although the minorities are likely to back SP-RLD in a bipolar contest, the 14 Muslims fielded by the BSP could have upset their calculations.
Much will also depend on how far Mayawati is being able to hold on to her Dalit support base. If it further erodes, as predicted by many polsters, the eventual gainer is likely to emerge tallest, especially in close contests.