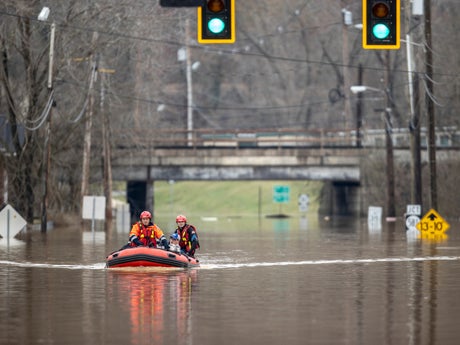 A batch of Covid-19 vaccines were rescued by boat in Kentucky as heavy rain caused major flooding in several areas of the state.
Kentucky governor Andy Beshear revealed during a press conference on Monday night that emergency crews had been dispatched to the Lee County Health Department in Beattyville, Kentucky, earlier in the day after a power outage caused by flooding put a batch of coronavirus vaccines at risk.
Unable to use the flooded roads, the crews travelled by boat to rescue the doses and transport them to a facility in Wolf County, the governor said. No doses were lost during the rescue mission.
The incident came just two weeks after a facility housing Moderna vaccines in Texas lost power amid Winter Storm Uri, causing a frantic dash to administer 5,000 vaccines before they expired.
Both the Pfizer-BioNTech and Moderna Covid-19 vaccines need to be stored at freezing temperatures prior to being administered, and are at risk of being spoiled if kept at higher temperatures for too long.
A new one-dose vaccine created by Johnson & Johnson that was granted emergency use authorisation by the US Food and Drug Administration over the weekend, differs from the other two treatments as it only needs to be stored in a refrigerator prior to use.
Kentucky has seen major flooding over the last couple of days, after record levels of rain fell in the state and snow melted over the weekend, causing mudslides and power outages in many areas.
The governor declared a state of emergency on Monday, as heavy rain and thunderstorms continued to hit several parts of Kentucky.
Mr Beshear activated the National Guard to assist with any rescue operations, with at least 70 service members and four helicopters providing support.
"We are acting swiftly to ensure the safety and security of Kentucky families and to get the needed help to our communities," the governor said in a statement on Monday.
Several people were evacuated from their homes amid the flooding, while five people were rescued from a car that was caught up in the severe weather over the weekend.
Among those rescued from the vehicle, were a 17-month-old boy and a woman who appeared to be having a seizure, according to the Associated Press.
The Salyersville Nursing and Rehabilitation in Magoffin County, Kentucky, was also evacuated on Sunday, with the residents taken to a nearby middle school and hospital due to safety fears amid the severe weather.
Since the start of the pandemic, Kentucky has seen more than 409,000 coronavirus and at least 4,802 deaths. Around 1.3 million coronavirus vaccine doses have been administered in Kentucky, as 8 per cent of those have been fully vaccinated in the state.
According to Johns Hopkins University, there are now more than 28.6 million people who have tested positive for the coronavirus in the US. The death toll has reached 514,660.