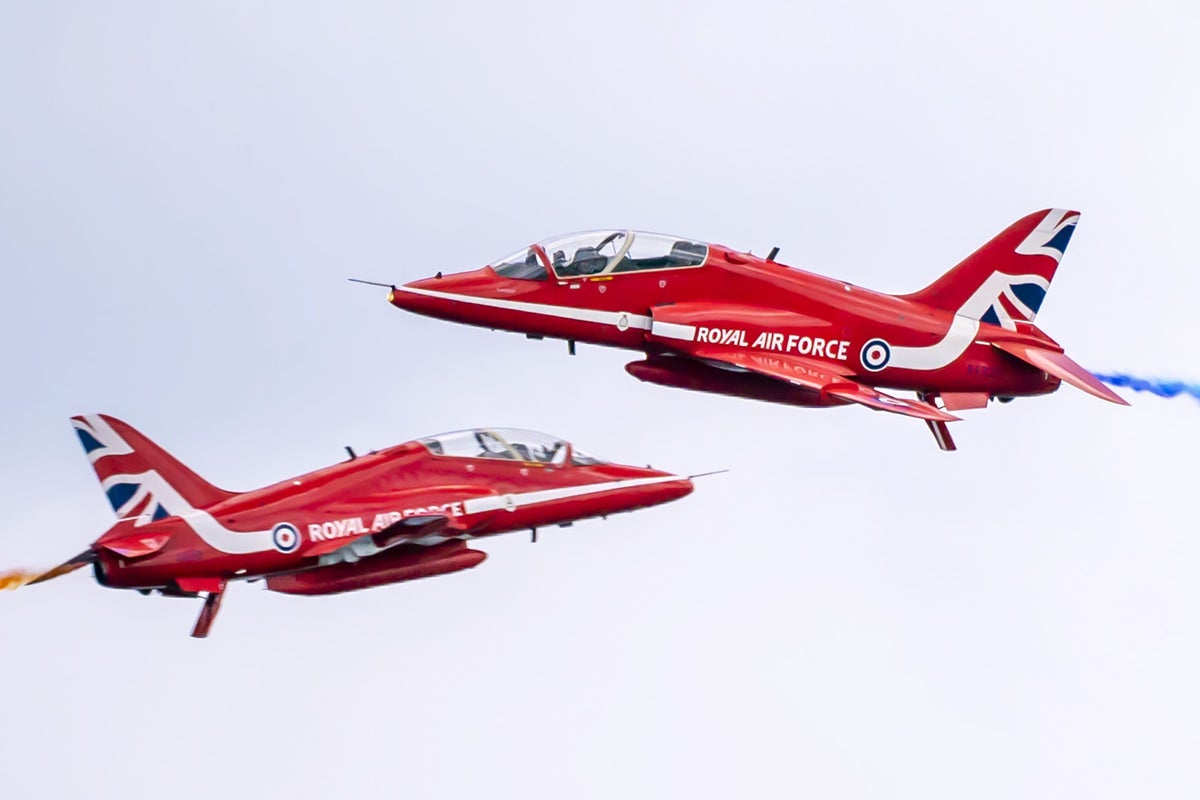 The military flypast over Buckingham Palace to mark the coronation of the King and Queen has been scaled down because of rain and cloud, and will now comprise helicopters and The Red Arrows, the Ministry of Defence says.
More than 60 aircraft from the Royal Navy, British Army and Royal Air Force – including the Arrows – had been scheduled to fly over Buckingham Palace at around 2.30pm.
However, rain meant the Arrows would "wait until the last minute" to decide whether the display could go ahead.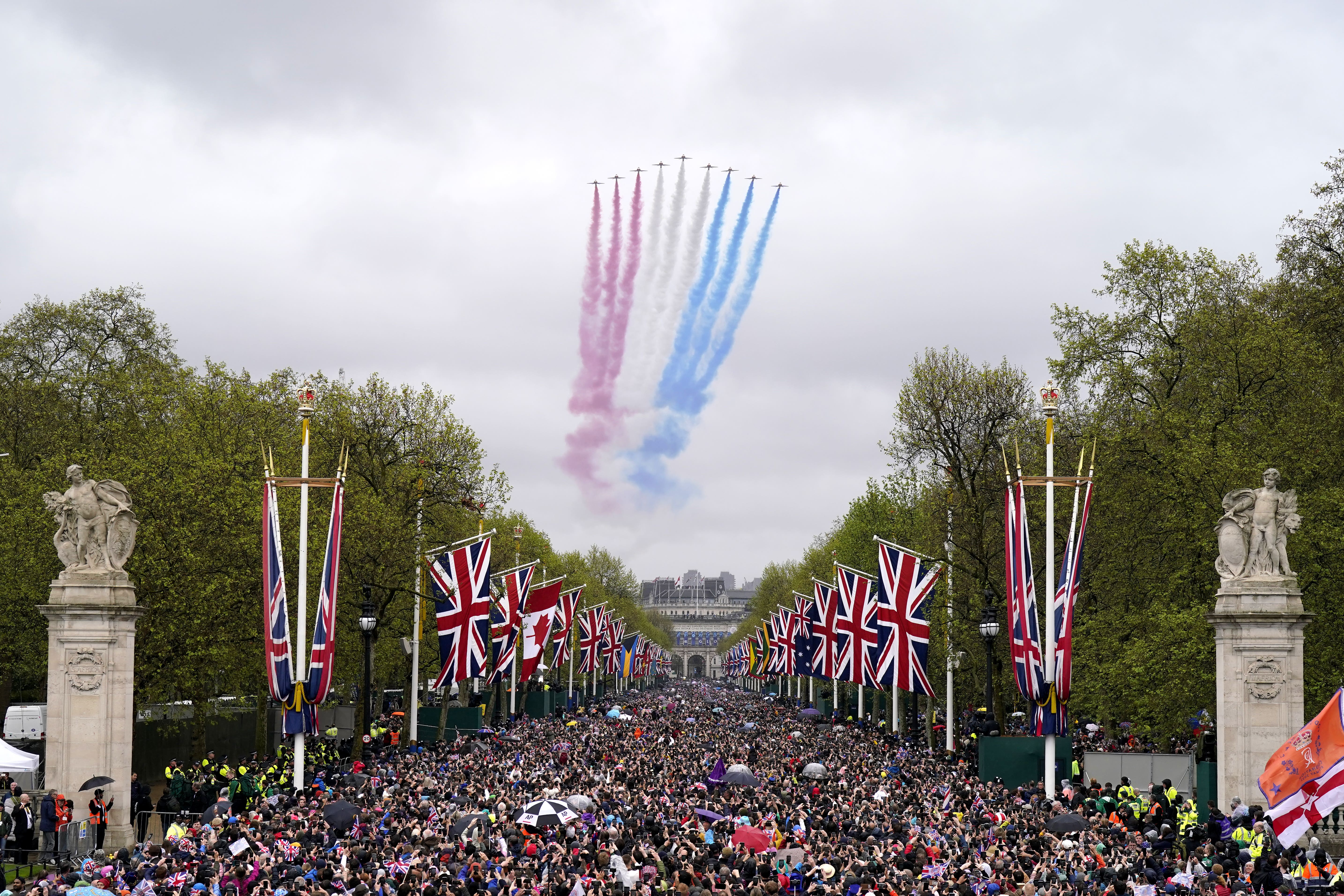 Defence chiefs had planned for the flypast to include 14 waves with 60 aircraft, such as F-35B Lightning and Typhoon FGR4 jets, as well as Spitfires, Hurricanes and a Lancaster.
On Friday and Saturday morning, they started to modify the plan in case of rain.
"The whole flypast will be 1,000 feet, so we need the cloud base to just be above that and right now the forecast is on those limits", squadron leader Tom Bould told ITV News.
"We will get airborne, we'll go down to the hold and then we will make those weather calls right up until the point where we're due to be over the top of the palace", he added.
"It's the British weather, and you never know what's going to happen."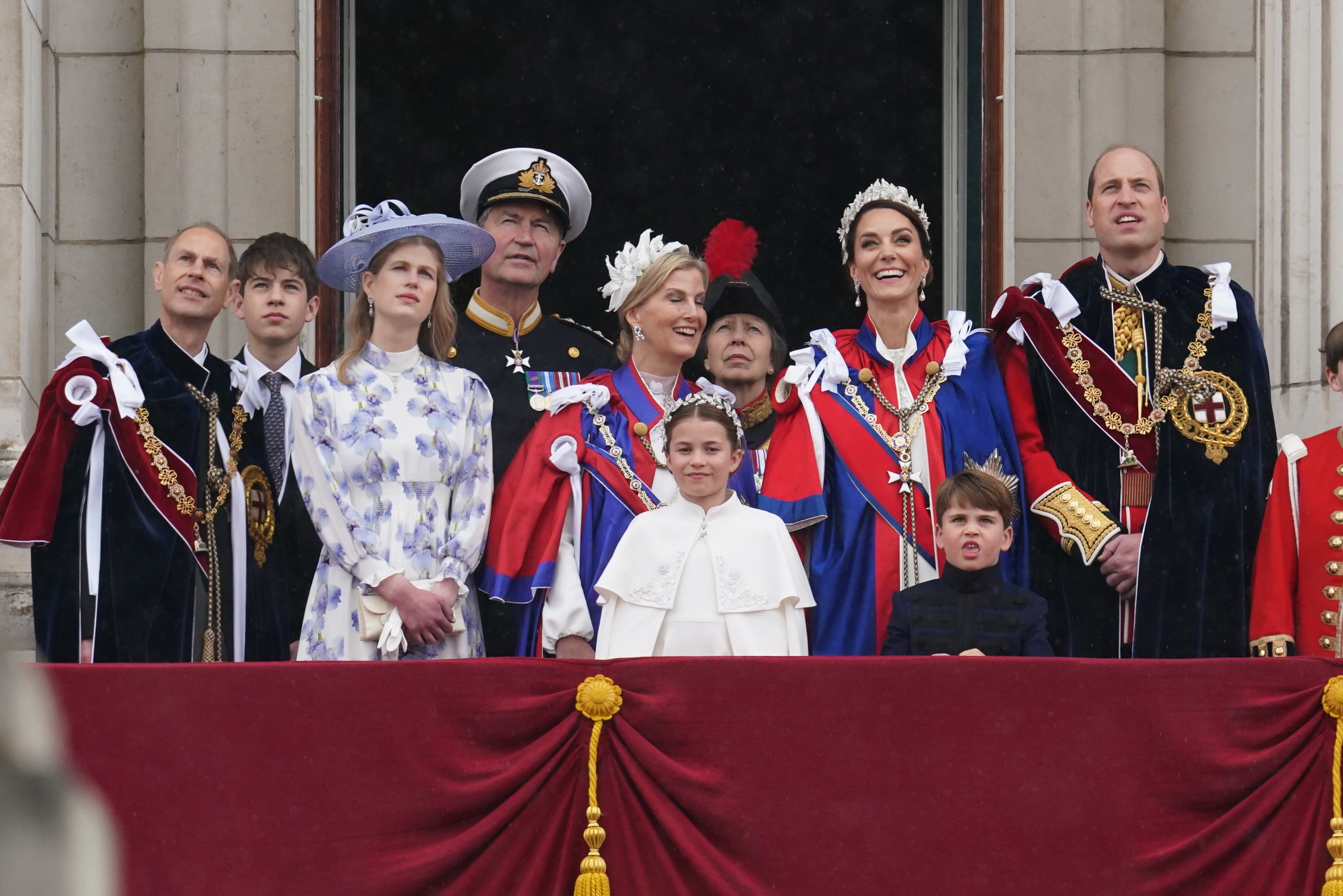 The display over The Mall and Buckingham Palace was originally meant to last for six minutes, but the scaled-down version will last for less than half of that time.
On Saturday afternoon, after some of the aircraft had taken off and were in a holding pattern over the east coast of England and the North Sea, the Ministry of Defence said the flypast would be shortened, lasting for two minutes and 30 seconds.
The King and Queen were expected to watch it from the balcony of Buckingham Palace.
Met Office meteorologist Marco Petagna said there would be low cloud – "not good conditions for flying".
It was "definitely wet weather gear" conditions, he said. "It's not going to be very nice this afternoon," he said.
"A lot of standing water around, puddles. Things could be a lot better, to be honest, not looking nice at all."
He said Saturday's rain was certainly good for reservoirs but "not particularly good if you are doing events out and about, as many people are".
Mr Petagna added: "For the southeast, it's not looking great to be honest: from now onwards through the day, we are going to see cloudy skies, outbreaks of rain.
"So across the southeast, some of the rain could be on the heavy side, turning a bit more showery into the afternoon."
It also rained when the King's mother, the late Queen, was crowned, in June 1953.
A Red Arrows flypast over Bournemouth due shortly before 3pm was cancelled because of the weather.
The planned broad sections of the flypast route were:
Area A between 1.15pm and 3pm: The Lincolnshire coast including Skegness and the Norfolk coast including Cromer and Great Yarmouth
Area B between 1.45pm and 3pm: Thetford, Norfolk and Bury St Edmunds, Suffolk
Area C between 2pm and 3pm: Ipswich, Suffolk
Area D between 2pm and 2.45pm: Colchester and Chelmsford, Essex
Area E between 2.10pm and 2.45pm: London
Area F between 2.20pm and 3pm: Croydon, south-east London, and Epsom, Surrey
Area G between 2.20pm and 3pm: Farnborough, Hampshire; Reading, Berkshire; Swindon, Wiltshire; and Oxford, Oxfordshire