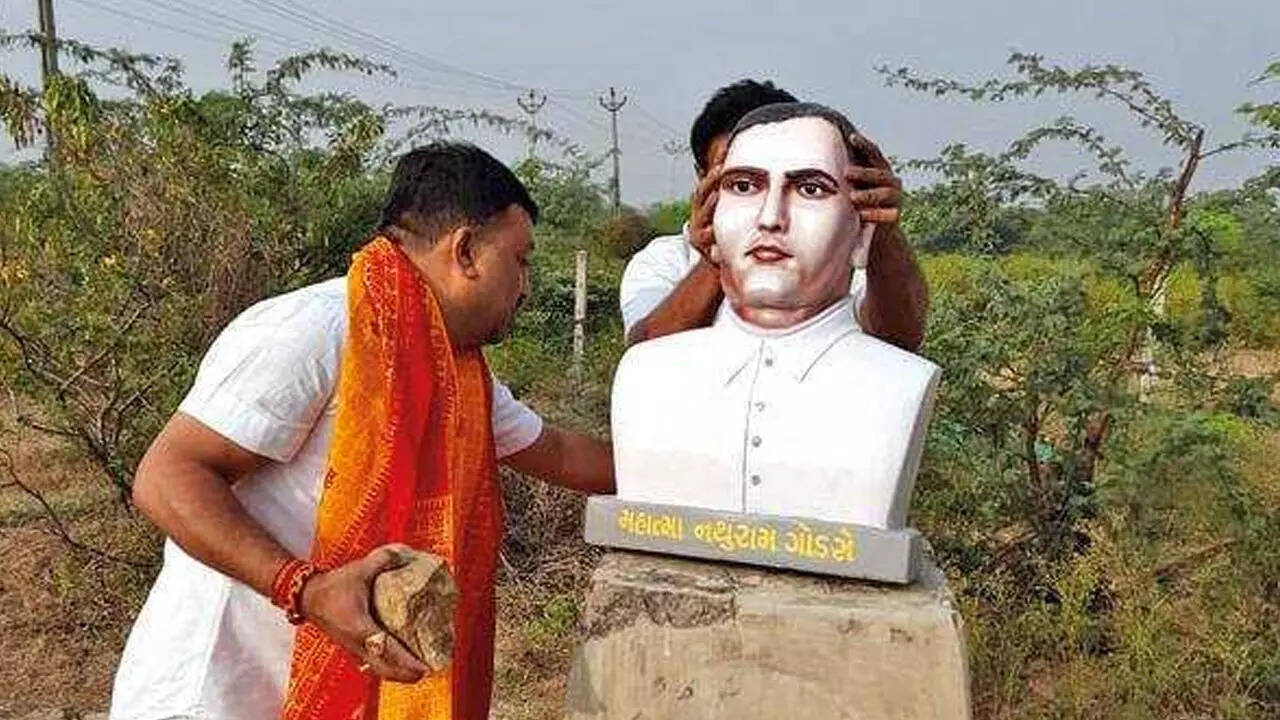 RAJKOT: A massive controversy has erupted in Jamnagar after members of a right-wing group installed a bust of Mahatma Gandhi's assassin Nathuram Godse, which was razed by the Congress members a day after being erected.
The members who identified themselves as activists of Hindu Sena installed the statute in an ashram in Morkanda village adjoining Jamnagar city on Monday. They even raised slogans hailing Godse.
However, local Congress leaders led by city's party president Virendrasinh Jadeja razed the bust on Tuesday.
The Hindu Sena and Congress lodged cross-complaints with Jamnagar A-division police station.
The members of the outfit claimed that they had demanded a place from Jamnagar Municipal Corporation (JMC) to install Godse's bust a month ago but JMC did not respond to their application.
Pratik Bhatt, Gujarat president of Hindu Sena, said "Godse was associated with Hindu ideology and he fought for a Hindu nation. When our demand to erect his bust was not heard, we did it on our own on his death anniversary."
In his complaint, Bhatt named Jadeja and a person named Dhaval Nanda. "We are followers of Godse's ideology. The accused vandalized the bust and threw a saffron cloth and a cloth on which Shree Ram was written in garbage. This act hurts our religious sentiments," he stated.
Meanwhile, Virendrasinh Jadeja in his complaint against Bhatt, Dhiren Bhanushali, Bhavesh Thummar and two unidentified persons, alleged erecting the bust of Godse was a blasphemous act. "They installed the bust without taking any permission and insulted those who believe in the ideology of Gandhiji. This act is creating dissension, hatred and animosity between people," the complaint stated.
In both complaints, those named were booked under relevant IPC sections including 153 (a) for an offence of promoting disharmony, enmity or feelings of hatred between different groups on the grounds of religion, race, place of birth, residence, language, etc. and doing acts prejudicial to maintenance of harmony.
Jamnagar deputy superintendent of police J S Chavda said "We have registered both FIRs against and the matter is under investigation."