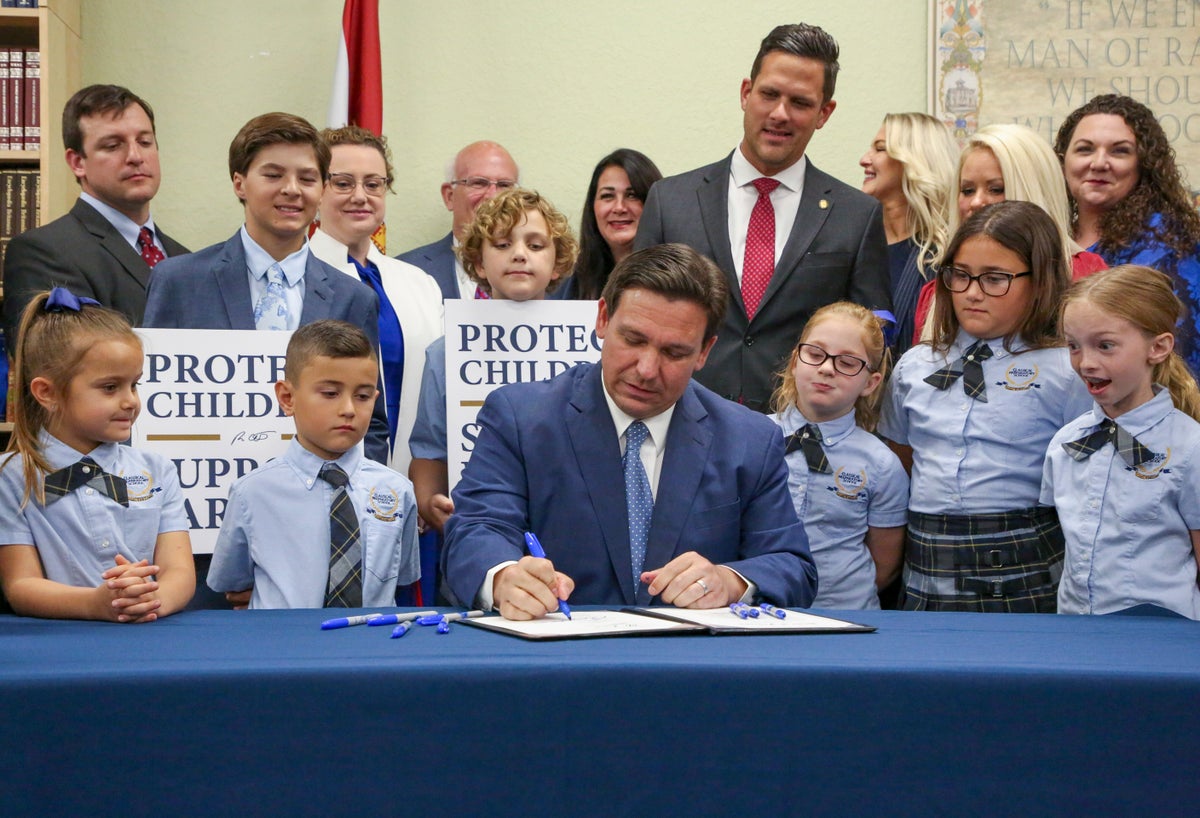 After repeatedly claiming that the law would only impact the youngest children in state schools, the administration of Florida Governor Ron DeSantis has approved a measure that would expand what opponents have called the "Don't Say Gay" law to all grade levels up through high school.
A proposal from the state's Board of Education will consider a rule change next month from the state's Education Department. Both agencies are led by the governor's appointees.
The "Parental Rights in Education Act" – which was signed into law by Governor DeSantis last year – broadly prohibits "classroom instruction" on issues related to "sexual orientation or gender identity" in kindergarten through third grade" or "in a manner that is not age appropriate or developmentally appropriate for students in accordance with state standards" in other grades.
The measure attracted widespread criticism in Florida and elsewhere, with fears that its broad scope could effectively block discussion of LGBT+ people, history and events from state schools, and be weaponised against students, staff and their families under threat from potential lawsuits against school districts over perceived violations.
Governor DeSantis and his aides accused reporters of advancing a "fraudulent" narrative promoted by advocacy groups and the media to promote "woke gender ideology" while he defended the law as a protective barrier against young children from learning about LGBT+ sex.
The DeSantis administration and its allies repeatedly accused the law's opponents of supporting the "grooming" of young children and falsely claimed that the law would only impact students in pre-kindergarten through third grade levels.
But after GOP claims that the scope of the bill was limited to only younger children, the latest proposal would expand its enforcement to all grades, and teachers who violate the rule could face suspension or revocation of their teaching licenses.
A rule change would explicitly expand the law to ban discussion of sexual orientation and gender identity in grades fourth through 12th, with exemptions for reproductive health instruction that students can also opt out of.
"It's completely, utterly wrong," White House press secretary Karine Jean-Pierre told reporters on 22 March. "We've been very clear, crystal clear, about that when it comes to the 'Don't Say Gay' bill and other actions that this governor has taken in the state of Florida."
Ms Jean-Pierre and other LGBT+ advocates have warned that the measure joins a "disturbing and dangerous trend" of state and federal legislation aimed at LGBT+ Americans, particularly young transgender people.
"It's not just the LGBT+ community. We're talking about students, we're talking about educators, we're talking about just individuals," Ms Jean-Pierre said. "We will continue to fight for the dignity of Americans for the dignity and respect of the community, an opportunity that should be given to students and families in Florida and across the country."
Following the passage of the Florida law last year, dozens of similar bills were filed in state legislatures across the US, and a group of House Republicans introduced similarly worded national legislation that LGBT+ advocates warned could be used to strip federal funds from public schools, libraries or hospitals that recognise Pride month, host popular drag queen story hours or make any mention of LGBT+ people.
"Free states don't ban books or people," said Jon Harris Maurer, public policy director with Equality Florida, among LGBT+ advocacy organisations that led opposition to the so-called "Don't Say Gay" bill last year.
Those policies "have already resulted in sweeping censorship, book banning, rainbow Safe Space stickers being peeled from classroom windows, districts refusing to recognize LGBTQ History Month, and LGBTQ families preparing to leave the state altogether," he said in a statement following the introduction of a state bill to expand the law.
"This legislation is about a fake moral panic, cooked up by Governor DeSantis to demonize LGBTQ people for his own political career," he added.
Florida lawmakers also have introduced several other measures aimed at LGBT+ people in the state, including bans and severe restrictions on access to gender-affirming care for trans youth and a proposal to effectively force young trans people to detransition.
More than half of all trans youth in the US between the ages of 13 and 17 are at risk of losing access to age-appropriate and medically necessary gender-affirming healthcare in their home state, according to a report from the Human Rights Campaign.
Eight states including Florida have enacted laws or policies banning gender-affirming care, and at least 10 states are considering similar measures.
"Trans kids should be loved, supported and accepted as the beautiful children they are – period," said state Rep Carlos Guillermo Smith. "They should NOT be used as political pawns or as subjects of state-mandated medical interventions or as targets of government-forced revocation of prescribed care. This is fascism."
Another measure would prohibit school staff from referring to students by pronouns other than those that match their sex at birth. "Parents have the right and God-given responsibility to guide their children's upbringing," state Senator Clay Yarborough said during a committee hearing on 20 March. He told The Washington Post that his proposal "protects students and teachers from being forced to use language that would violate their personal convictions."