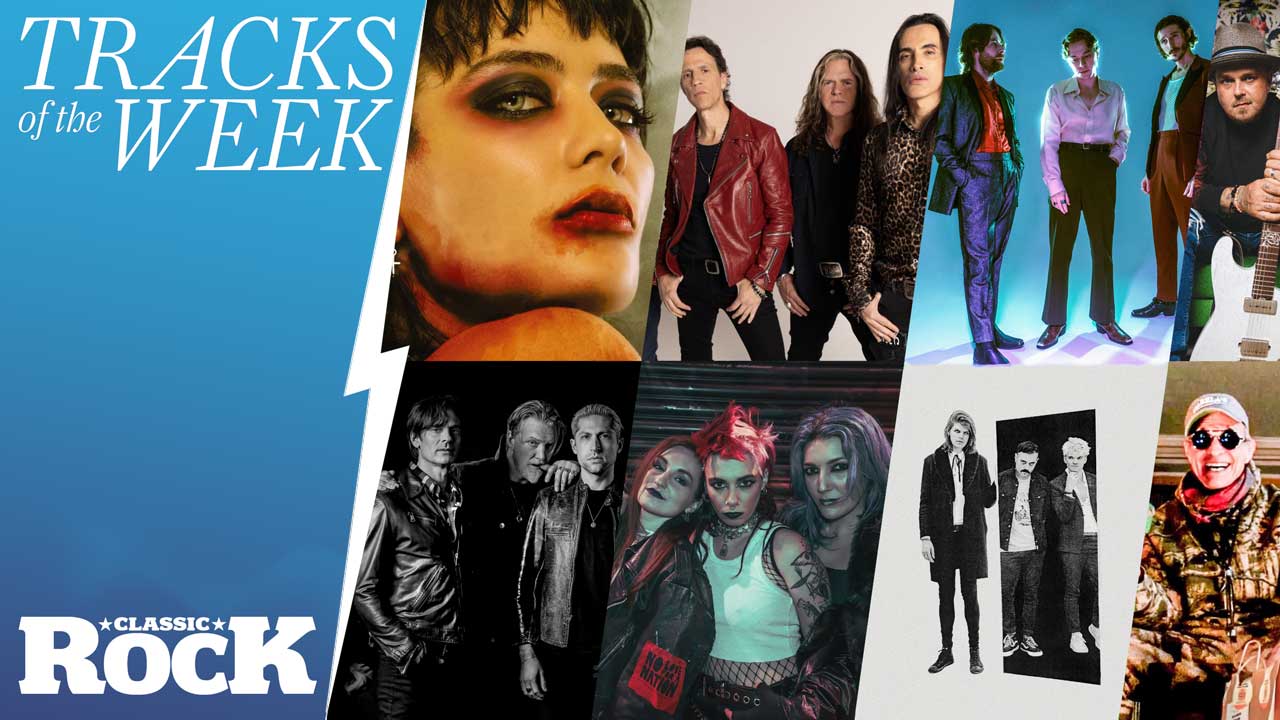 The week hasn't gone particularly well for Royal Blood, and it's ended with another damp squib: just days after storming offstage after a Dundee audience was nonplussed by their riff-driven rock action, Tracks Of The Week readers were similarly unimpressed, and voted them into a distant last place in our most recent rock contest. 
Meanwhile, at the SUCCESS end of the scale, we must congratulate internet sensation Sophie Lloyd for triumphing over Danko Jones and Rival Sons, comprehensively proving that audiences are quite happy to make some noise for rock bands when they're not being arses. So well done to them. And here's Sophie again.
And now it's on with the show. Eight songs, eight possible winners, eight reasons to vote. Enjoy!

Saint Agnes - Outsider
Christened a "gothic rock anthem for the strange", Saint Agnes' latest single from forthcoming album Bloodsuckers (arriving July 21) sees frontwoman Kitty A. Austen call upon the "outsiders" of the world like a scrappy Pied Piper, squalling out protective battlecries such as 'you're never alone' and 'we're broken, but that doesn't mean that we're not whole'. Frenetic and feral, thrusting the mantra forward are a tide of bludgeoning riffs, churning up chaos among the sentimentality.
---
Extreme - Other Side Of The Rainbow
Oof, you might want to brace for the toothache on this one, as it's pretty darn sweet... but, do we expect anything left from the chaps who wrote More Than Words?  Following an introduction of delicate acoustic guitar plucks and a recitation of Alfred Tennyson's famous proverb '"It's better to have loved and lost / than never to have loved at all", the track quickly blooms into a wonderfully corny chorus, with frontman Gary Cherone exclaiming sentimental invitations such as: 'Follow me maybe we could find the other side of the rainbow'. Aww.
---
Demob Happy – Token Appreciation Society
As quickly-developing technologies and political tumult continues to make modern life appear all the more unfamiliar, UK trio Demob Happy ponder on these changing times via a slick piece of psych-rock, lifted from the newly-released album Divine Machines. 'If this is society / Then I do not recognise it / I believe I have not recognised it for years' airily laments frontman Matthew Marcantonio, while woozy riffs buzz and pulsate in a disorientating haze, perfectly capturing the sense of unease before the dizzying conclusion: 'Perhaps it has always been false / Perhaps it has always been a lie…Where does that leave us?'
---
Rockin'1000 ft Black Stone Cherry - How We Roll
The 'world's biggest band' Rockin'1000 (remember them?) have teamed up with Kentucky rockers Black Stone Cherry for their debut original track How We Roll, a good old fashioned hooky foot-thumper that serves as a 'powerful expression of the rock spirit that unites us all'. Underpinned by a riff that calls to mind U2's Vertigo (but with plenty more fuzz), the track soon evolves into a wholesome choral-backed paean that celebrates the feeling of being connected to others through music, and it's all rather cherry.
---
Queens Of The Stone Age - Carnavoyeur
As if awaking from a particularly heavy night out in an unknown place, Queens Of The Stone Age's new single Carnavoyeur is a strangely groggy wonder through a peculiar headspace, propelled by jaunty keys and warping bass. Meanwhile, frontman Josh Homme sounds as dazed as ever, cooly slurring out lines that see him surrender to the confusion: 'And there's nothing I can do / Accept enjoy the view / When there's nothing I can do / I smile'.

---
HAWXX - Soulbreaking Machines
Headstrong and defiant, London-based quartet Hawxx seek to dismantle the capitalist structure that not only upholds our planet, but is working to destroy it. Accompanied by a thought-provoking music video that interviews activists from a recent Extension Rebellion protest, Soulbreaking Machines is a rallying cry to the cause and a demand to be heard via mountainous riffs and razor-sharp vocals with powerfully poetic lyrics. "This song questions how we can stop and listen, to remember that we ourselves are nature," they say, "And that this is happening to us".
---
Tigercub - Show Me My Maker
With a riff that rumbles in like a storm and a chorus with a touch of Alice In Chains about it, Tigercub's Show Me My Maker comes from new album The Perfume Of Decay, which is out now on Pearl Jam guitarist Stone Gossard's label Loosegroove, and we imagine Stone is delighted with his investment. From Brighton, bass-driven and sassy, they're the Royal Blood it's OK to like, perhaps. 
---
David Lee Roth - Atomic Punk
You never know what David Lee Roth is up to these days. One minute he's posting dance videos that border on the avant-garde. The next he'll be sharing some of his comic artwork. Following that he'll rattle out a cover version of an old Van Halen classic, and that's just what he's done this week, with a new take on the debut album classic Atomic Punk. It hasn't got the wild abandon of the original, but it's great to hear Roth squealing and whooping and still having the time of his life.