CINDY CHAO The Art Jewel reignites the magic of modern Art Nouveau
[Sponsored Article]
An ode to nature
In the 1890s, artists and designers in Europe and the United States attempted to create a modern aesthetic for the emerging 20th century. The decorative style that emerged, Art Nouveau, featured bold colour contrasts and organic lines, sometimes flowing gracefully and sometimes rippling in long and sinuous whiplash curves resembling a tendril of foliage that suggested dynamism and movement. Peaking around 1910, the short-lived but influential design trend borrowed its inspiration from nature. Stylised natural forms such as flowers and feathers, dragonflies and butterflies, feature in any Art Nouveau design from jewellery and the decorative arts to fashion and architecture.
From Art Nouveau to "Nouveau New"
Never one contented to follow, Chao past forwards the Art Nouveau aesthetic into her "Nouveau New" contemporary style, presenting the beauty of nature in vibrant life forms in her glamorous art jewels. She brings her heritage as a third-generation artist to bear with a unique three-dimensional architectural and sculptural artistic vision.  Using the ancient art of wax sculpting, a tradition that dates back to the 18th century, she shapes each piece's lines, movements and forms by hand, injecting tension, drama and emotion to the waxes, imbuing each with a unique "soul".
A feather in the cap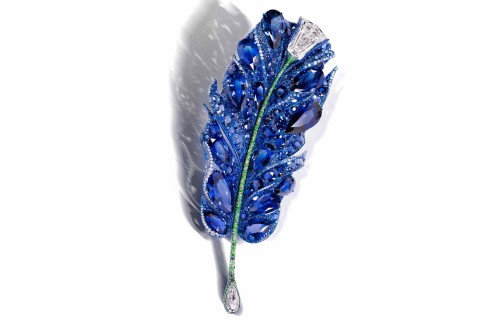 Exemplifying the spirit of "Nouveau New", CINDY CHAO The Art Jewel's 2021 Black Label Masterpieces updates popular Art Nouveau motifs with the creator's signature verve.
For one, the bold Blue Dawn Feather Brooch is worthy of all the accolades that have been bestowed on Chao since her debut on the high jewellery world stage in 2004. Artistically interpreted and stunningly realised, the brooch dazzles in a symphony of Sri Lankan sapphires and diamonds.
The focal point is a magnificent 20.49-carat white diamond that Chao deliberately cut into a shield shape. It crowns the extremely thin and ultra-lightweight titanium shaft set with diamonds, Sri-Lankan sapphires, green sapphires, tsavorites and alexandrites.  Anchoring it is a 1.66-carat pear-shaped white diamond on the quill.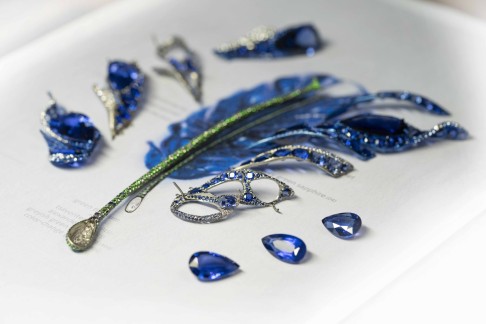 Extending from the shaft of this 2021 Black Label Masterpiece VIII is a sea of exquisite Sri Lankan sapphires in different cuts and sizes, including 13 pear-shaped ones weighing a total of 154.06 carats. Evoking a ray of light as the dawn breaks across the inky sea, the brooch is a testament to the ingenuity and mastery of Chao's titanium and gemstone setting craftsmanship perfected by her European master artisans. 
By minimising the amount of metal used and creating a lace-like "honeycomb structure" with the intricate titanium frame, the gems appear to float like a canopy, allowing maximal light refraction through the gemstones. This spectacular metal craftsmanship was first used in the 2020 Feather creations. Also feather-like is the Blue Dawn Feather Brooch's weight – a mere 24 grams despite its seemingly large size.
A luminous star like none other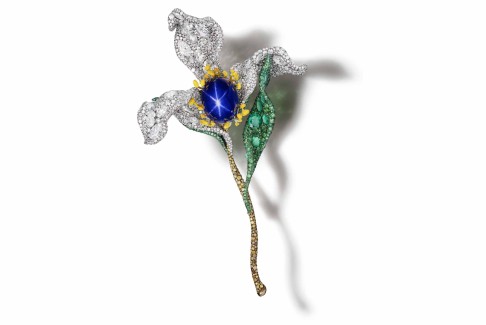 Another tribute to Art Nouveau is the 2021 Black Label Masterpiece VII - Star Sapphire Brooch. This is a winning exhibit under the "Precious Stone" material post-1900 category at the prestigious Masterpiece London held online in June due to the pandemic.
Reminiscent of the floral designs of that era that combined sinuous lines and stylised natural forms to great effect, the brooch from the Tango in the Garden collection reflects the beautiful natural floral scenery in Chao's imagination. 
Occupying centre stage is the phenomenal 49.12-carat oval-shaped cabochon non-heated Sri Lanka star sapphire pistil. Surrounded by exquisite lacquered stamens, dazzling white diamond petals, sparkling emerald and tsavorite sepals and a brilliant yellow-diamond stem, the resplendent brooch depicts the vibrant life in a garden.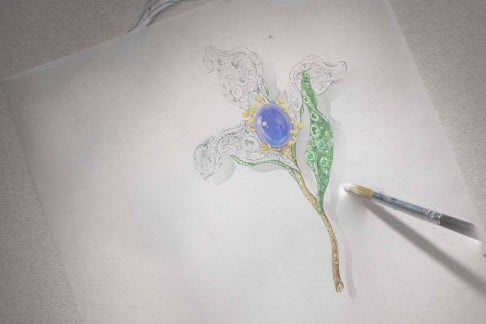 Lauding this incredible work of art, Masterpiece London said: "This work has a remarkable sculptural quality that is impressive not only for the design, but also for its technical skills. A wonderful piece."
And that's not the first time Chao was recognised at the celebrated art fair.  Her Peony Brooch received the Outstanding Object Award at the 2018 edition upon her debut at Masterpiece London, while Winter Leaves Necklace was named "Best Jewellery Piece of the Fair" in 2019. These successive awards more than prove Chao's virtuosity in the art of high jewellery.