Chinese court rejects landmark #MeToo claim against TV host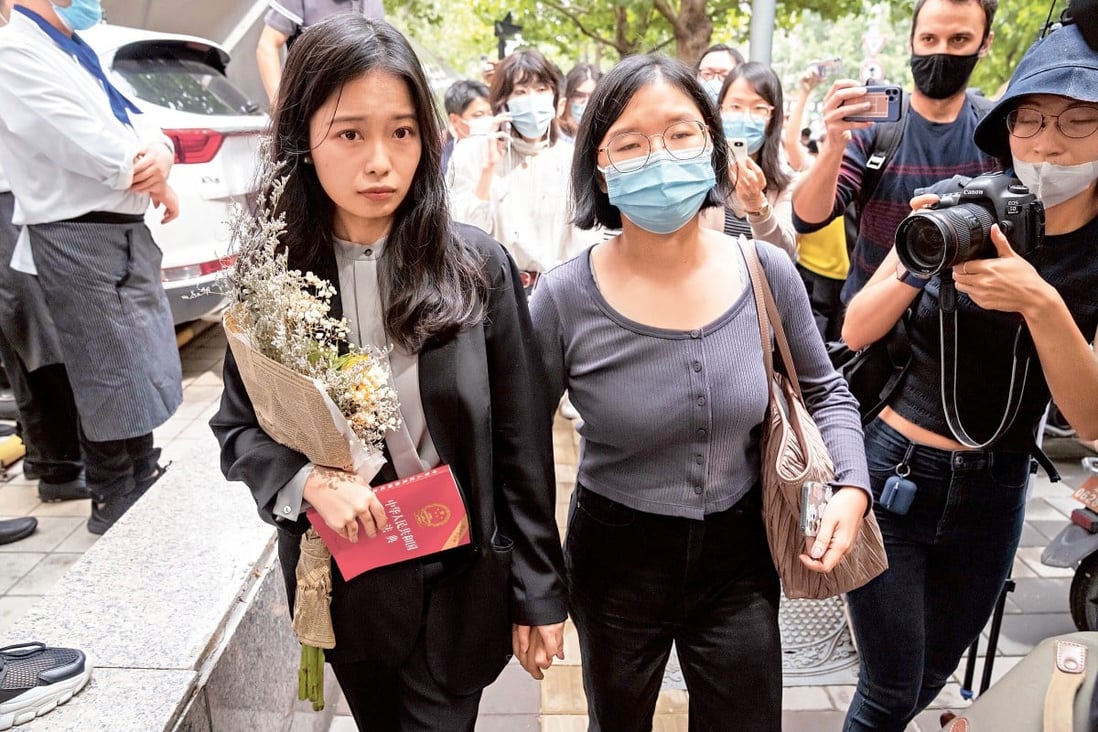 A Beijing court has dismissed a high-profile #MeToo case against a Chinese television anchor, saying the plaintiff in the civil suit did not present enough evidence.
In a decision released late on Tuesday night, the Haidian District People's Court said former CCTV intern Zhou Xiaoxuan did not meet the burden of proof in her sexual harassment claim against TV host Zhu Jun.
"During the trial, the plaintiff and the defendant presented and cross-examined the evidence and conducted a full court debate," the court said.
"The court concluded that the evidence submitted by the plaintiff Zhou was not sufficient to prove the claim that Zhu had sexually harassed her, and therefore ruled to dismiss the plaintiff Zhou's claim."
In her suit filed in 2018, Zhou, also known by the pseudonym Xianzi, accused Zhu of forcibly kissing and groping her in 2014.
She demanded a public apology from Zhu and 50,000 yuan (US$7,750) in damages.
Zhu denied the accusations.
Zhou said she would appeal against the decision.
"There is no shame in losing, and it has been an honour to stand with you all these three years ... and defeat is not an easy task, but a very hard and honourable journey ... I will definitely appeal," she said in a statement after the court announced its decision.
She said she was not allowed to present expert testimony, and not given the chance to make a final statement to the court. The court did not review surveillance footage and DNA evidence was also not available, she said.
Zhu did not make a statement after the decision and could not be reached for comment.
Tuesday's verdict came after a second closed-door hearing and nine months after the case's first hearing.
About 20 days after the December hearing, Zhu said in a brief statement online that he "never touched that woman".
A number of Zhou's supporters appeared outside the court on Tuesday, including Helen Mao, who again made the trip from Guangzhou to Beijing – just as she did for the first hearing.
Mao said the atmosphere this time was different.
"Last year, when I was there, it was very moving, the support of each other. This time, everyone was more restrained and cautious," she said.
"When I arrived ... there was a cordon outside the courthouse, lots of police, and plain clothes police ... It felt like the police were well prepared, unlike last year.
"The environment this year is much worse and still worsening ... But ... we won't stop speaking out."
Beijing resident Gloria Zhao said a hundred supporters were present at various places, with some playing guitars and singing.
"The result wasn't that unexpected, it was a social education, a breakthrough in self-awareness ... We will continue to speak out," she said.
Discussion of the case was suppressed online.
Zhou's own Twitter-like Weibo account was suspended for a year in May, after she wrote a post about a court date cancellation.
The #MeToo movement in China is still in its infancy and few sexual harassment cases have succeeded.
The case has been brought under the Civil Code, which was enacted in 2020 and allows plaintiffs to pursue sexual harassment claims through civil courts rather than the criminal code.
Feng Yuan, co-founder of Beijing-based NGO Equality, said there was still a long way to go for justice from the court system.
"The verdict is admittedly disappointing, and that will lead to people try harder to eliminate gender violence," Feng said.
Lu Pin, founder of the NGO Feminist Voice, said Zhou's case had come to epitomise the #MeToo movement in China.
"Winning civil cases of sexual harassment has always been difficult ... but there has been a lot of change in public awareness over the last three years," Lu said.
"The case has had a strong impact on public awareness."