In 2 different meetings about Taliban, China and US show divergent strategies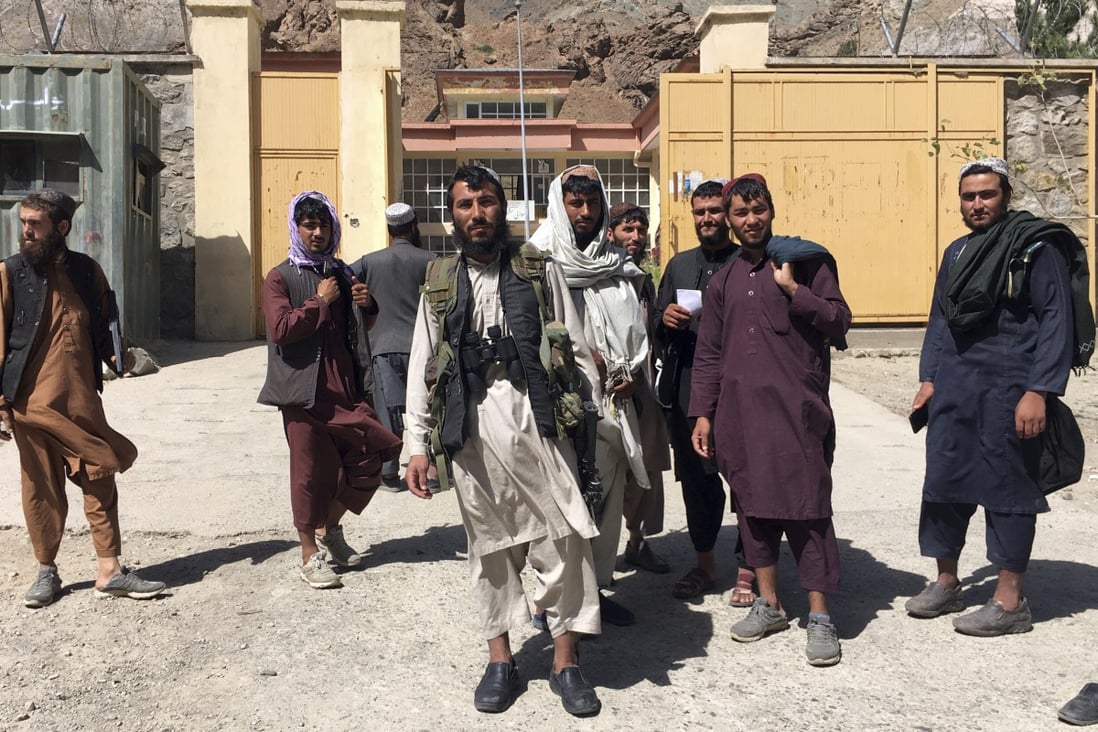 China and the US are working on separate plans for how to deal with Afghanistan's new interim government, with Beijing warning that terrorist groups were already crossing the borders into neighbouring countries.
While US Secretary of State Antony Blinken is in Germany for a ministerial meeting on Afghanistan with Washington's Western allies, Beijing convened a discussion among the war-torn country's neighbours – Pakistan, Iran, Tajikistan, Uzbekistan and Turkmenistan – on Wednesday, a day after the Taliban named its caretaker cabinet in Kabul.
Foreign Minister Wang Yi told his counterparts that China would donate 200 million yuan (US$31 million) in aid to Afghanistan, including food and an initial batch of 3 million doses of coronavirus vaccines.
Wang again called on the Taliban to cut its ties with all terrorist groups and said China would work with countries in the region to trace and crack down on terrorist groups which "have scattered and infiltrated into Afghanistan's neighbouring countries".
"Some international terror forces based in Afghanistan are planning to sneak to neighbouring countries," Wang said. "We demand the Taliban completely cut ties with all extremist forces and take forceful combative measures. All parties need to step up the sharing of intelligence and border control efforts, making immediate arrests of terror groups coming from Afghanistan to ensure regional stability."
Wang said China would work with countries in the region to help Afghanistan rebuild its economy and society, as well as fight terrorist groups and the illegal drug trade. The foreign ministers also agreed to institutionalise their future meetings, he said.
Wang also said China's border crossing with Afghanistan should remain open to ensure delivery of goods. He added that China would consider reopening cargo train lines between the two countries and called on the US to help refugees from Afghanistan.
"The US and its allies bear the main responsibility for the Afghanistan refugees problem. They should provide necessary compensation to nations that are willing to receive refugees," he said.
Pakistan's Foreign Minister Shah Mehmood Qureshi suggested "that we may give consideration to the idea to invite Afghanistan in future", adding that its participation "will augment this forum's effectiveness in pursuing our shared objectives for lasting peace and stability in Afghanistan".
Meanwhile in Europe, Blinken and German Foreign Minister Heiko Maas hosted a "productive" meeting of 20 countries on Afghanistan. Blinken said the attendees had shown "strong unity in making clear we will expect the Taliban to live up to their public commitments on inclusivity, safe passage, human rights, and combating terrorism".
China and Russia were reportedly invited to the meeting, but neither attended. Asked about the invitation, Chinese foreign ministry spokesman Wang Wenbin said on Wednesday the international community should strengthen coordination on Afghanistan.
He also took a veiled swipe at the US-led grouping, saying multilateral meetings should focus on tangible results instead of "empty talk".
"There have been many multilateral meetings and initiatives internationally on Afghanistan in recent days, but we should strengthen coordination and focus on substantial results. We should not hold meetings for the sake of meeting, much less using meetings to shirk responsibilities," the spokesman said.
China was one of the first countries to establish close contact with the Taliban in Afghanistan, describing the group as an important political force in late July.
Sun Yu, a Eurasian security researcher at Andjian State University in Uzkbekistan, said China would communicate with the Taliban and provide humanitarian aid, but was unlikely to take the lead in recognising the group as Afghanistan's legitimate government.
"It is not possible for China to cover all the financial difficulties of the Taliban. China may start with humanitarian aid, and then call on other nations to share responsibility before picking up several key investment projects there when the situation becomes stable," he said.
Additional reporting by Amber Wang