China's two busiest container ports begin to reopen after Typhoon Chanthu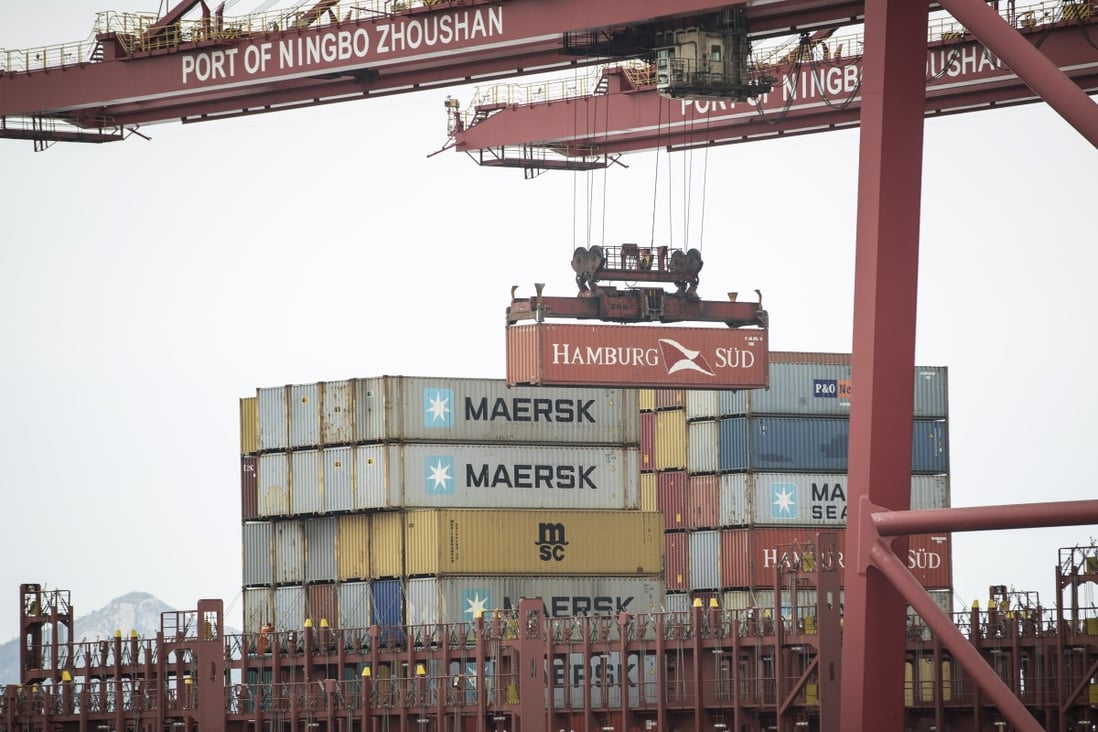 Terminals at two of the world's busiest container ports began resuming operations on Tuesday after briefly shutting down due to Typhoon Chanthu, but analysts warn that delays and disruptions remain a broader concern in the global supply chain.
Flights and rail services in Shanghai also gradually started returning to normal on Tuesday, local authorities said.
Both Shanghai Port and Ningbo-Zhoushan Port are now handling laden containers at several terminals, according to official statements.
Chanthu, with wind speeds still surpassing 100km/h on Tuesday evening, was downgraded from a strong typhoon to a typhoon in the morning, and it was expected to linger off China's east coast until Thursday before continuing northeast out to sea, according to China's National Meteorological Centre. Heavy rain and strong winds were forecast to continue in the meantime.
But despite the relatively quick resumptions in service at the crucial shipping ports, industry insiders expect further delays in the lead-up to the busy holiday season, with global shipping demand booming.
Shanghai halts operations at world's largest port ahead of Typhoon Chanthu's landfall
"Any shutdown due to weather, even a temporary one, could further slow supply chains, which are already stretched thin as exporters attempt to ship more ahead of the holiday season," said Nick Austin, director of weather analytics and senior meteorologist at FreightWaves, a freight intelligence provider.
There were a total of 86 container ships at anchor off Shanghai and Ningbo as of Friday, before the closures began on Sunday, according to data from Lloyd's List, which provides information on global shipping markets.
TIBA China, a supply-chain logistics provider, also said the brief shutdown will have far-reaching implications.
"The halts are likely to further delay shipments and damage global supply chains, which are already struggling to deal with record exports from China, the effects of local Covid-19 outbreaks, and the pre-Golden Week peak season," TIBA China said. The National Day Golden Week begins on October 1.
China shipping backlog leaves factory owners with nowhere to put goods
Indeed, while port closures from typhoons are common, the implications on the global supply chain are now amplified due to the pandemic, as ports around the world are facing massive traffic volume and lower operating efficiency due to both infections among port workers and strict control measures that have caused serious backlogs and congestion.
These problems are amplified at both Shanghai Port, the world's largest container port, and Ningbo-Zhoushan Port, the world's largest port by cargo throughput, given their size and significance in the industry.
The busy Meishan terminal at Ningbo-Zhoushan, for instance, had resumed operations for just 18 days following a two-week lockdown resulting from a vaccinated port worker testing positive for the coronavirus.
According to an analysis from Russell Group, a risk-modelling company, exports of clothing and office equipment are among the goods most affected by the temporary closures at the two ports.
Ningbo has been closed twice, and the first incident created havoc in global trade logistics. I would not be a surprised if it happens againSuki Basi, Russell Group
"Rising port-accumulation exposures across the global economy are a serious concern for businesses that rely on just-in-time supply-chain methods," said Suki Basi, CEO of Russell Group.
"In this quarter alone, Ningbo has been closed twice, and the first incident created havoc in global trade logistics. I would not be surprised if it happens again."
China's latest coronavirus outbreak, in the coastal province of Fujian, is starting to raise concerns about further economic softening in the country, as well as more ports being locked down – which could further strain already fragile supply chains.
While Fujian is home to numerous ports, including Xiamen, none of these have been locked down since coronavirus cases started to rise in the southern province earlier this week.