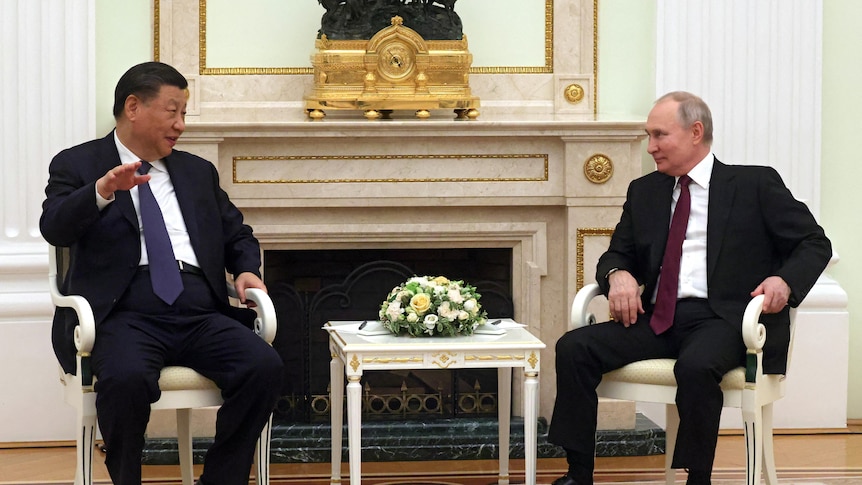 China's President Xi Jinping has met with Russian leader Vladimir Putin in Moscow ahead of formal talks in the coming days.
There was no long table for President Xi as the pair sat down side by side at the Kremlin for a brief discussion that was broadcast by Chinese and Russian state media.
In his opening comments, Mr Putin promised to discuss China's 12-point peace plan.
"We have carefully studied your proposals for resolving the acute crisis in Ukraine. Of course, we will have the opportunity to discuss this issue," Mr Putin said.
"We know that you proceed from the principles of justice and observance of the fundamental provisions of international law, of indivisible security for all countries. You are also aware that we are always open to the negotiation process."
Unlike much of the international community, China has not verbally declared support for either side in the war.
Mr Xi has instead attempted to position China as a mediator between Russia and Ukraine.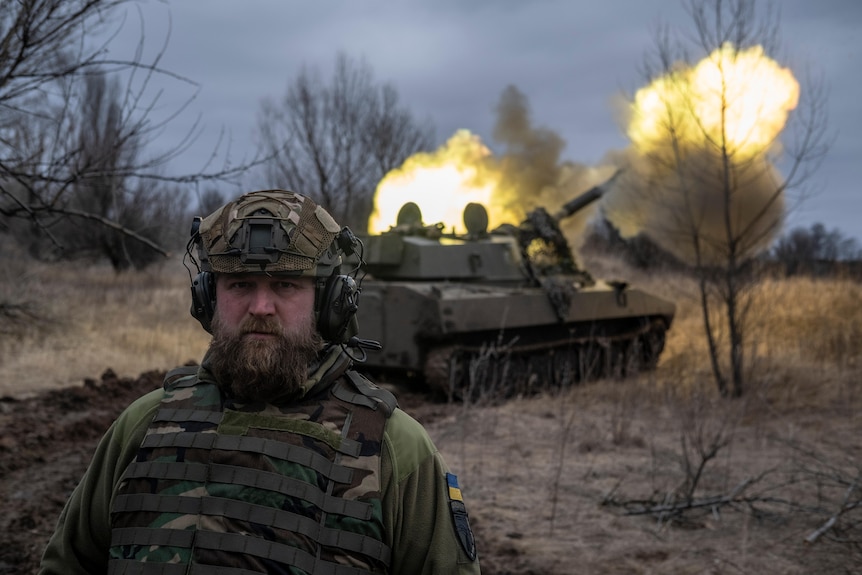 Last month, China announced it had a plan to resolve the war in Ukraine in 12 steps, calling for a ceasefire and United Nations-led talks to bring the conflict to an end.
The plan opposes the sanctions on Russia brought in by Western countries including Australia.
The Moscow meeting was otherwise largely a back-and-forth of pleasantries, with each referring to the other as a "dear friend".
Mr Putin told Mr Xi that he envied the prosperity of modern China.
"In recent years, China has made a tremendous leap forward in its development," Mr Putin said.
"It arouses genuine interest all over the world, and we even envy you a little."
Mr Xi told Mr Putin that he was sure he would be successful in the Russian presidential election, which is due in 2024.
"Thanks to your strong leadership, Russia has made significant progress in achieving prosperity ... in recent years. I am sure that the Russian people will strongly support you in your good endeavours," Mr Xi said.
Mr Putin met those words with a smile.
Shaking the hand of a wanted man
On Friday, the International Criminal Court (ICC) issued an arrest warrant for the Russian leader over the deportation of Ukrainian children to Russia since the start of the war.
Neither Russia nor China have signed the international treaty that governs the ICC, so the arrest warrant is not recognised by either leader.
Russia had initially signed the treaty, known as the Rome Statute, but in 2016 withdrew its signature. The US is the only other country to do the same. 
The Chinese government, through a spokesperson on Monday, dismissed the ICC warrant against Mr Putin as "double standards" and called on the ICC to "respect the immunity of heads of state from jurisdiction under international law".
The warrant calls for Mr Putin's arrest on suspicion of unlawful deportation of children and unlawful transfer of people from Ukraine to Russia since Moscow's invasion began of its neighbour last year.
Russia has trumpeted the national military's "liberation" of children in Ukraine, presenting it as a humanitarian campaign to protect orphans and children abandoned in the war.
Estimates suggest some 16,000 children have been removed to Russia.
A small group of children originating from Ukraine were brought on stage during a stadium rally in Moscow celebrating a year since Russia began the war.
Russia's Commissioner for Children's Rights, Maria Lvova-Belova, who is also the subject of an ICC warrant alongside Mr Putin, has herself adopted a boy taken from Mariupol.