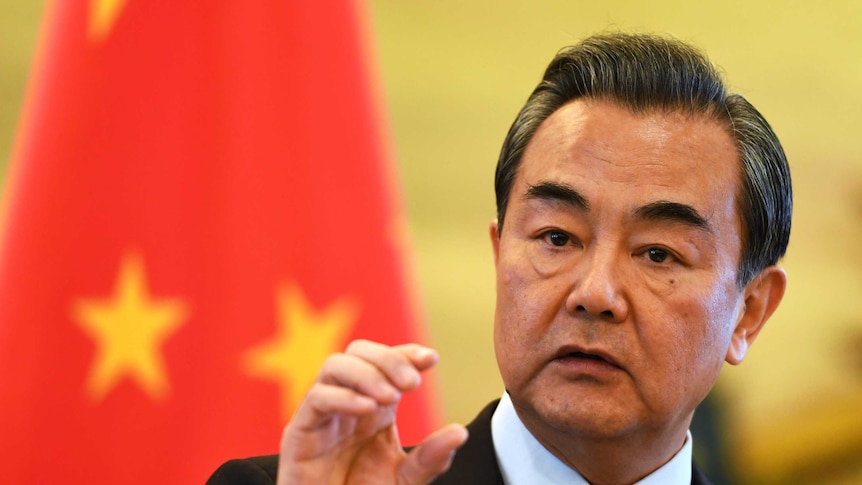 Chinese Foreign Minister Wang Yi looks set to visit at least five Pacific Islands nations over the coming two weeks in a marathon trip designed to signal Beijing's broader ambitions in the Pacific and strengthen China's commercial and security ties with the region.
Solomon Islands Prime Minister Manasseh Sogavare publicly confirmed the visit from Wang Yi yesterday.
In a national address, Mr Sogavare said that his country would "receive a high-level visit from the government of the People's Republic of China later this week".
The ABC has been told the Foreign Minister will arrive in Solomon Islands late on Wednesday night, and that he will meet with Mr Sogavare and other senior leaders on Thursday.
His visit comes just weeks after the two countries agreed to a controversial new security pact, and is a powerful reminder of the strategic challenges which Prime Minister Anthony Albanese has to grapple with after taking office on Monday.
The Solomon Islands government said yesterday that Mr Wang and "his almost 20 member delegation" would spend a day in Honiara "attending various high level meetings, courtesy calls on the Prime Minister and acting Governor-General, and hosting a press conference alongside his counterpart, Foreign Minister Jeremiah Manele".
It said a "highlight" of the visit would be "the signing of a number of key bilateral agreements with the national government", while praising the trip as a "milestone" in the relationship between the two countries.
The release did not say if Honiara would host a ceremony to formally sign the security pact already agreed to by both countries, but the agreement has stirred deep unease in Australia, New Zealand and the United States, countries that fear it might open the door to a Chinese military presence in Solomon Islands.
Wang Yi is also expected to visit Fiji on Sunday and Monday, and Papua New Guinea next week on June 2 and 3.
Closely monitored visit
Diplomatic sources said they believed the Foreign Minister would also travel to other Pacific Islands nations, listing Vanuatu, Samoa, Tonga and Kiribati as possible destinations.
The trip is certain to be monitored very closely, both by Canberra and by Washington.
Kiribati only re-established diplomatic recognition of China in 2019, but the relationship has rapidly evolved since then.
Last year, Opposition MPs in Kiribati fiercely criticised a China-backed plan to upgrade a World War II-era airstrip in the country, suggesting Beijing was eyeing it as a possible military base.
The Financial Times also reported on the weekend that China was trying to strike a security agreement with Kiribati and at least one more unnamed Pacific Islands nation, citing US intelligence officials.
That report also suggested that those agreements could be similar to the one agreed to by China and Solomon Islands.
The government of Kiribati has denied that claim outright, but the country's strategic location — only a few thousand kilometres from the massive US naval base in Hawaii — means US officials are anxious about any prospect of a Chinese presence.
One senior Western government official told the ABC on Sunday that it was "very plausible" that China was looking to sign security pacts in the Pacific, but wouldn't be drawn on whether the government had any hard intelligence suggesting they were imminent.
Dr Graeme Smith from the Australian National University told the ABC that there had been persistent reports in Kiribati that China was seeking a security agreement with the country.
He said it was hard to say whether Kiribati would accept such a deal, but Solomon Islands' agreement could have significant ramifications: "Once there's precedent … it becomes a question of, 'Well, Solomon Islands is still standing and they've signed, if you want the full friendship, why don't you sign on too?'"
Dr Smith said Kiribati, which reinstated ties with Beijing in 2019, was at a similar stage in its diplomatic relationship with China as Solomon Islands.
"At this stage in the relationship, there's a much greater intensity of engagement," he said.
He also said Kiribati was more strategically important to China than Solomon Islands.
"It stretches 3,000 kilometres from East to West. It's fairly close to Hawaii," he said.
"And it has a massive exclusive economic zone in terms of the territorial waters."
In Fiji, Wang Yi is likely to meet not just with Prime Minister Frank Bainimarama but also with senior officials at the Pacific Islands Forum Secretariat in the capital, Suva.
One Pacific Islands government source said Wang Yi would also likely hold a virtual meeting with several other Pacific Islands foreign ministers while in the country.
Papua New Guinea's Prime Minister James Marape confirmed yesterday the Chinese embassy in Port Moresby had advised his government of the Foreign Minister's visit to PNG next week.
"The Foreign Minister is a high minister by ranking, in as far as the Chinese Government structure is concerned," he said.
"And, so, if he confirms to fly in here, the Papua New Guinean Government will give him all the respect that he deserves, and all the protocols."