China's all-or-nothing stand on talks leaves US climate envoy cornered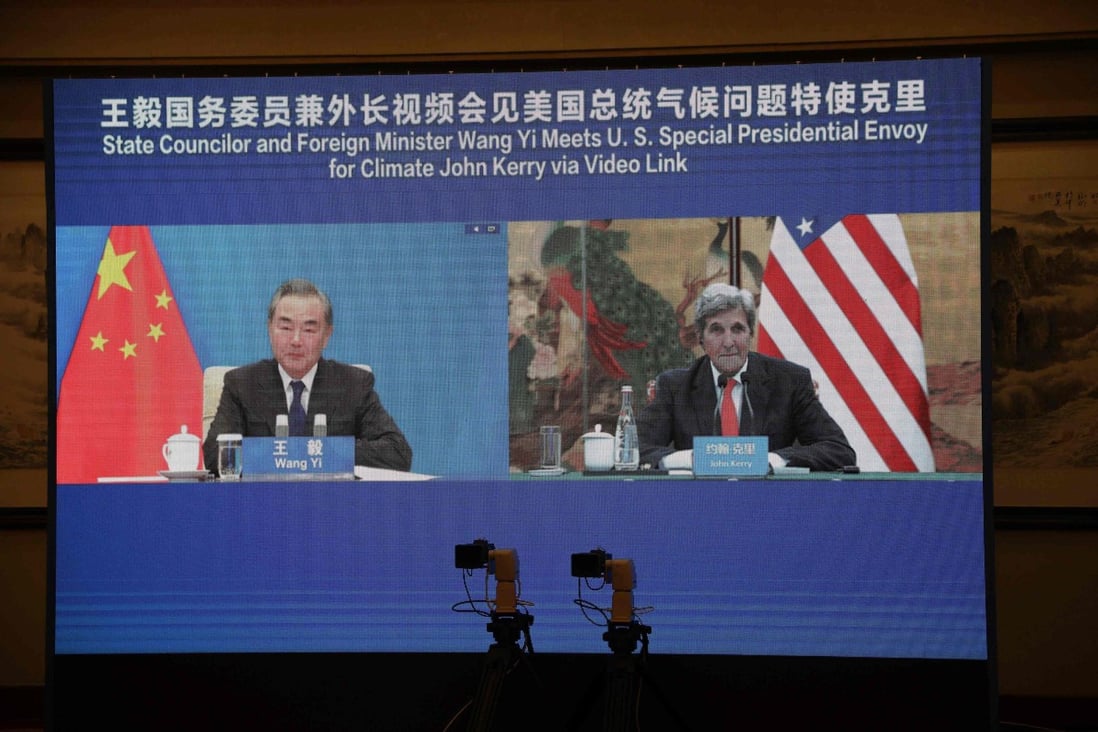 Tackling the climate crisis is a "core national security priority" for US President Joe Biden. But saving a dangerously warming world may not always be compatible with his other highest priorities, such as confronting China. Look no further than his climate envoy John Kerry's China visit last week.
On the surface, Kerry was accorded the rare honour of a series of virtual meetings with Chinese leaders, including Foreign Minister Wang Yi and Vice-Premier Han Zheng, aside from talks with climate counterpart Xie Zhenhua. But the former US secretary of state in fact hit a stone wall when the Chinese hosts basically rolled their eyes at his suggestion that both sides rise above politics and treat climate cooperation as a "stand-alone issue".
Foreign Minister Wang firmly rejected that proposal, telling Kerry that climate cooperation could not be divorced from overall bilateral ties and the US first must "cease containing and suppressing China all over the world".
"The US side wants the climate change cooperation to be an 'oasis' of China-US relations. However, if the oasis is all surrounded by deserts, then sooner or later, the 'oasis' will be desertified," Wang said.
That leaves Kerry in an almost impossible position.
To help Biden avert a global climate catastrophe, America's first-ever climate envoy needs to get China, which leads the world with nearly 30 per cent of global emissions, fully on board.
"On climate, cooperation is the only way to break free from the world's current mutual suicide pact," he said in July.
As the top diplomat under former president Barack Obama, Kerry helped to broker the historic 2015 Paris climate agreement. As such, Kerry has intimate knowledge of how Beijing plays its climate card to extract concessions on other issues and navigate bilateral ties in stormy waters.
For China, politics is often at the heart of the top-down campaigns on cutting pollution and negotiating climate deals, as economic development and political stability remain the overriding top priority for the leadership. That helps explain Beijing's insistence on seeing Washington's climate diplomacy as part of a grand bargain between the rival powers.
However, given Biden's ideologically focused campaign to contain an autocratic China and "prove democracy works", "serious differences" – on issues ranging from Xinjiang and Hong Kong to Taiwan and the South China Sea – "will never be traded for anything that has to do with climate", Kerry asserted in January.
However, a remit limited to climate change leaves Kerry with little room to wield his influence on broader bilateral issues that Chinese officials appear keen to bring up.
In a sense, his repeated calls about depoliticising the fight against global warming are also aimed at Biden's critics at home, where climate change has become a polarising issue among American voters.
Kerry's China visit, his second in five months, was met with scepticism in the US, with critics questioning Beijing's sincerity and reliability in terms of honouring climate pledges. A Wall Street Journal editorial last week warned that the Biden administration's obsession with climate change may have become "a major source of strategic leverage for Beijing".
Such concerns are not entirely misplaced, given previous US administrations' mixed record on China and climate diplomacy. It remains unclear how Kerry will deal with the dilemma, or if the Biden administration may consider possible trade-offs one day to break the deadlock and secure Beijing's cooperation on climate.