'Cheese Gromit!' Wallace and Gromit bronze statue unveiled in Preston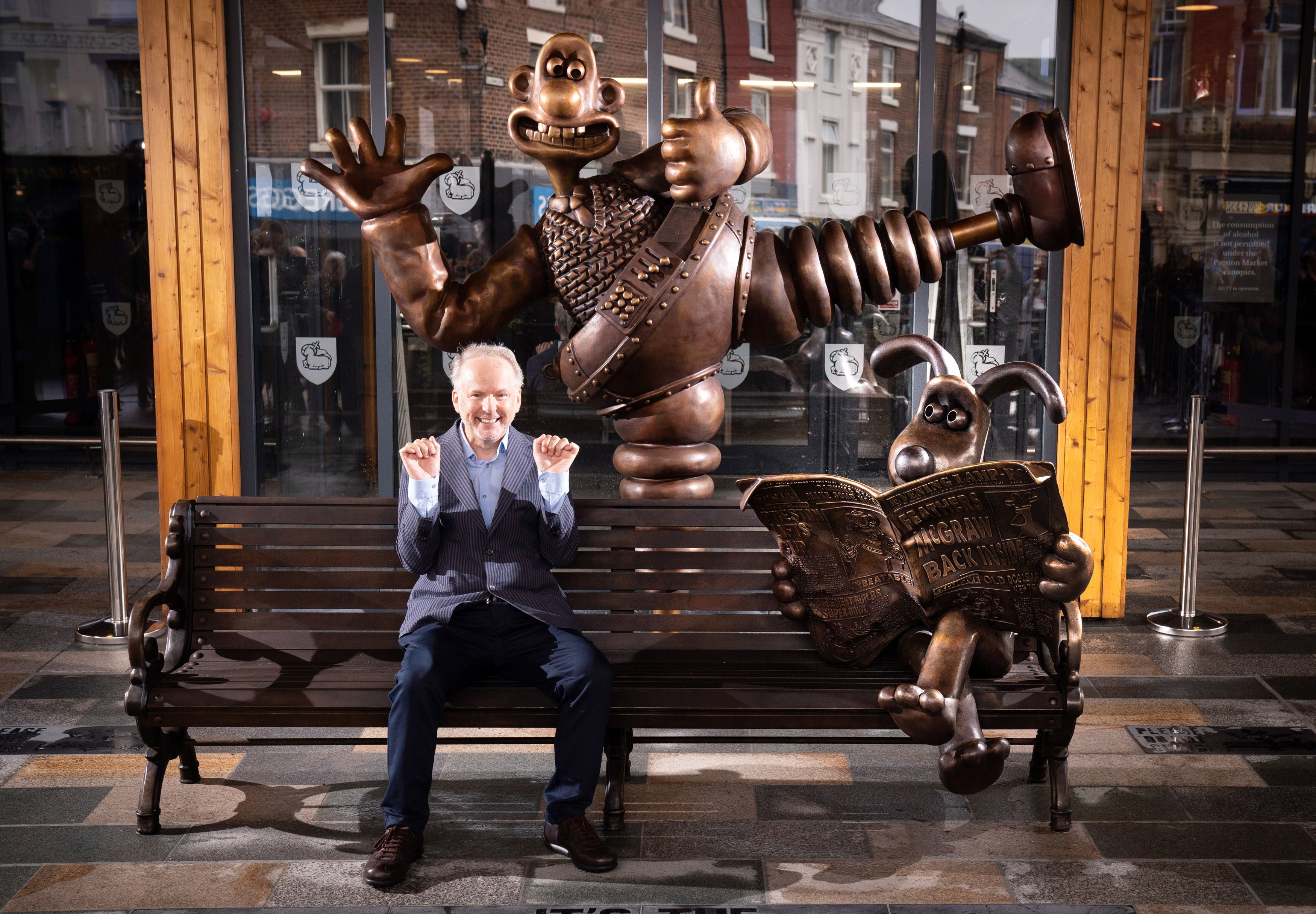 Get ready to feel some major childhood nostalgia.
A large bronze statue of the iconic TV duo Wallace and Gromit has been unveiled in Preston, Lancashire.
Famous for getting caught up in random adventures – from travelling to the Moon and busting a sheep-rustling criminal, to enduring the Curse of the Were-Rabbit – it was only fitting that the statue celebrated one of these antics. The bench sculpture shows the inventor and his loyal doggo companion as they appeared in the short film "The Wrong Trousers."
The synopsis for the 1993 film reads: "Wallace takes in a new lodger, a devious penguin. Spotting some techno-trousers, the penguin plans a grand theft, a plan that involves putting Wallace in danger. Will Gromit be able to stop the feathered fiend?"
Wallace appears to be sporting the infamous "techno trousers" in the sculpture, balancing on one leg while giving a reassuring thumbs-up, while Gromit remains perched on the bench reading a newspaper and minding his own business.
And here it is! Nick Park with #WallaceGromitBench in #Preston @aardman pic.twitter.com/QbdNgjm4sV

— Preston City Council (@prestoncouncil) September 10, 2021
Sign up to our free Indy100 weekly newsletter 'The Viral Democracy'
The bench has been funded through the £1million worth of funding allocated to Preston from the government's national Towns Fund, and there are four more similar "Pop-Up" projects in the works.
The aim of the project is to encourage people back into the city after the pandemic and from looking at the reaction on Twitter it seems to be a hit, as people have been sharing their delight at the new statue and are already planning a visit to see it.
Now this is a statue I can get behind 👍 https://t.co/8NizvuMSI9

— Andy 'Andy Fanton' Fanton (@YourPalFanton) September 10, 2021
Wallace and Gromit tower over mortal men. https://t.co/oW71i1ryDF

— Liam Bones (@Bonesdrawstuff) September 10, 2021
https://t.co/O5IRiC8gPY pic.twitter.com/wYM9qj3UDD

— Kath Paddison (@Kath_Paddison) September 10, 2021
Great news Gromit!! Now to pack some Wensleydale and a picnic to take the kids to see the bench! https://t.co/fHsP0C3MiE

— Rob Lawton (@roblawton) September 10, 2021
I need to visit this statue one day.

And they need to make another Wallace and Gromit feature film. It has been too long, for God's sake!#WallaceandGromit https://t.co/5S1MeoIZ4D

— Sean The Mondasian Cyberman (@WhoPotterVian) September 10, 2021
Oooh I need to visit here for a pic 😍 https://t.co/T0N7SP5Fvv

— Jennie Rose (@pinkjennie6) September 10, 2021
brb omw to preston https://t.co/LZLVOZWIE9

— DreadSnortt (@_DreadSnortt_) September 10, 2021
While other people cracked some jokes and shared some observations about the cheese-loving duo's new statue.
After the unveiling of the Wallace and Gromit statue today in Preston, one man has been seen planning to vandalise the statue... pic.twitter.com/PIZJlXfnDu

— Max (@MaxGarfield2003) September 10, 2021
how i feel most days https://t.co/aSdT4MTNUe pic.twitter.com/ked2DSDJJ8

— harriet (@terminaljivee) September 10, 2021
It's cool that Wallace and Gromit are getting their own statue, but is nobody going to talk about how it's erected in Preston, a city that shares a name with this hell hound? pic.twitter.com/RDPYNodABa

— Ryan Robotham (@RJRobotham) September 10, 2021
What if me and you held hands while sitting on the Wallace bench👉👈 https://t.co/UX01Y3JxoQ

— ⭐Julka or Kappa!⭐ (@Kappa_amigo) September 10, 2021
Returning to his hometown of Preston to unveil the statue, the Oscar-winning creator Nick Park shared his thoughts back in June when the tribute was first announced: "It is such a great honour for me, as a proud Prestonian, to see my characters Wallace and Gromit cast in bronze and given pride of place in my hometown," Lancashire Post reported.
Park has won an Academy Award four times with three in the category of Best Animated Short Film – Creature Comforts, The Wrong Trousers and A Close Shave – and one in the category for Best Animated Feature Film for Wallace and Gromit: The Curse of the Were-Rabbit.
Visitors are encouraged to share photos of themselves online of them sitting on the bench with the hashtag #WallaceGromitBench.
All this talk of the comedy show has got us craving some Wensleydale cheese...