Carrie Lam 'grateful' for survey of Hong Kong residents, surprised by scope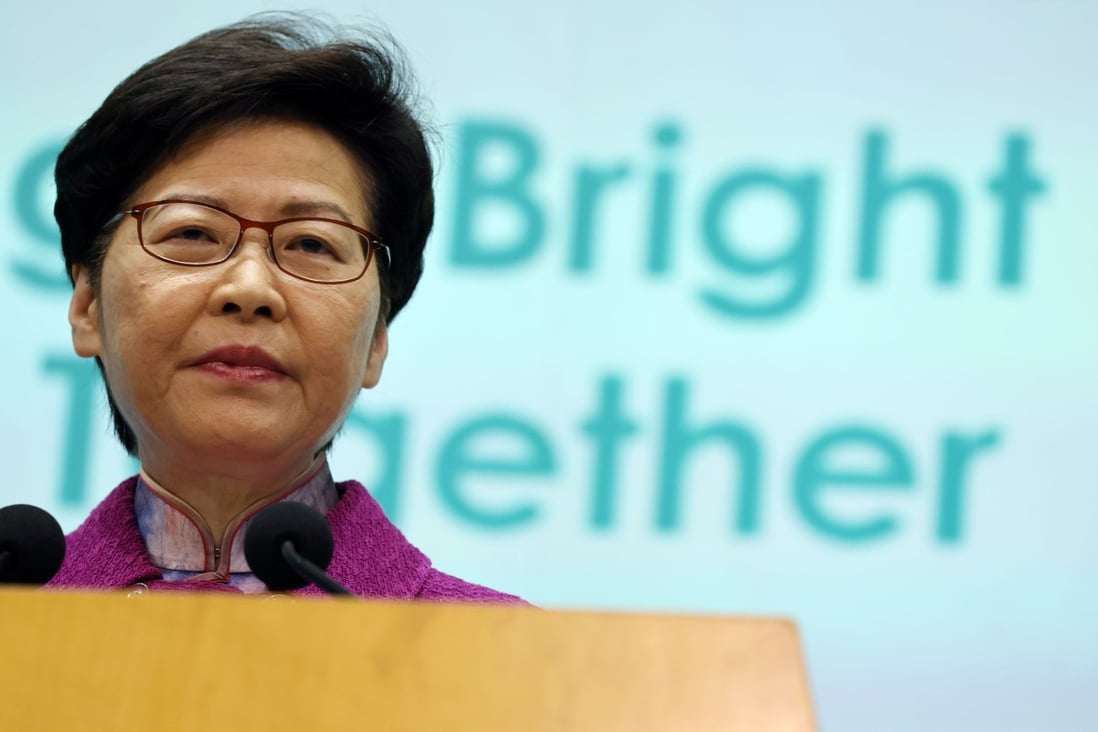 Hong Kong leader Carrie Lam Cheng Yuet-ngor has thanked mainland Chinese officials for their recent outreach efforts to local residents, but suggested the results of a survey they conducted is likely to confirm facts already known to the administration.
Speaking ahead of her weekly Executive Council meeting, Lam conceded she had been unaware of the sheer scope of the Beijing liaison office's canvassing efforts.
"I noticed that before and after National Day, senior officials from the … liaison office had gone out to a large number of Hong Kong people, but I didn't realise the total number was almost 1,000 until I read a newspaper report about the media session hosted by deputy director Lu Xinning," she said, in an apparent reference to the 979 flats and businesses visited.
"I appreciate [it]. And I am grateful for their extensive efforts made in the community so Hongkongers won't have that sort of alienation from mainland officials," Lam told reporters, saying it would breed a stronger sense of national identity.
"They feel close to the mainland officials, and that's conducive to the effective operation of the 'one country, two systems' [governing principle] in Hong Kong."
The Post previously reported that after sorting out feedback from 3,985 residents, the liaison office had compiled a list of 500 measures for implementation, many of which would fall to the local administration to handle.
But while Lam said she looked forward to receiving the suggestions that emerged from the process, she added local officials believed they already had a good sense of what the mainland team likely discovered.
"My gut feeling is that those views and ideas and suggestions should be very close to what we already know," she said, citing housing, youth mobility and wealth disparity.
What interested her most, Lam said, were local residents' views on policies that involved collaboration with the mainland.
"There are things that are beyond the influence of the Hong Kong Special Administrative Region, for example, in facilitating the resumption of normal travel as soon as possible," she said, an area in which she has previously conceded her administration has little power.
"Helping young people go to the mainland" and gaining greater access for local service providers in the Greater Bay Area – Beijing's plan to turn Hong Kong, Macau and nine Guangdong cities into a massive innovation hub – were also identified as areas of potential cooperation.
"I would be very interested to know what those suggestions are, so that I as the chief executive can also approach the mainland authorities to reaffirm those suggestions are what our people want," she said.
The liaison office's charm offensive has been interpreted by some as a ramping up of pressure on Lam and her cabinet to meet Beijing expectations.
The weeklong drive saw officials including the office's director, Luo Huining, visit residents ranging from young tech entrepreneurs and fishermen to tenants of so-called cage homes.
As Lam spoke, Secretary for Home Affairs Caspar Tsui Ying-wai was in Shenzhen's Qianhai district to visit entrepreneurial bases, facilities established to help Hong Kong and mainland young people's start-ups.
The chief executive said she would lead an official delegation on a visit to Guangzhou and Shenzhen on Wednesday and Thursday.
Lam, together with the city's finance and commerce chiefs, would attend the opening ceremony of the China Import and Export Fair and a trade forum on Thursday.
Lam will then travel to Shenzhen on the same day to meet leaders of the city.
There, she will brief them on her plan to build the Northern Metropolis she unveiled in her recent policy address, saying the proposal, involving turning an area of Hong Kong bordering the mainland into an innovation hub, would require cooperation with Shenzhen.
Hong Kong's commerce, environment, transport, tech and security chiefs will accompany Lam in the Shenzhen meeting.