Tourism drive could boost parts of Hong Kong's eastern border, Lam says
Parts of Hong Kong's eastern border with mainland China could be developed as part of a tourism drive, the city's leader said on Saturday, as she floated fresh ideas to boost the economy of those areas.
Chief Executive Carrie Lam Cheng Yuet-ngor pointed to flea markets, eco-tours in the Unesco Global Geopark that sits across 150 sq km of the eastern and northeastern New Territories and opening up the pier in Sha Tau Kok and Mirs Bay areas to visiting vessels from Shenzhen, as examples of what was possible.
The neighbouring cities should further enhance cooperation to develop the Shenzhen-Hong Kong Boundary Control Points Economic Belt, she said, referring to a proposal she unveiled in her policy address on Wednesday.
"The Sha Tau Kok border could be further opened up, such as opening its pier for local tourism. Flea markets could operate there, but Chung Ying Street will be left untouched," she said.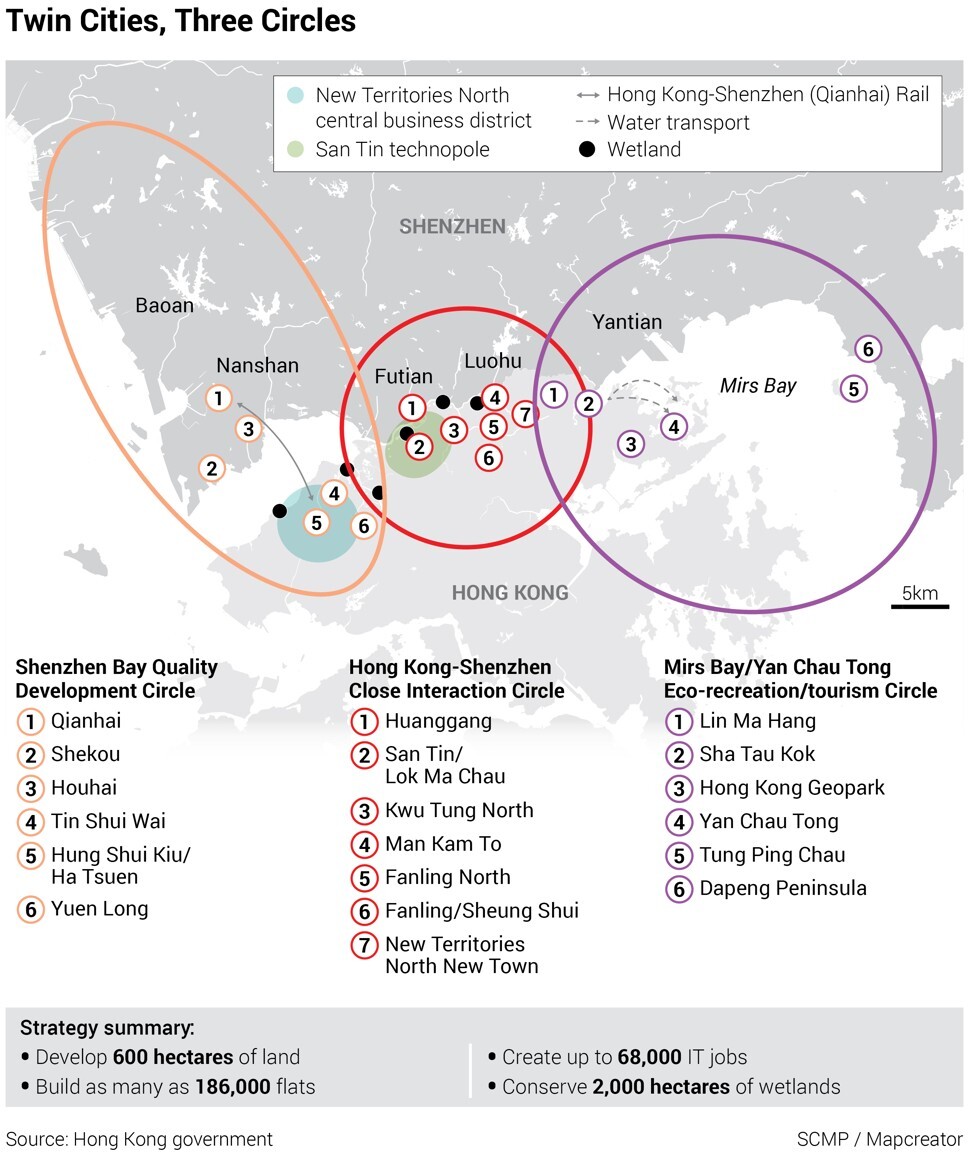 Hong Kong could also build a port area for Mirs Bay and Double Haven, an eco-recreational and tourism zone, in the northeast of Kat O and Sai Kung, to boost its tourism, Lam said. These two areas are considered core parts of the geopark.
"There could be a seaport, so in future we could reach this international tourism hub by ferry," she said. "We could provide a cross-boundary access with a facility like the Hong Kong-Macau ferry terminal.
"Overall speaking, this cross-boundary control points economic belt will create a lot of opportunities for both places."
The tourism development adds to other measures Lam put forward in her policy address, which include an extension of the East Rail line to Lo Wu with a new joint checkpoint.
Tourism sector lawmaker Yiu Si-wing welcomed Lam's ideas, saying they could boost the economy in the rather isolated and restricted border areas, with easy access and convenient transport.
"Actually the tourism sector has been pushing the government to explore the development of Sha Tau Kok as many areas are restricted and undeveloped," he said.
Yiu said at present, it could take up to 1½ hours on the ferry from Ma Liu Shui in Sha Tin for people to get to the geopark.
Opening the Sha Tau Kok pier to the public would cut that down to just 30 minutes, he added.
Cindy Choi Mo-ming, chairman of the Hong Kong Association for Geoconservation, said any development would need the government to put in infrastructure such as water and power supply, and toilets, and conservation measures to preserve the natural beauty and precious heritage.
"While enriching visitors' tourism experience, it is very important to conserve our invaluable geological heritage as it is the base of all ecosystems," she said.
Choi suggested regulating the flow of visitors and hiring guides to conduct tours would be an ideal way to promote sustainable tourism.
Development would not affect the geopark's Unesco status, she added, as it would promote sustainable tourism in the area, which did not conflict with the world body's goals.
"The most important thing is to ensure that no damage is done to the geological heritage," she said.
As a centrepiece of her speech, Lam outlined five railway projects with a focus on the development of the city's borders to complement the development of a proposed Northern Metropolis.
In another radio programme, Lam expressed confidence that the massive project, which aims to provide more than 900,000 homes for some 2.5 million people, would be "profitable" despite a lack of estimated costs.
"Land development in Hong Kong is never a loss-making business. It's still profitable even though it includes public housing," she said. "Any accountant or investor will think it's a mega project worth investing in for the sake of Hong Kong."
The plan to create an additional 600 hectares (1,480) of land for development has been compared to her "Lantau Tomorrow Vision", a plan to build man-made islands at an estimated cost of HK$642 billion (US$82.5 billion), which would be the city's costliest infrastructure project to date.
Without giving details, the chief executive suggested financing solutions, such as issuing bonds which she said involved "very low costs", and investing in exchange funds by the Hong Kong Monetary Authority, could pay for the plan.
"Raising funds has been a strength of Hong Kong," she said. "We completed a lot of mega infrastructure back in the 1970s when [the government] did not have much fiscal reserves."
When asked why she had not raised the proposal until the last policy speech of her term, Lam said her administration decided to roll out the "potentially controversial" project only after the national security law had stabilised the city.
In addition, she expected the electoral changes would create a legislature that would "cooperate with the executive branch".
"In the previous political climate, any plans aimed at enhancing collaboration with the mainland could stir up huge controversies," she said.
"If I rolled out the Northern Metropolis plan two years ago, the project would find itself in a terrible fix. People would have accused me of betraying Hong Kong, and giving up 'one country, two systems'."
Separately, Financial Secretary Paul Chan Mo-po said the government would throw "combination punches" to finance the Northern Metropolis project.
"This project will cost a lot of money. During planning, we need to use combination punches," he said. "We can't simply rely on the use of the public coffers … We can use market capital such as from green bonds and public-private partnerships."
Meanwhile, Secretary for Development Michael Wong Wai-lun addressed the problem of the city's housing shortage, saying authorities aimed to increase average living space by 10 to 20 per cent in the long run. If progress in securing more land was satisfactory, officials would require developers to build larger public housing flats at estates planned for the next five-year period.
On average, each public rental housing tenant currently had 145 sq ft of space, according to official figures.