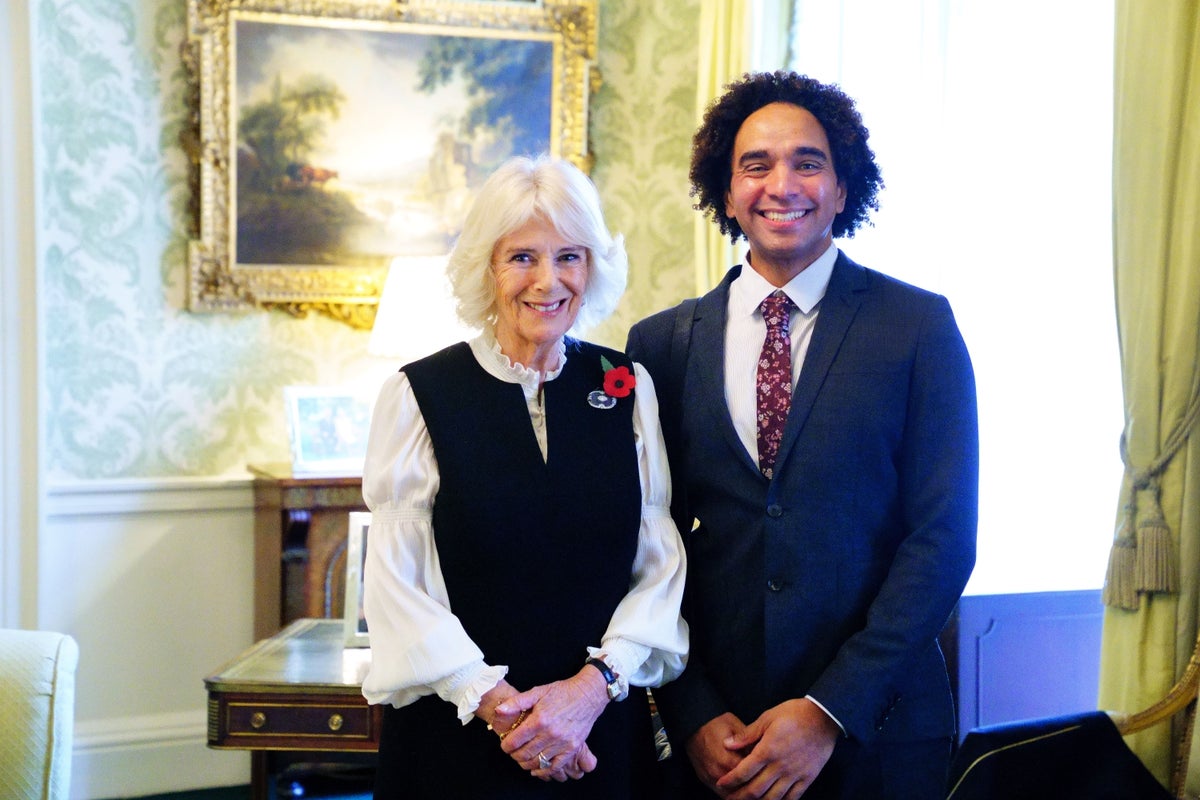 The Queen Consort has shared her love for poetry with poet and Waterstones children's laureate Joseph Coelho to celebrate World Poetry Day.
Camilla met the performance poet, playwright and children's author in the Clarence House library to discuss their mutual love of verse.
In a video of the conversation, shared by children's reading charity BookTrust, Coelho asked Camilla if she enjoys reading poetry and for her thoughts on the power of reading poetry out loud.
She replied: "I think it's wonderful. You know, it's a hundred years back, but when I was at school, we had to learn things by heart.
"And you think, 'Oh, goodness, I could never recite them now'. But little things you've learned as a child that you think are long forgotten, those suddenly pop up and suddenly these verses come back to get you.
"And I love reading poetry, but if you read it out loud, it takes on a different dimension.
"I love the rhythm of poetry. I love feeling you're being taken along by a poem, that you're almost in it.
"And I think as a child, you learn so much from poetry because such lines that go together, they sort of sink into your brain."
During the conversation, which was organised by BookTrust, Coelho also spoke to Camilla about his Poetry Prompts campaign – which uses videos to help break down the barriers which often surround poetry and open it up to children from all backgrounds.
While explaining Poetry Prompts to Camilla, Coelho said: "Every Monday we release a video to get kids writing, and I get kids saying to me, 'Oh God, we wrote this poem and we've written this poem'.
"And they have their display boards up in the classroom because often writing, I think, for many children can be quite a scary prospect.
"And so if we can just try and enable them to see that actually putting pen to paper doesn't have to be that scary.
"And I feel very passionately about letting kids know that they are writers, too, because once they realise that they are writers, then it gives them a new appreciation of the printed word, because their voices are valid and they start to explore and discover the voices of others."
Camilla replied: "But I think with poetry, too, to get children writing poetry early is wonderful because to get them to be able to get the rhyming, getting the rhythm of poetry, it also gets some thinking in a different way, doesn't it?"
They discussed how Coelho became a poet and the legacy he hopes to leave when his tenure as children's laureate ends in 2024.
Coelho succeeded Dame Cressida Cowell last year.
Literature lover Camilla, who set up her own Reading Room online book club, is a passionate advocate of encouraging children to read.
She holds a number of patronages related to literature, including the BookTrust and the National Literacy Trust, and has presented the prestigious Booker Prize.