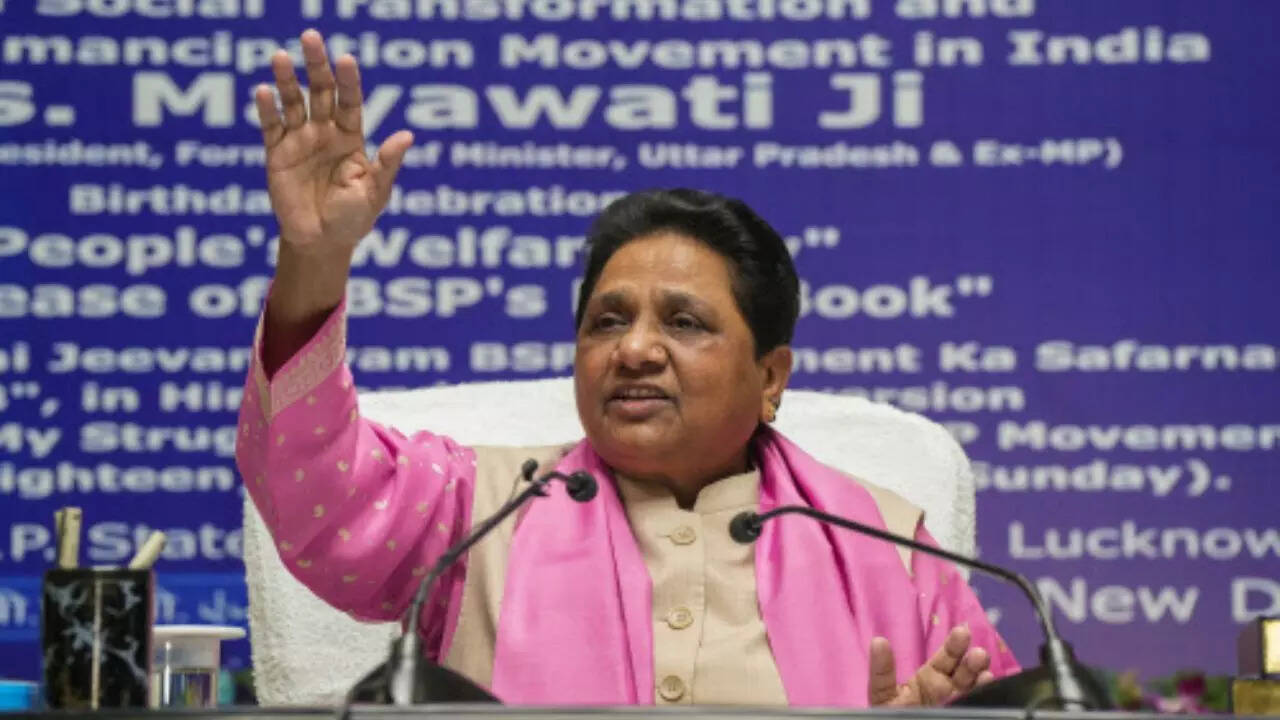 LUCKNOW: Addressing a press conference on her 67th birthday, BSP chief Mayawati on Sunday said that her party would contest the assembly elections scheduled in nine states later this year and then the 2024 Lok Sabha elections, all alone.
Mayawati slammed the opposition parties, essentially the Congress, of spreading rumours about a "possible tie-up" with the BSP in the run-up to general elections and other state elections. Mayawati said that she had "bitter experiences" of forging an alliance as the political allies failed to transfer their vote bank in favour of the BSP.
In the 2019 LS elections, Mayawati had entered into a pre-poll alliance with the Akhilesh Yadav-led Samajwadi Party and managed to win 10 Lok Sabha seats. However, she soon broke the alliance accusing the SP of "failing" to transfer its core voters towards her party candidates. The SP had bagged only five seats in the 2019 LS polls – of which, it lost Azamgarh and Rampur in the subsequent bypolls held last year.
The BSP chief, however, maintained that other political outfits benefited out of an alliance with her party.
Maintaining that her "core vote bank" was intact, Mayawati said that attempts were being consistently made to "misguide" Dalits. Mayawati alleged that the investigation agencies (like CBI and Enforcement Directorate) were being politicised to serve the interests of the ruling parties.
She said that the BJP has been following the footsteps of Congress and SP by not giving due constitutional rights to not only the SC/STs but also the OBCs. "This is why the Urban Local Body elections got delayed," she said in an apparent reference to the HC striking down state government notification on quota for OBC – which was later challenged in the SC. Mayawati castigated the previous SP government for including 17 OBC castes in the SC category. "This led to a lot of confusion and these OBC communities could not get reservation benefits," she said.
Mayawati also shrugged off BJP attempts to woo 'Pasmanda' (backward) Muslims, saying that the community was "Muslim first". "Everyone knows what kind of atrocities are being inflicted on the Muslim community, not only in UP but in other parts of the country," she said.
Mayawati said that the BJP was attempting to cover up its bad governance in UP by claiming to attract investments ahead of the Global Investors' Summit in Lucknow next month. "Such activities have hardly any connection with the poor and the middle class," she said.
Expresses concerns over use of EVMs
Expressing "concerns" over the use of Electronic Voting Machines (EVMs), Mayawati said that the use of EVMs has grossly downed her vote percentage over the years. Urging the Election Commission to use ballot paper, Mayawati said that in various countries, the EVM had been withdrawn and ballot papers were being used. "The BSP vote share, since its inception in 1984, has been increasing till ballot papers were used," she said.