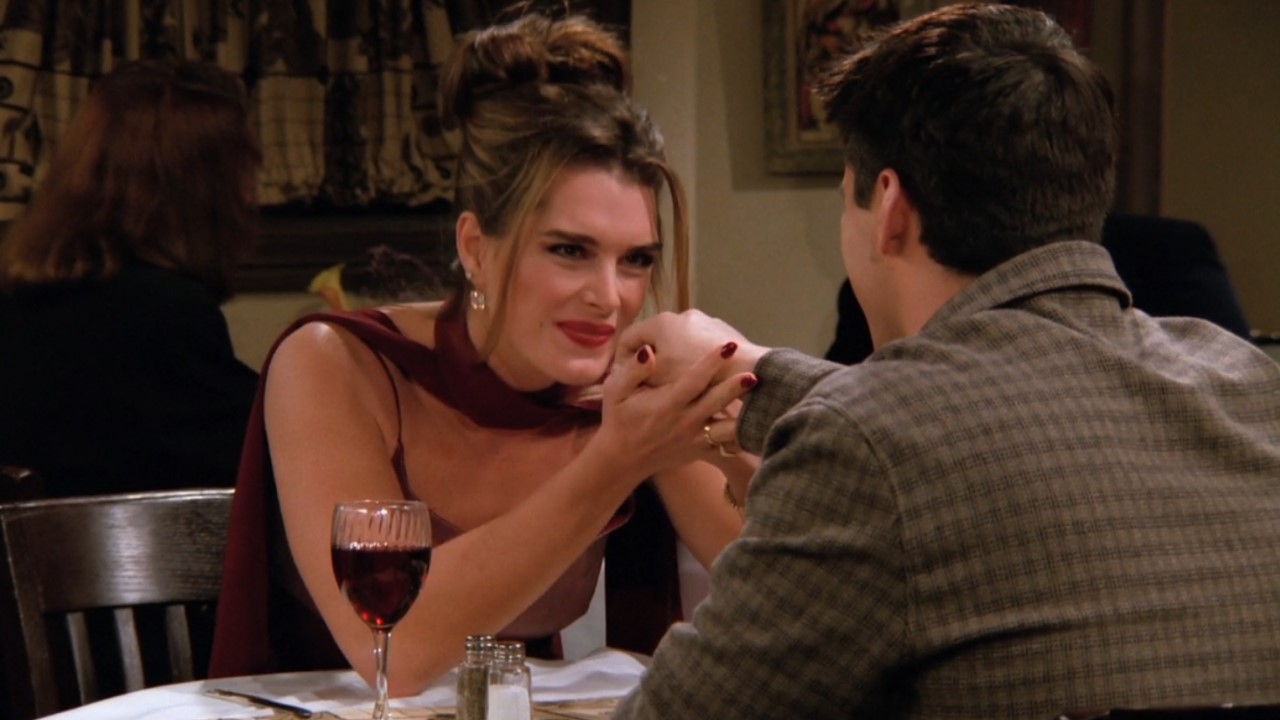 Friends had quite a few A-list guest stars in its time, including Brad Pitt, George Clooney (basically half the cast of Ocean's Eleven), Bruce Willis, Susan Sarandon and the list goes on. Among those amazing names was Brooke Shields, who was absolutely unhinged as Joey Tribbiani's stalker Erika in "The One After the Super Bowl: Part 1." The actress has been in the news lately for broaching some big topics in her powerful new documentary, Pretty Baby: Brooke Shields, including that iconic hand-licking scene. She's also since opened up more about how angry her then-partner Andre Agassi was about it. 
Brooke Shields 'Begged' The Showrunners To Keep The Licking In The Scene 
"The One After The Super Bowl: Part 1" aired in 1996 following, you guessed it, the Super Bowl. Joey (Matt LeBlanc) started getting hand-delivered letters from a stalker who believed his Days of Our Lives character Dr. Drake Ramoray was real. The full scope of her mania really came out when the two were out for dinner (because of course Joey went on a date with his stalker). Friends' showrunners were apparently apprehensive at first about Brooke Shields taking her performance to 11 the way she did, as the actress recalled to the New Yorker: 
Network execs apparently had their eyes opened to Brooke Shields' comedy prowess, and that turned into Suddenly Susan, which aired for four seasons on NBC. 
The actress also revealed the funny exchange she and Matt LeBlanc had before filming that career-altering moment, recalling:
Some guest stars may have been terrified to film alongside the stars of the most popular sitcom of its time, but Brooke Shields fought for what she knew the scene needed and even brought a mint to a hand-licking scene. What a pro. 
Andre Agassi Had An Over-The-Top Reaction To Watching Her Film That Scene 
It may have been a big career moment for Brooke Shields, but it also caused some turmoil in her relationship with Andre Agassi, who apparently did not appreciate seeing Shields act in such a way with Matt LeBlanc. Shields recalled: 
Brooke Shields and Andre Agassi, who were married from 1997 to 1999, have both spoken about the tennis icon's drug addiction in their respective books, even mentioning this specific instance on the set of Friends. 
Andre Agassi Broke His Tennis Trophies After Brooke Shield's Hand-Licking Scene 
In his 2009 autobiography Open (via USA TODAY) Andre Agassi opened up about the incident, in which he said he broke all of his tennis trophies, one by one, after he returned home from the Friends set and ripped apart the walls. He said in the book: 
That's a pretty extreme — and very scary — reaction to someone just doing their job as an actress, and it's unfortunate that such a fun scene and important moment in Brooke Shields' career was tainted. 
Fortunately for us, though, we can relive that scene and all of our favorite Friends moments, with all 10 seasons available to stream with an HBO Max subscription. Pretty Baby: Brooke Shields will be available to stream with a Hulu subscription on April 3.