Britain sends navy patrol boats on Indo-Pacific mission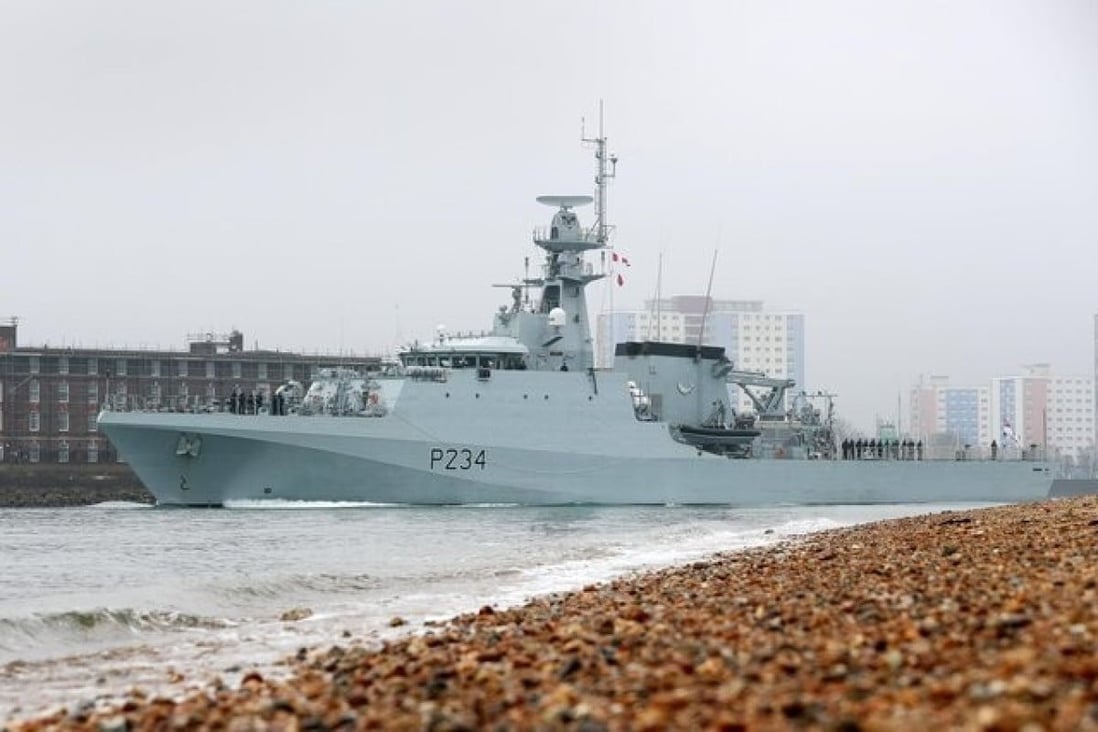 Two British naval patrol vessels will sail to the Indo-Pacific on what could be a five-year mission, as Britain turns more of its attention to the region amid strained relations with China.
The HMS Tamar and HMS Spey, two of the navy's new offshore patrol vessels, were scheduled to set sail from Portsmouth in southern England on Tuesday towards the Indo-Pacific for "perhaps five years or more", the Royal Navy said.
The vessels are aimed at protecting Britain's interests, "safeguarding territorial waters, protecting fishing stocks, performing constabulary duties and acting as the eyes, ears and representatives of the navy and nation wherever they patrol", according to the navy's website.
They are also equipped with a short-range anti-aircraft gun and a single mounted gun to defend against short-range missiles, rockets, grenades and explosives.
The British aircraft carrier HMS Queen Elizabeth and its strike group is also on a seven-month deployment to the Indo-Pacific and has stopped in Japan in what Britain says is a show of its increasing commitment to maritime security in the region.
In late August, Britain joined the Netherlands, the United States and Japan for naval exercises in the Pacific Ocean to demonstrate the interoperability of the countries' forces.
China's new ambassador to Britain Zheng Zeguang has called for a reset in relations between the two countries, as tensions have grown over issues such as Beijing's political crackdown in Hong Kong and treatment of ethnic minorities in Xinjiang.
Beijing's imposition of a national security law in Hong Kong, a former British colony, last year saw Britain offer British National (Overseas) passport holders in the city a pathway to citizenship.
Chinese analysts said Beijing had already been on alert over the US' increased strategic focus on the Indo-Pacific.
Zhou Chenming, a researcher from the Yuan Wang military science and technology institute in Beijing, said the US was looking to close allies such as Britain to take part in naval patrols to bolster its own presence but the military impact would not be great.
"The British patrol ships are weaker in terms of defences and capacity, so it will not cause any substantial changes in the balance of military power," Zhou said.
But the vessels did have political importance.
"They want to make a show of Britain still having global influence, and ... they are also coordinating with the US in terms of strategic positioning," he said.
"Britain may also be trying to create some new issues to see if there can be some manoeuvring room in dealing with China on Hong Kong issues."
Ni Lexiong, a Shanghai-based military expert, said China would be monitoring the British deployments, which were meant to signal Britain's commitment to backing up US forces in the region, including in a conflict in the South China Sea.
"They are trying to signal this attitude towards China and towards the world, to increase pressure and to cause provocations," he said.
"A British aircraft carrier coming into the region does not pose a great substantial threat, but there is a strong symbolic significance, a diplomatic significance, its political meaning."