Boris Johnson to fund social care by abandoning manifesto pledge on tax hikes – here's what it's all about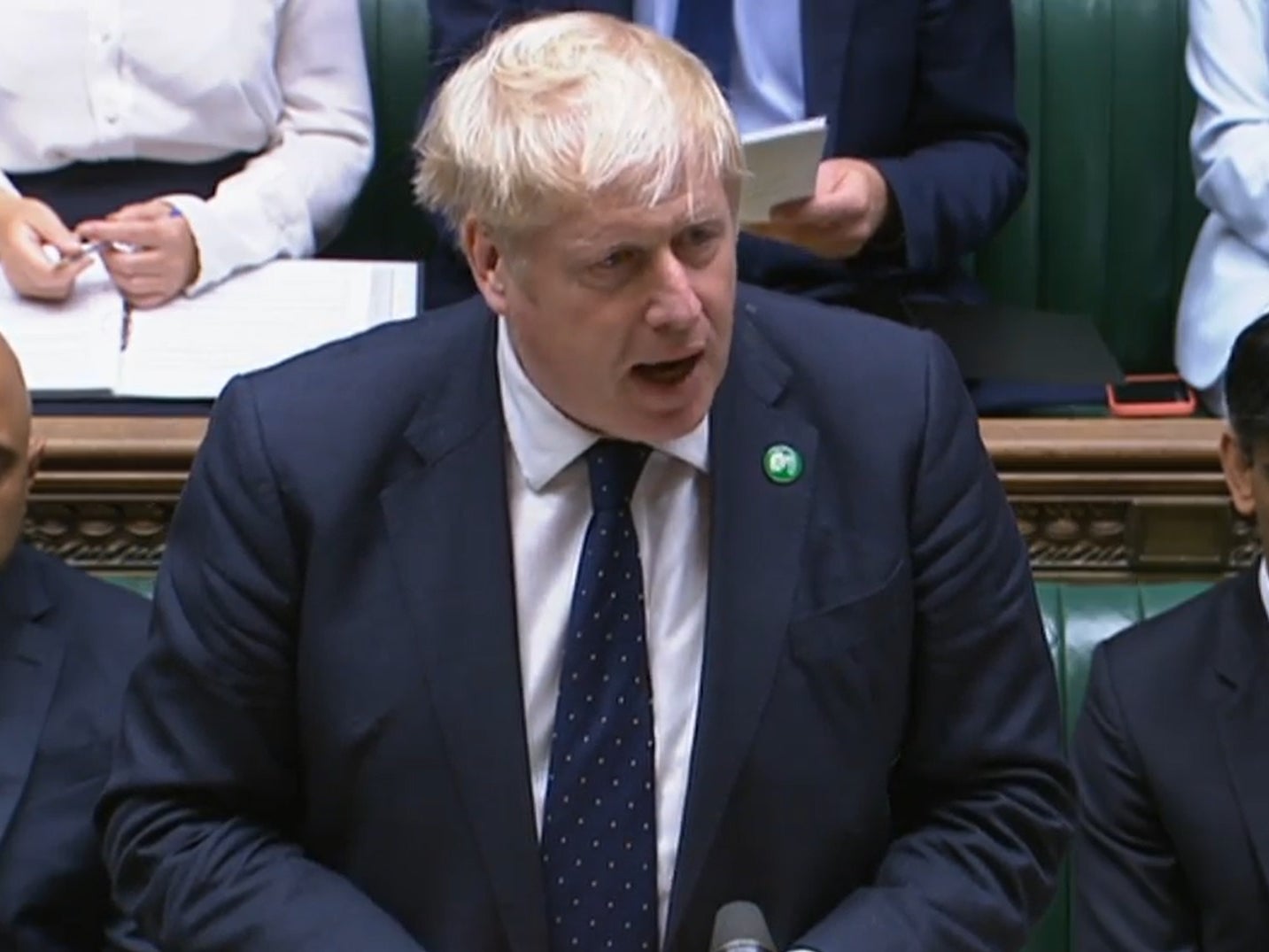 Boris Johnson's controversial social care funding plans have been approved by MPs.
The Commons voted last night by 319 to 248 in favour of the UK-wide 1.25 percentage point increase on National Insurance contributions, despite five Tory backbenchers voting against the measure and another 37 opting not to vote at all.
Speaking in the Commons earlier this week, the Prime Minister announced the move, as well as a 1.25 per cent increase in the dividend tax for those who receive income from owning shares. The latter tax is expected to raise £600m.
He said: "No Conservative government ever wants to raise taxes and I will be honest with the House – yes, I accept that this breaks a manifesto commitment, which is not something I do lightly.
"But a global pandemic was in no one's manifesto and I think the people of this country understands that in their bones and they can see the enormous steps this Government and the Treasury have taken.
"After all the extraordinary actions that have been taken to protect lives and livelihoods over the last 18 months, this is the right, the reasonable and the fair approach."
He said the additional revenue would pay for the biggest catch-up programme in the history of the NHS in England, with £12 billion a year to help deal with the backlog of cases built up during the pandemic.
It will also cover the reform of the social care system in England.
The National Insurance tax increase is set to come into effect from April 2022 and will be paid by all working adults, including those over the state pension age – unlike other National Insurance contributions.
Downing Street said that a typical basic rate taxpayer earning £24,100 would contribute £3.46 a week, while a higher rate taxpayer on £67,100 would pay £7.15 a week.
Meanwhile, according to Treasury modelling, in 2022-23, more than a third of the overall tax increases and over half the increase in dividend tax rates will come from the top 10 per cent of households, with the majority coming from the top 20 per cent of households.
The Government said the progressive nature of the levy meant that 6.2 million people earning less than a threshold of £9,568 in 2021-22 will not pay the levy.
Meanwhile, from October 2023, anyone with assets under £20,000 have their care costs fully covered by the state, while those with between £20,000 and £100,000 will be expected to contribute to their costs but will also receive state support..
Responding to the announcement in the commons, Labour leader Keir Starmer said that the Conservatives could no longer claim they were "the party of low tax".
He added that the tax rise "places another burden on business just as they are trying to get back on their feet" and would impact young people and workers disproportionately.
"We do have to ask those with the broadest shoulders to pay more," he said.
But ministers turned on Labour for voting against a measure which will deliver extra funding for the NHS.
Labour leader Sir Keir Starmer says the "Tories can never again claim to be the party of low tax" after thrusting higher National Insurance rates on "working people and businesses struggling to get by".

Read more on Boris Johnson's social care reforms: https://t.co/lR1Xhg0FLy pic.twitter.com/XcuZT3cI8f

— Sky News (@SkyNews) September 7, 2021
The leader of the Liberal Democrats, Sir Ed Davey also said the tax was "unfair", and said the government's plan missed out solutions for staffing shortages, care for working age adults and unpaid family carers.
Meanwhile, the CBI said the move "amounts to a tax on jobs which could derail the UK's economic recovery".
Richard Kramer, Chief Executive at disability charity Sense, said the charity was "disappointed" by the policy. He added:
"We don't have confidence that this is the long-term, sustainable and sufficient funding plan that was promised. Will the money really find its way back into social care after 2025?  We need a commitment from Government that this money will be ring-fenced, or we will never find our way out of this crisis.
"We must ensure the care needs of older and disabled people are addressed, and the cash doesn't just end up filling other gaps within the wider health care system.
"This must be the first step in ensuring disabled people and those in vulnerable situations, many of whom have had their services cut over the last 18-months, are no longer forgotten and receive the right care and support."
Other public figures, including opposition MPs and journalists, slammed the government's decision, with many pointing out that Brexit was meant to fund the NHS – as per Johnson's infamous promise on the side of a bus:
Old enough to remember when Brexit was supposed to fund the NHS https://t.co/8e6GLc3O1O

— Anne Applebaum (@anneapplebaum) September 6, 2021
We're not allowed to talk about the £350 million on the side of the bus for the NHS. I've been told this many times. It's not fair because they didn't mean it. Or something. Or perhaps we have to move on. Either way calling them LIARS who LIED to win is not cricket... I'm told pic.twitter.com/W1rkFdiQzn

— Otto English (@Otto_English) September 7, 2021
Funding the NHS from Brexit was literally Vote Leave's signature promise. Can everyone see now what complete horse 💩 that was?

— Seb Dance 🌹🇪🇺 (@SebDance) September 7, 2021
If I'd voted Brexit to secure £350 million a week for the NHS - in good faith & holding my nose about ending up in bed with all the racists - I'd be very cross/confused about this tax rise. Amazingly, there's currently nowhere in the British media representing this constituency.

— James O'Brien (@mrjamesob) September 7, 2021
Keir Starmer: "The Tories can never again claim to be the party of low tax".

This is the political gamble that Boris Johnson is taking. If he doesn't get it right, this is all public will remember.

— Pippa Crerar (@PippaCrerar) September 7, 2021
So, Boris Johnson's plan to 'fix' social care

-It's £36bn over 3 years
-But it's £5.3bn for social care
-And it's £2.9bn for reform
-And that's over 3 years
-And care cap doesn't start until Oct 2023

That's not a fix#socialcare

— Paul Johnson (@paul__johnson) September 7, 2021
It's true that no party had a pandemic in their manifesto.

But it's also true that only the Tories wasted billions of pounds on a failing track and trace system and VIP contracts for mates.

The young and poor shouldn't pay for Johnson's careless mismanagement.#socialcare

— Siobhan Benita (@SiobhanBenita) September 7, 2021
- Still regressive overall
- Still taxing the wrong part of the economy
- The £10bn a yr raised still won't raise enough (estimated £19bn needed)
- Equalising capital gains tax & income tax - appx £90bn over 5yrs
- A 1% tax on millionaires would raise £260bn over 5yrs #socialcare https://t.co/jNTVnM5nlO

— Clive Lewis MP (@labourlewis) September 7, 2021
So. Tax on earnings will go up 2.5% (whether the cash is handed over by employers or employees it is still a tax on earnings) and tax on dividends by 1.25% and tax on rents or interest income by 0%. The measures favour those who don't have to work for a living.

— Jo Maugham (@JolyonMaugham) September 7, 2021
As did other people on social media:
#NationalInsurance is going up up 1.25%

An increase of £255/yr for the Ave. UK salary (£29,900)

Which is the equivalent of £21.52/month or...

📺 Netflix, Amazon & Disney+ subscription combined
⛽️ 1/2 tank of fuel
🍔 2 Takeaways
🍻 5 pints of beer
📱 Phone Bill
🥪 7 meal deals

— George Sinnott (@G_sin128) September 7, 2021
This aged well. 🙄#BorisJohnsonMustGo #socialcare pic.twitter.com/dp2kkv3mZi

— 𝕁𝕒𝕔𝕜 𝕁𝕒𝕫𝕫 (@JayJay08752584) September 7, 2021
The five rebels who voted against the measures included former cabinet ministers Sir John Redwood and Esther McVey along with Sir Christopher Chope, Philip Davies and Neil Hudson.
At least another five – Jake Berry, Steve Baker, Dehenna Davison, Richard Drax and Sir Roger Gale – indicated that they were deliberately abstaining.
Others, however, thought Johnson had no other choice given the pressures of the pandemic - though they seemed to hold a minority view:
Former chancellor George Osborne said:
The Chancellor and PM have taken the brave, necessary, Conservative decision to raise general taxes to help reduce the deficit and stop funding today's NHS out of tomorrow's borrowing - sound money wins out again, as in tax-raising budgets of Tory Chancellors in 1981 … and 2010

— George Osborne (@George_Osborne) September 7, 2021
Chris Skidmore MP added:
Important thread on the Health and Social Care levy

There are never any easy solutions when it comes to social care- but we cannot keep kicking the can down the road while more people face spiralling care costs nor can we afford to borrow our way out of NHS funding increases https://t.co/PYtir5ALT3

— Chris Skidmore (@CSkidmoreUK) September 7, 2021
And Lucy Allan said:
Difficult decision, but the right decision. I believe in incentivising work and I understand the benefits of a low tax economy. But my constituents struggle with access to NHS and poor social care. This cash is much needed and it's right everyone makes a contribution. https://t.co/uS7rCvIX4q

— Lucy Allan MP (@lucyallan) September 7, 2021