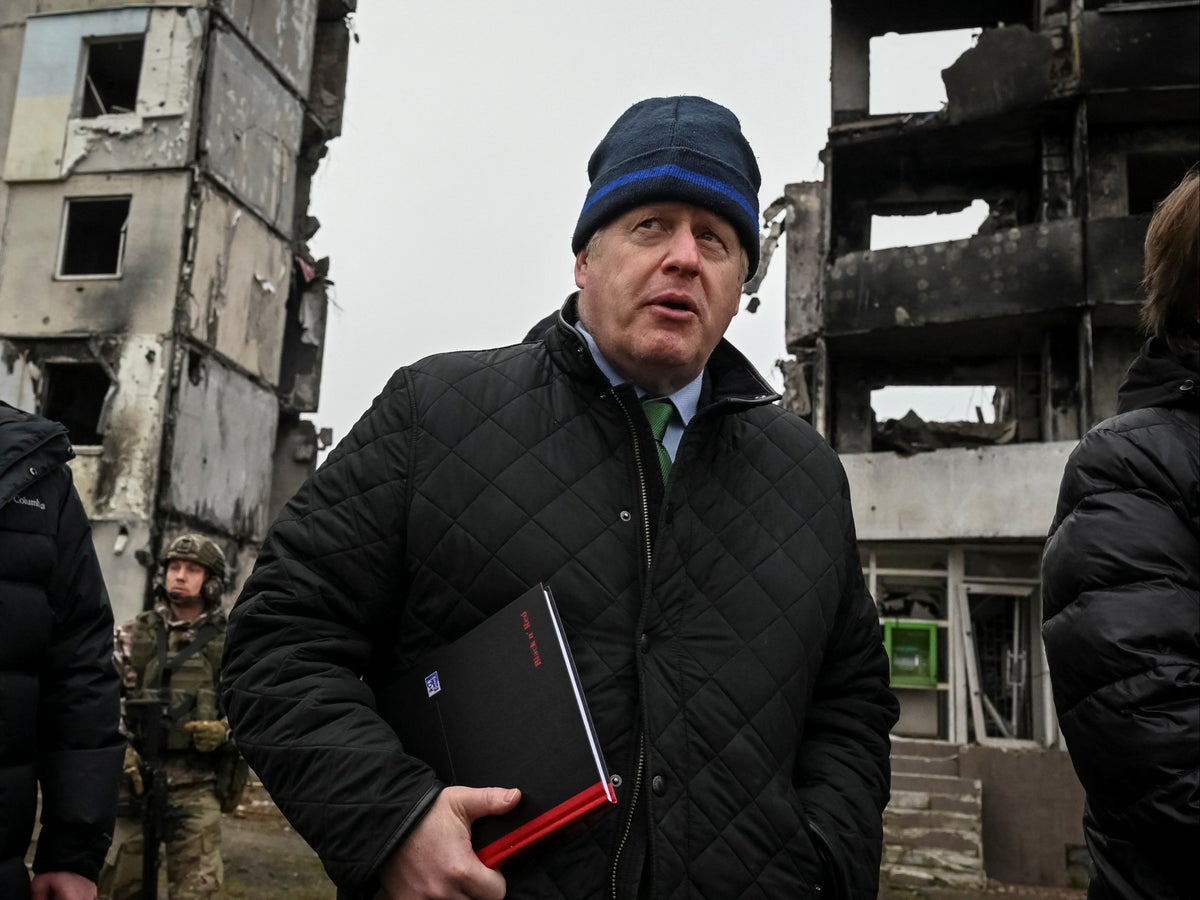 Boris Johnson made a surprise visit to Ukraine as he comes under pressure over claims that he involved the BBC chair Richard Sharp in talks that led to his securing an £800,000 line of credit while at No 10.
Former civil service chief Sir Bob Kerslake said there was "no question" that there appeared to be a conflict of interest – describing the reported involvement of Mr Sharp in the talks as an "important departure from what should really happen".
The former prime minister was seen walking in the surburbs of Kyiv on Sunday, despite warnings from senior military figures that he should stay away and stop "looking for publicity".
Former army chief Lord Dannatt previously told The Independent that Mr Johnson was a "loose cannon" whose plan to visit Ukraine could upstage Rishi Sunak, while Lord West, a former First Sea Lord, warned the former PM against "looking for publicity".
But Mr Johnson said he had been invited by Ukraine's president Volodymyr Zelensky to visit the country for a fourth time, as he urged Western leaders to give Ukraine "all the tools they need".
In a statement on Sunday, the former prime minister said: "It is a privilege to visit Ukraine at the invitation of President Zelensky. The suffering of the people of Ukraine has gone on for too long."
He added: "The only way to end this war is for Ukraine to win – and to win as fast as possible. This is the moment to double down and to give the Ukrainians all the tools they need to finish the job. The sooner Putin fails, the better for Ukraine and for the whole world."
Mr Johnson made unannounced visits to suburbs north of Kyiv, in particular to two areas where Russian troops are accused of committing atrocities after a failed push on the capital last year.
Later in the day he met with President Zelensky. Footage showed Mr Johnson meeting the Ukrainian president, warmly shaking his hand, and telling him it was "an absolute honour to be here again". Mr Zelensky replied: "Honour for us."
Mr Johnson is understood not to have asked No 10 for permission for this visit, one that some have suggested may be intended to undermine the authority of his successor and bolster his own legacy of support for the war-torn country.
However, Downing Street said Mr Sunak was "supportive" of Mr Johnson's latest visit. The prime minister's press secretary said on Sunday that Mr Sunak is "always supportive of all colleagues showing that the UK is behind Ukraine, and will continue to support them".
As a former prime minister, Mr Johnson's security protection for overseas trips is funded by UK taxpayers. Asked who exactly is stumping up for his trip, his own spokesperson said they could not get into specifics "for security reasons".
The former PM's spokesperson added that Mr Johnson fully supports UK government policy on Ukraine, including the recent decision to send Challenger 2 tanks, saying the purpose of the visit was to demonstrate solidarity with the Ukrainian people.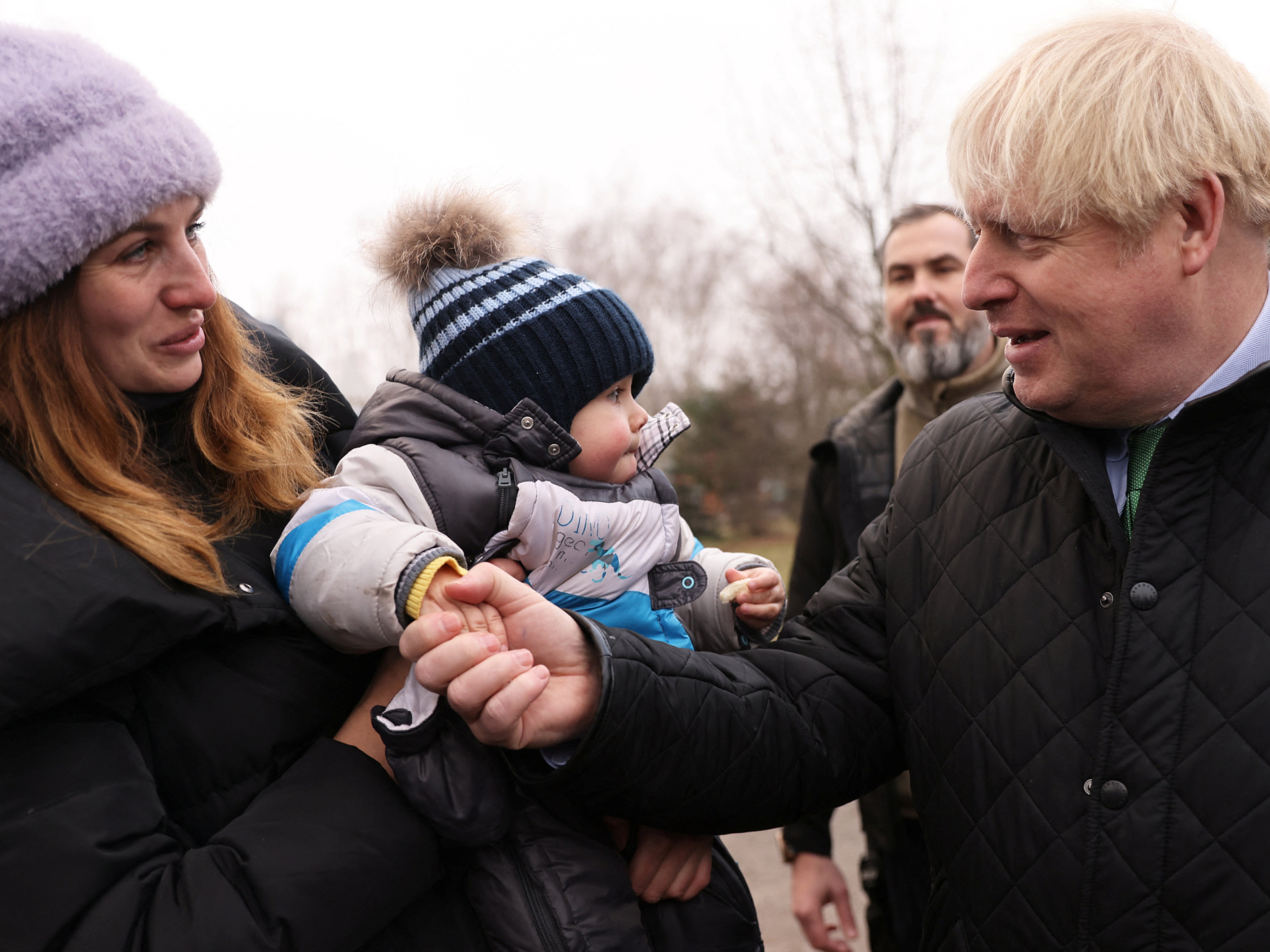 Asked last week to comment on reports that Mr Johnson was planning a trip to Ukraine, Lord Dannatt told The Independent: "Boris Johnson has been a loose cannon all his life," adding: "I don't think he can do any harm, as long as he's not trying to upstage Rishi Sunak."
Lord West, the former First Sea Lord, said former prime ministers "shouldn't be looking for publicity and kudos – they should be helping support the UK government and keeping in the background".
When the possibility of the trip first emerged, senior Tory MP Tobias Ellwood, chair of the defence select committee, also said that Mr Johnson should "not interfere" in official relations between the countries.
The visit comes as Labour called for an investigation into claims reported in The Sunday Times that Mr Sharp had helped to arrange talks aimed at guaranteeing a credit line of £800,000 for Mr Johnson in the weeks before he was recommended for his current role by the then prime minister.
The party has written to Daniel Greenberg, parliamentary commissioner for standards, about whether a conflict of interest should have been declared by Mr Johnson. Shadow culture secretary Lucy Powell has also written to William Shawcross, the commissioner for public appointments, asking him to investigate Mr Sharp's appointment.
Sir Bob, a former head of the civil service, told Times Radio that he has "big concerns" over the idea that Mr Johnson may have involved the person he recommended to be BBC chair in talks about a credit facility.
Asked whether he accepted that there was no conflict of interest over the matter, the former Labour adviser said: "No, I'm afraid I don't. It is a conflict, no question in my mind ... This feels to have been a quite important departure from what should really happen."
But a spokesperson for Mr Johnson dismissed the Sunday Times report as "rubbish", insisting that the former PM had not asked Mr Sharp for financial advice and that his financial arrangements "have been properly declared".
Asked about Mr Johnson's private dinner with Mr Sharp and Sam Blyth, the distant relative of the former PM who is said to have acted as guarantor, the spokesperson said: "So what? Big deal."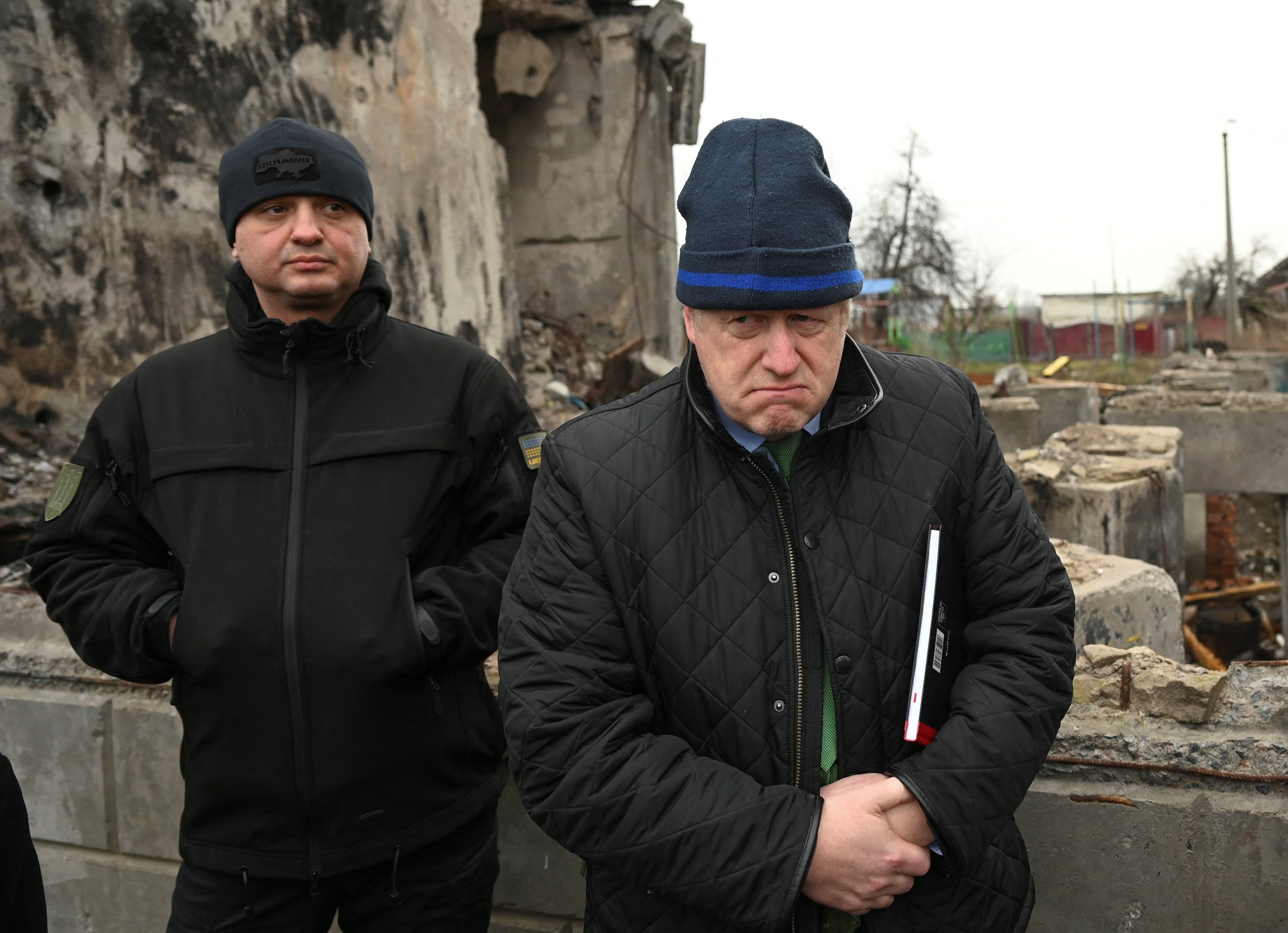 Mr Sharp told The Sunday Times: "There is not a conflict when I simply connected, at his request, Mr Blyth with the cabinet secretary and had no further involvement whatsoever."
Foreign secretary James Cleverly insisted that Mr Sharp had been given his BBC job on "merit". Suggesting that the appointment was nothing to do with ties to Mr Johnson or the Tories, he added: "We've had senior people in the BBC who have political affiliations."
Meanwhile, Mr Cleverly also said that he would like "nothing more" than to see Ukrainians armed with German-made Leopard 2 tanks. The foreign secretary was asked on the BBC's Sunday with Laura Kuenssberg programme whether he was disappointed that Germany had not authorised the release of its Leopard 2 battle tanks.
He refused to engage in direct criticism of Berlin, saying it is for "every sovereign government to decide how they are best able to support the Ukrainians as a member of Nato". However, he said he would be glad to see Ukrainian forces equipped "with those most up-to-date armoured vehicles".
His comments come after a pledging conference in Germany on Friday ended without a commitment by Western allies to send more battle tanks to Ukraine, despite a call from Mr Zelensky to speed up the delivery of military support.
So far among the Nato allies, only the UK has agreed to send tanks, in the form of 14 British Army Challenger 2s. There had been hopes that Germany would authorise the release of its battle tanks, which are potentially available in far greater numbers.