Boris Johnson is doing a cabinet reshuffle – here's what people think of it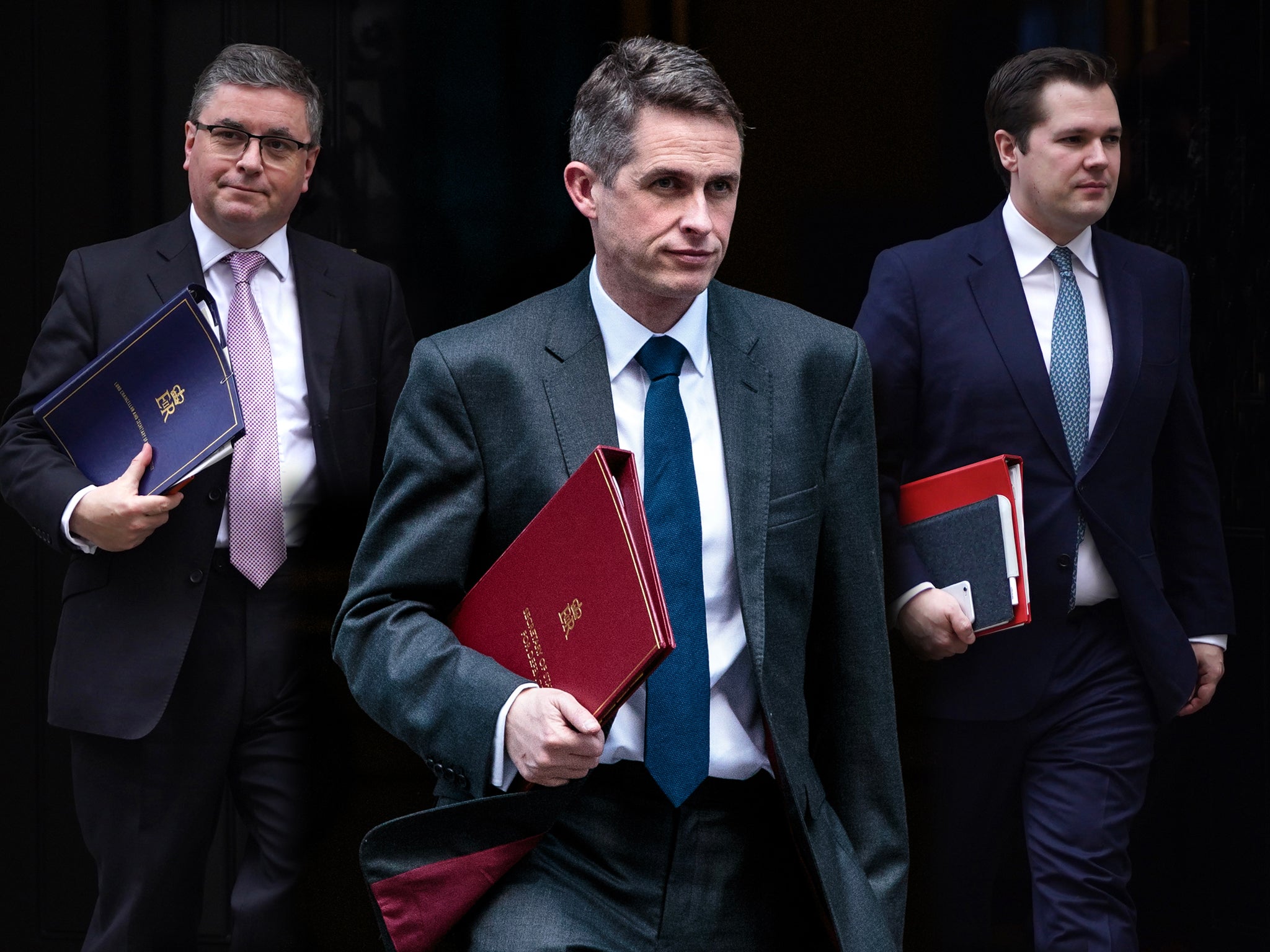 Boris Johnson rocked the boat on Wednesday afternoon by announcing a Cabinet reshuffle, with several high profile names being given their marching orders.
The biggest names to go, at the time of writing, are Gavin Williamson, Robert Jenrick and Robert Buckland who have lost their roles as education secretary, housing secretary and justice secretary respectively.
It remains to be seen who else will be on the chopping block and who will be replacing the aforementioned names. There are always rumours speculating that some high profile names could be either promoted or demoted.
For the time being, let's see how the social media landscape has reacted to the news.
Gavin Williamson
Possibly the highest-profile name to get the axe so far is Williamson, who has always proved to be a divisive figure in his role as the education secretary.
In a tweet, Williamson – who rather infamously got sport stars Marcus Rashford and Maro Itoje mixed up earlier this month – said it was a "privilege" to have served in the role since 2019 and was particularly proud of the reforms that he has brought to post 16 education.
This programme will create better life opportunities for pupils and students for many years to come. I look forward to continuing to support the Prime Minster and the government.

— Gavin Williamson (@GavinWilliamson) September 15, 2021
Although his sentiments seem genuine, the response to him leaving has been shall we say... mixed.
So long Gavin Williamson. Got to be one of the worst Education Secretaries ever, just when we needed a decent one. https://t.co/KG0rNXYZFJ

— Lucy Powell MP (@LucyMPowell) September 15, 2021
tbf, i can confirm i have also cried on victoria street, so can't really judge :/ https://t.co/2VMEXqQHxX

— Bethany Dawson (@bethanymrd) September 15, 2021
We've all been there https://t.co/ISwKHUgRxe

— Rupert Hawksley (@ruhawksley) September 15, 2021
#Reshuffle I was offered Gavin Williamson's job but wasn't willing to accept a demotion… pic.twitter.com/J0bI2L0Abc

— Larry the Cat (@Number10cat) September 15, 2021
Gavin Williamson has (finally) been removed as Education Secretary

— Peter Stefanovic (@PeterStefanovi2) September 15, 2021
Maro Itoje scored 43 goals for Manchester United in the time Gavin Williamson was Education Secretary. https://t.co/GSv17pZwGy

— Richard Jolly (@RichJolly) September 15, 2021
Live scenes as Gavin Williamson leaves No 10: pic.twitter.com/eUJiqZJOBn

— Have I Got News For You (@haveigotnews) September 15, 2021
Robert Jenrick
In a similar vein to Williamson, Jenrick said that it had been a privilege to serve as housing secretary since 2019.
He added: "I'm deeply proud of all we achieved. I will continue to support the prime minister and the government in every way I can."
Here are a few reactions to his departure.
Jenrick gone?? Jenrick gone gone??? pic.twitter.com/8cBR5QYsE4

— Chaminda Jayanetti (@cjayanetti) September 15, 2021
Hell yeah https://t.co/AX1psYvGNR

— David Jenkins (@daveyjenkins) September 15, 2021
"Robert Jenrick and Gavin Williamson" made a huge contribution"...which is why we got rid of them. 🤐 #ToryReshuffle

— David Coburn (@coburn4ukunion) September 15, 2021
Jenrick goes. Hard to think this isn't to do with the handling of the building safety crisis, and the reputational damage that has come with it. There have been several huge errors and a feeling of lack of strategy on his watch. Problem just keeps getting bigger https://t.co/qrH4XAHxkl

— Peter Apps (@PeteApps) September 15, 2021
Robert Buckland
The Welsh MP had been the justice secretary since 2019. After he was sacked he tweeted: "It has been an honour to serve in government for the last 7 years, and as the Lord Chancellor for the last two. I am deeply proud of everything I have achieved. On to the next adventure."
Many of his peers were much more complimentary of his work than his colleagues who have also been released today.
Robert is honourable, hardworking, decent & very clever. Proud to have worked with him & especially proud to call him a friend. https://t.co/1TiOyc0CZl

— Peter Heaton-Jones (@PeterNorthDevon) September 15, 2021
I am very sorry indeed to hear this Robert. You did a first rate job and, importantly, always stood up for the rule of law and the integrity of the justice system. You deserved better. Thank you for all you did. You can be proud of it.

— Sir Bob Neill MP (@neill_bob) September 15, 2021
Thank you @RobertBuckland for the important changes you made on domestic violence & sex violence against women. https://t.co/FzMsNVakcD

— Harriet Harman (@HarrietHarman) September 15, 2021
Gotta say this is a fair comment. The pace and depth I could critique but no doubt Buckland cared and wanted to see changes that worked. https://t.co/TsmP5kkJ8p

— Jess Phillips MP (@jessphillips) September 15, 2021
Many experts believe Buckland was sacked in order to create a job for Dominic Raab.
Very difficult to know why Robert Buckland has been sacked - other than to create a job for @DominicRaab. Buckland is widely seen as having been loyal, hardworking and authoritative as Lord Chancellor

— Robert Peston (@Peston) September 15, 2021
Buckland seems to have been sacked purely to create a vacancy for Raab.

— Alex Andreou (@sturdyAlex) September 15, 2021
This leads us too...
Dominic Raab
The now-former foreign secretary has been, in many people's eyes, demoted from his position and given the role of justice secretary and lord chancellor, previously held by Robert Buckland. He has also been named deputy prime minister.
The Rt Hon Dominic Raab MP @DominicRaab has been appointed Deputy Prime Minister, Lord Chancellor and Secretary of State for Justice @MoJGovUK#Reshuffle pic.twitter.com/jHZqMsyAMy

— UK Prime Minister (@10DowningStreet) September 15, 2021
This must be seen as a big blow for Raab who has come under intense scrutiny in the past month for his part in the UK's handling of the crisis in Afghanistan and the Taliban's return to power (remember THAT phone call?).
Needless to say, Raab has proven to be a rife source of mockery and criticism once again.
Dominic Raab becoming justice secretary, something about finding out the courts are closed, something about the sea being closed, you get the idea

— Mollie Goodfellow (@hansmollman) September 15, 2021
Dominic Raab Has Been Appointed Justice Secretary, Lord Chancellor And Deputy Prime Minister

Heaven help us https://t.co/H4zpI1BhIY

— Peter Stefanovic (@PeterStefanovi2) September 15, 2021
New Justice Secretary Dominic Raab wants to repeal laws that protect working people from bad bosses and abolish the minimum wage for under-21s.

He wants to scrap workers' rights and "doesn't believe in" economic and social rights.

The Tories are not the party of working people.

— Angela Rayner (@AngelaRayner) September 15, 2021
Dominic Raab should take a holiday after all this stress

— Rosie Holt (@RosieisaHolt) September 15, 2021
Dominic Raab to ask why he's Secretary of Just Ice, why not other water

— Toby Earle (@TobyonTV) September 15, 2021
I like how they've set up the barriers, like he's queuing up for an "I'm getting fired" theme park ridepic.twitter.com/cpXjzhppce

— James Felton (@JimMFelton) September 15, 2021
Liz Truss
In a move that will raise a few eyebrows, Raab's replacement as foreign secretary is stilton cheese advocate Liz Truss. This is a big promotion for the 46-year-old who had previously been the secretary for the international trade and had campaigned to Remain in the EU during the 2016 Brexit referendum.
Once again, the reaction to this appointment is mixed.
What an astonishing turnaround in fortune for Tiggerish Liz Truss.. tipped for the chop last Feb and constantly briefed against - but got stuff done and is reaping the reward - suspect the new Trade Sec will find it tough with his predecessor the nation's most senior diplomat.

— Harry Cole (@MrHarryCole) September 15, 2021
Hahahahahaha Liz Truss is the new Foreign Secretary of this perfectly fucking normal and serious country nothing matters anymore let's just enjoy the collapse of civilisation from our armchairs

— Max Morgan 🏳️‍🌈🏳️‍⚧️ (@SpillerOfTea) September 15, 2021
Ladies and gentlemen… your new foreign secretary, Liz Truss. pic.twitter.com/Rcszk6TcUl

— Joshua Zitser (@mrjoshz) September 15, 2021
Liz Truss now confirmed as foreign secretary, a well deserved promotion.

— Chris Rose (@ArchRose90) September 15, 2021
PUT LIZ TRUSS BACK IN CHARGE OF CHEESE #CabinetReshuffle

— Rosie Holt (@RosieisaHolt) September 15, 2021
Michael Gove
Michael Gove has replaced Jenrick, becoming Secretary of State for Housing, Communities and Local Government tasked with taking on "cross-Government responsibility for levelling up", Downing Street said.
The Rt Hon Michael Gove @MichaelGove has been appointed Secretary of State for Housing, Communities and Local Government @MHCLG

He takes on cross-government responsibility for levelling up. He retains ministerial responsibility for the Union and elections. #Reshuffle pic.twitter.com/XI4Iw3hq27

— UK Prime Minister (@10DowningStreet) September 15, 2021
Again, his new role prompted a mixed reaction...
In case you're wondering what Boris Johnson *actually* thinks about the Red Wall, he has appointed Michael Gove to lead his 'levelling up' agenda – a man who once celebrated that Thatcher was stamping on the "cruel, dirty, toothless face of the northerner"

— Sam Bright (@WritesBright) September 15, 2021
Michael Gove shouldn't be judged on past comments, says newly-appointed foreign secretary, The Rt Hon. Roy Chubby Brown.

— Have I Got News For You (@haveigotnews) September 14, 2021
Surprised Gove has moved to housing and local government. With his special interests I thought he might go to the Ministry of Sound

— Patrick Kidd (@patrick_kidd) September 15, 2021
Amanda Milling
Elsewhere in the reshuffle, Amanda Milling has been sacked as the co-chair of the Conservatives. The MP for Cannock Chase said that it had "been a privilege and an honour" and thanked Boris Johnson for the opportunity.
Although Milling's departure probably won't make any headlines, it does come just a few weeks before the Tory conference.
🚨 Amanda Milling loses job as Tory party chair - brutal just a couple of weeks before Conservative conference https://t.co/RM1572sE6t

— Pippa Crerar (@PippaCrerar) September 15, 2021
Amanda Milling & aides wandering around Parliament looking lost. Just stared straight ahead when I asked her about her fate. Looks utterly miserable. Looks like back benches for her.

— Jon Craig (@joncraig) September 15, 2021
So Amanda Milling is out. Just waiting for Ben Elliot to announce that his new Tory party co-chair is Prince Charles

— Matt Chorley (@MattChorley) September 15, 2021
Tory MP on Amanda Milling's departure as party chair: "Thank god. Champagne is opening."https://t.co/5KMatJ7pqo

— Aubrey Allegretti (@breeallegretti) September 15, 2021
Nadine Dorries
Nadine Dorries has replaced Oliver Dowden as UK culture secretary – nine years after she abandoned Parliament to appear on I'm a Celebrity… Get Me Out of Here.
Dowden has been placed in charge of the Cabinet Office.
just when you thought the Tories' ongoing war against the arts, culture, museums and heritage sectors couldn't get any worse, they appoint Nadine Dorries as Culture Secretary pic.twitter.com/w6EktjaPIl

— Dan Hicks (@profdanhicks) September 15, 2021
I'll just point out the new Culture Secretary, Nadine Dorries, gave a close friend £51,000 from parliamentary expenses for "marketing". She also paid her daughters £80,000 from the public purse to work in her office, and gave one of them a £15,000 pay rise.

— Rachael Swindon (@Rachael_Swindon) September 15, 2021
Nadine Dorries as culture secretary? Satire is dead#Reshuffle

— Caroline Lucas (@CarolineLucas) September 15, 2021
The appointment of Nadine Dorries as Culture Secretary is final confirmation (if you needed it) that we do indeed have the worst Prime Minister and Govt ever. Ever.

— Anna Soubry (@Anna_Soubry) September 15, 2021
Nadhim Zahawi
Vaccine deployment minister Nadhim Zahawi has been appointed education secretary after Gavin Williamson was removed in the cabinet reshuffle.
He served as children and families minister in the DfE between when Theresa May was prime minister.
.@nadhimzahawi is finally allowed to graduate. He's the new education secretary. Huge and important job.

— Robert Peston (@Peston) September 15, 2021
Safe pair of hands. Lots in sector know him from past role. Probably an uncomfortable fit for ramping up education culture wars. But owes everything to No.10 so no chance of any resistance at this round of cuts etc

— Mark Leach (@markmleach) September 15, 2021
People will inevitably complain that he's never been a teacher. But it's worth remembering the education brief also covers prisons, social workers, universities, apprenticeships, and so on. We will have to see how it translates but, on paper, he's a v good shout.

— Laura McInerney (@miss_mcinerney) September 15, 2021
Stephen Barclay
Former Brexit secretary, Stephen Barclay, is the new Cabinet Office minister and chancellor of the duchy of Lancaster.
He leaves the Treasury, where he was Rishi Sunak's number two.
Stephen Barclay is one of the most competent ministers, I'm so happy he has a position within the cabinet. Hopefully he can progress to something more senior in the next reshuffle. https://t.co/NE4UIyGoa6

— Aisha|عائشة (@Aisha94___) September 15, 2021
With the possible exception of Steven Barclay, what a list of incompetence. None of these people should be anywhere near Parliament.

— Tim Shearer #FBPE #FBPPR #Rejoin (@TroutusMaximus1) September 15, 2021
Great choice.

Can bring his negotiating skills to, his skills, his, he does what he's told.

Give him a bowl of water and a digestive.
Not chocolate mind.

— Paul Bishop 💙 We're waist deep in the Big Muddy (@PaulPJB) September 15, 2021
Anne-Marie Trevelyan
No 10 announced that Anne-Marie Trevelyan has made a swift return to cabinet as international trade secretary and President of the Board of Trade.
She became a business minister, at minister of state level, last year after her role as international development secretary disappeared when the PM merged the department with the Foreign Office.
Sounds like anne marie trevelyan will return as Trade Sec after her Aid department was abolished last year.

— Harry Cole (@MrHarryCole) September 15, 2021
About time Anne-Marie Trevelyan returned to Cabinet. So happy for @annietrev - one of the nicest people in politics.

— Zehra Zaidi (@Zehra_Zaidi) September 15, 2021
Many congratulations to Anne-Marie Trevelyan @annietrev on her promotion to International Trade Secretary. Another fantastic appointment by @BorisJohnson. A hardcore Brexiteer who will be a tough, no-nonsense negotiator for the UK in trade talks. 💙🇬🇧🌍 #Reshuffle https://t.co/LPvcjg2RHE

— Cllr Joe Porter 🇬🇧 (@JoePorterUK) September 15, 2021
Others who have been seen entering Downing Street today include Oliver Dowden and Michael Gove, with Priti Patel and Rishi Sunak confirmed to be keeping their roles as home secretary and chancellor respectively.
Elsewhere, if you want to take a look at our dream cabinet, you can do so..