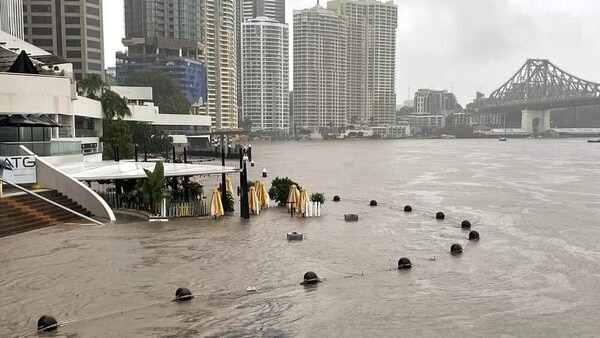 Hundreds of schools will be closed across south-east Queensland on Monday and people have been encouraged to work from home as a deadly weather system continues to lash the state.
Authorities said they expected more than 1,430 homes would flood as the Brisbane River surged, with more than 1,000 people in evacuation centres and 36,000 homes and businesses without power on Sunday evening.
The flooding has already claimed six lives, with a man in his 70s still missing.
A large number of weather warnings have been issued, including major flood warnings and a severe thunderstorm warning for Brisbane and the Moreton Bay area.
Queensland's Education Minister Grace Grace said there would be mass school closures across the state's south-east.
At 4:45pm the Department of Education's website showed close to 1,000 closures.
Premier Annastacia Palaszczuk characterised the event as a "rain bomb", adding the weather was "unrelenting".
"We never expected this rain," she said on Sunday afternoon.
"It's just coming down in buckets.
Follow our rolling coverage of south-east Queensland's severe weather event in the live blog.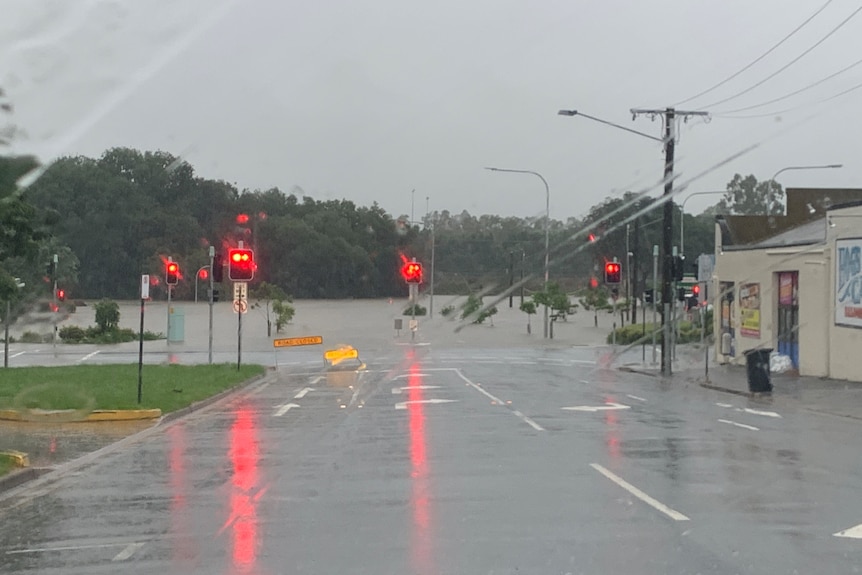 Ms Palaszczuk urged those living in flood-prone areas who had not evacuated to start thinking about their safety plans should they need to leave their homes.
"Parents, please do no let your children go into these floodwaters … anything can happen. Please have your kids at home."
Brisbane City Council on Sunday night released an emergency alert for dozens of suburbs at risk of flooding.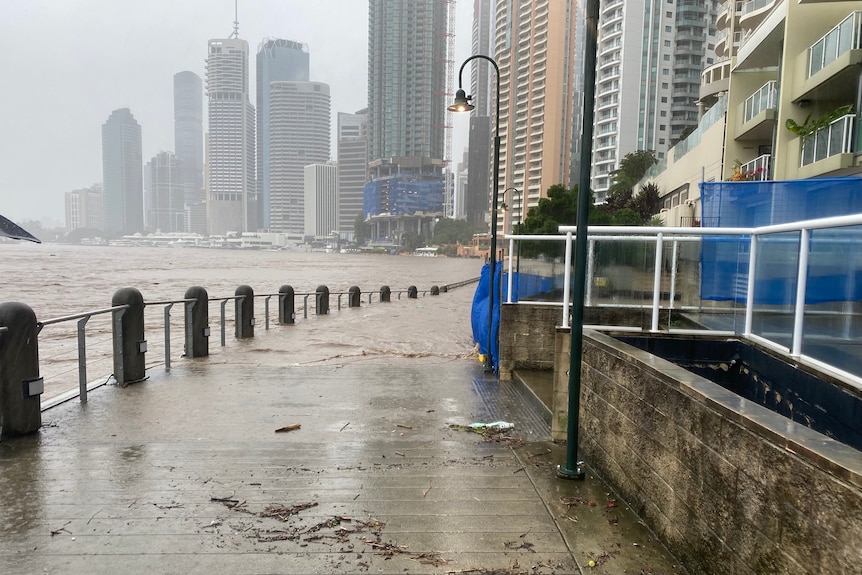 In an address to Queenslanders, Prime Minister Scott Morrison described the unfolding weather event as "a very serious situation".
"The key message that we have is it important for people to keep safe and to remain in place where they have been ordered to evacuate, this is important and people should not be driving around and looking at this event and sightseeing on those things," he said.
The federal government has activated the disaster recovery payment for victims residing in Gympie and the North Burnett regional council areas.
The payments are expected to be made available to more LGAs in coming days.
Rain expected to continue overnight, easing on Monday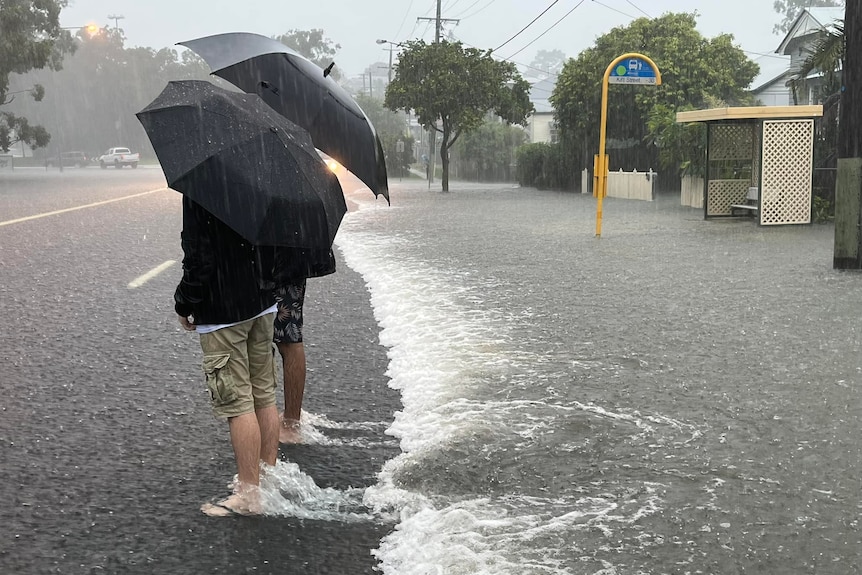 The Bureau of Meteorology's Laura Boekel on Sunday afternoon said the weather system was focused on Brisbane and the Gold Coast as it slowly moved south, with the Sunshine Coast receiving some shower activity.
Ms Boekel said the rainfall had been widespread, with "intense pockets".
"The forecast is still that we will continue to see this rainfall today and overnight with some relief coming tomorrow as this system contracts south."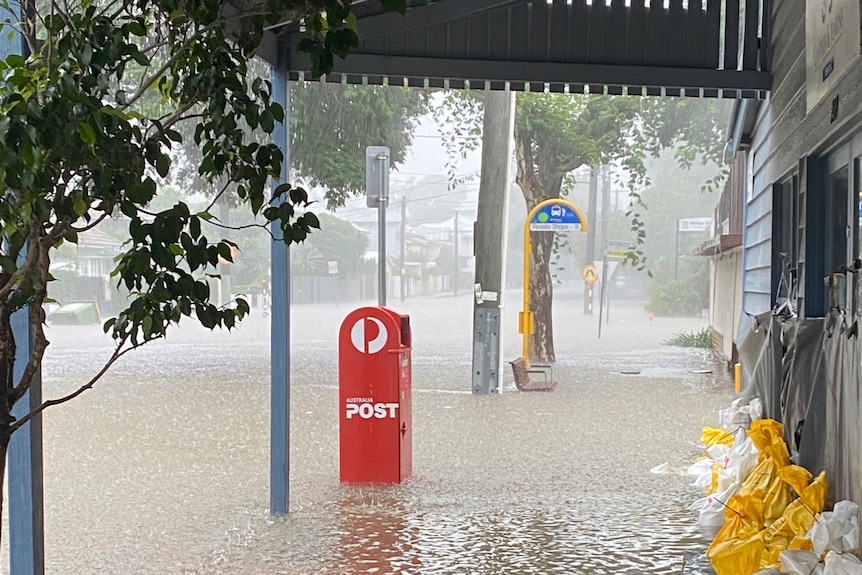 There is a major flood warning for the Brisbane River in Brisbane, with the weather bureau warning further high-tide peaks will come tonight and tomorrow morning.
The river rose to about 3.1 metres on Sunday morning, with a warning issued that the river was expected to reach 3.2 on Sunday night.
The river was expected to surge higher again on Monday morning, reaching 3.7m. 
Riverside suburbs underwater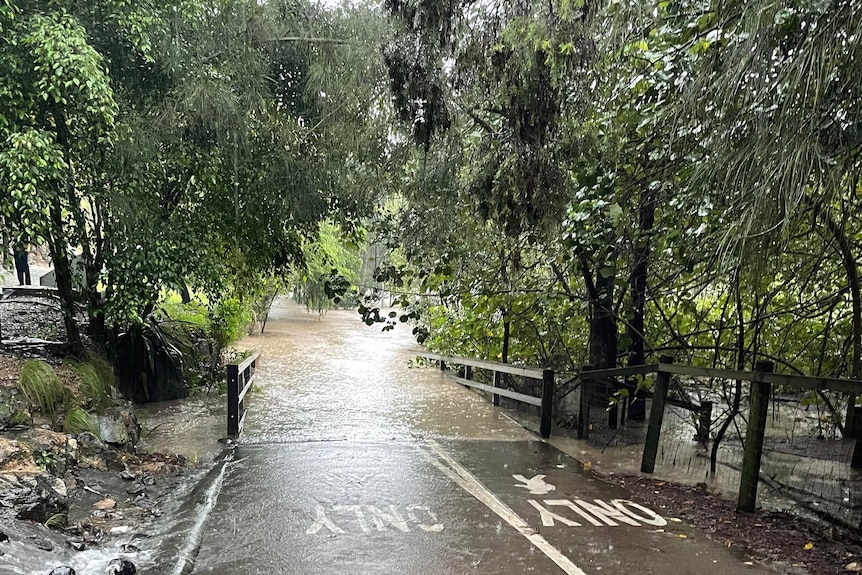 In Brisbane's riverside suburb of Toowong, homes and businesses were on Sunday inundated with tides of brown water touching the roofs of buildings and the tops of traffic lights.
Homes were flooded in Milton, Teneriffe and Fairfield, while residents in New Farm and Fortitude Valley frantically moved cars as water poured into underground car parks.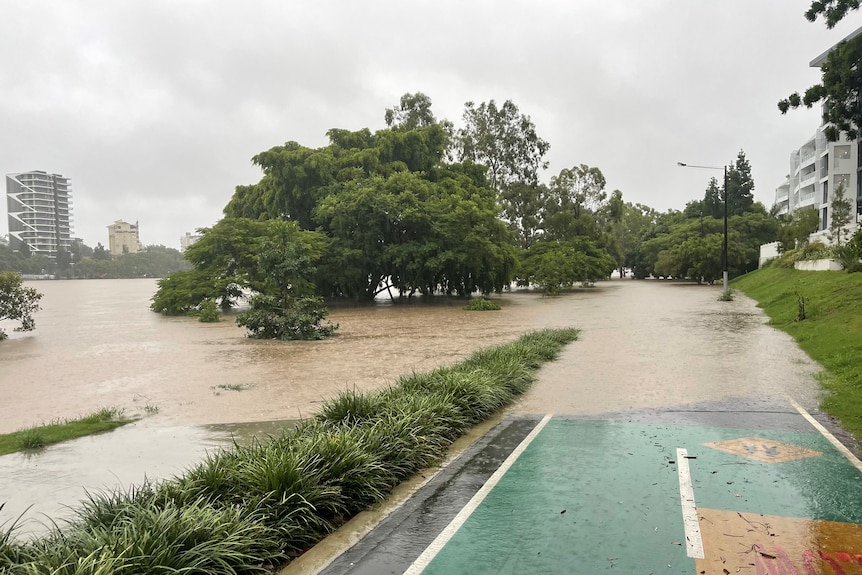 The rising Brisbane River caused some boats to slip their anchors.
Dramatic vision was captured showing a houseboat smashing into a ferry terminal at Kangaroo Point, with the sole occupant rescued by onlookers downstream.
Another boat was dragged into Milton Ferry Terminal, leaving it almost competed destroyed.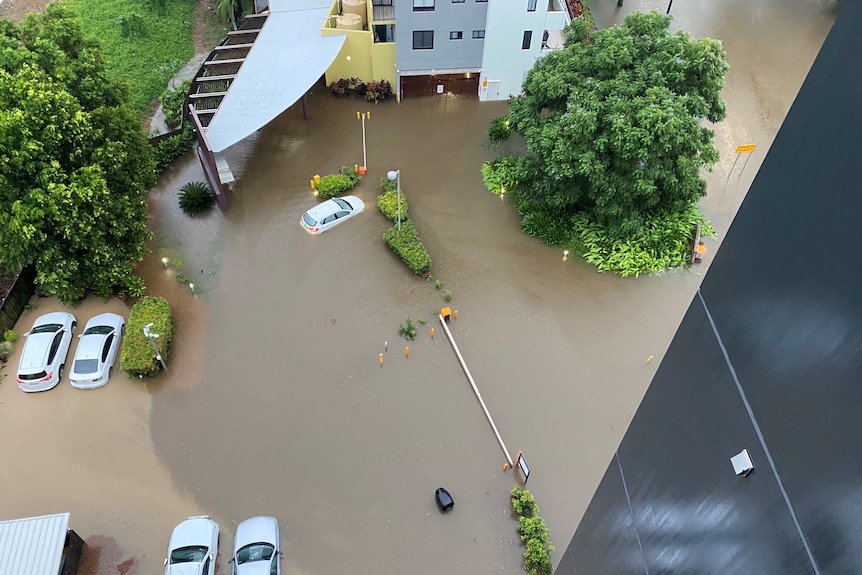 Multiple bus routes and train services in the south-east were suspended on Sunday, as well as City Cat ferries.
Goodna residents nervous as houses evacuated
Ipswich and the Lockyer Valley to Brisbane's west and Logan in the south were also areas of concern.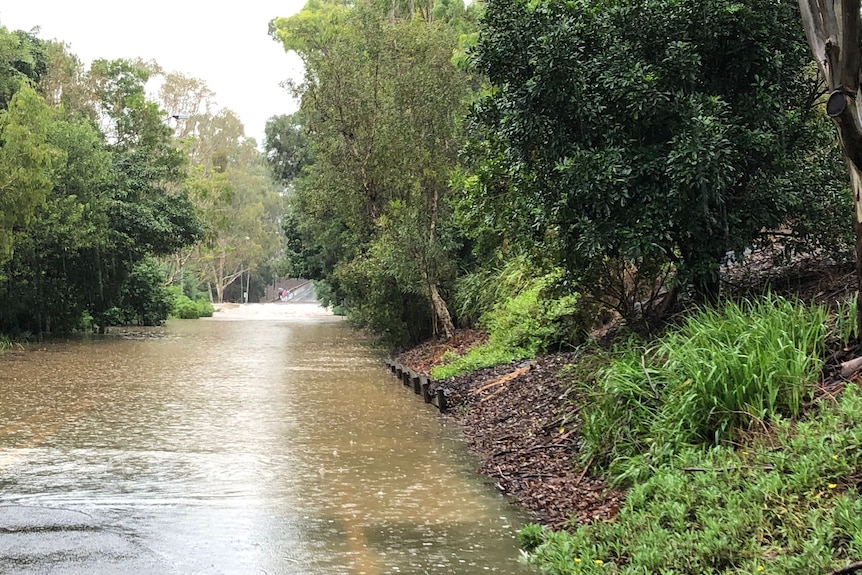 In the Ipswich suburb of Goodna, flooding had hit the 11-metre mark by about midday, 5.5m below the level reached in 2011.
Councillor Paul Tully said the water was still rising.
Goodna sits on the Brisbane River, not the Bremer River which flows through Ipswich, but is also impacted by local creek flows as well.
Mr Tully said the influence of creeks, the Brisbane River tides and the ongoing rainfall made it difficult to accurately predict the expected flood peak in the region.
Mr Tully said local residents who had lived through the 2011 floods were deeply anxious about the rising river levels, saying it was "quite traumatic" for many residents who were braced for worsening flood levels.
Gympie sees most significant flooding in almost 130 years
In Gympie, north of the Sunshine Coast, the Mary River reached 22.8m on Sunday morning, 1m higher than what was seen in 1999.
The flooding was the most significant event seen in Gympie since 1893, the BOM said.
Further rises could still occur, depending on Sunday's rainfall.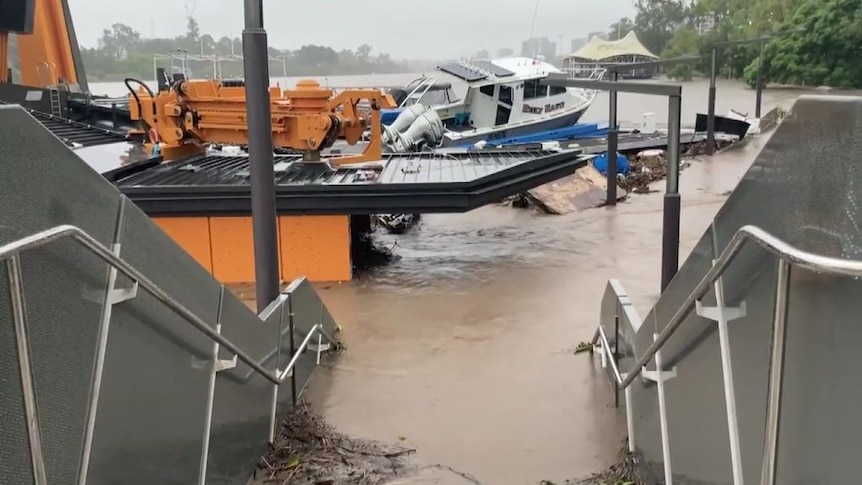 At least 500 homes and 130 businesses had been affected in Gympie, but authorities warned on Sunday morning they did not yet know the full extent of the damage.
At about 1.30pm the bureau said water levels had begun to fall slowly, but would remain at "major" levels for several days.
Landslides, closed beaches on the Gold Coast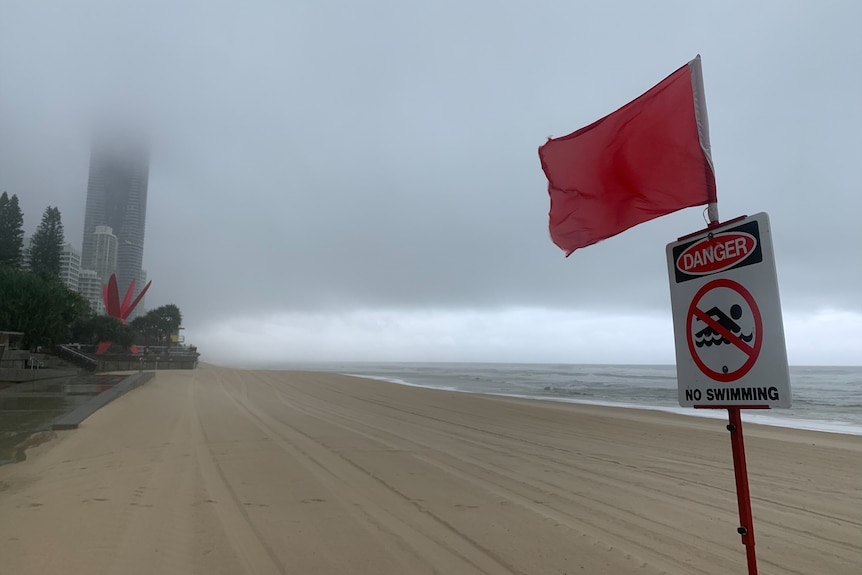 All Gold Coast and Sunshine Coast beaches were closed on Sunday due to dangerous weather and surf conditions.
Speaking on Sunday morning, Gold Coast Mayor Tom Tate said the council was preparing for the severe weather to continue overnight and into early Monday morning.
He said two landslides had been recorded, one at Springbrook Road and the other at the Currumbin Valley.
"The hardest hit will be midnight tonight but that will coincide with the low tide so fingers crossed no evacuation will be needed," Cr Tate said.
An evacuation order has also been issued for people in the Tumbulgum region of northern New South Wales.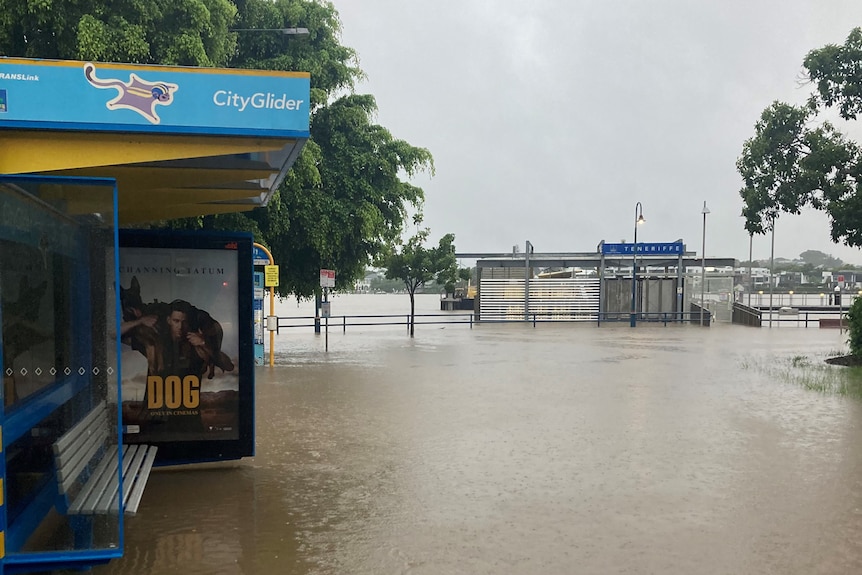 Search for missing man continues
Authorities are continuing to search for a missing yachtsman in his 70s who fell overboard from his vessel in the Brisbane River near Bulimba.
Specialist water police resources have been deployed to Brisbane, the Sunshine Coast, Gympie and Ipswich.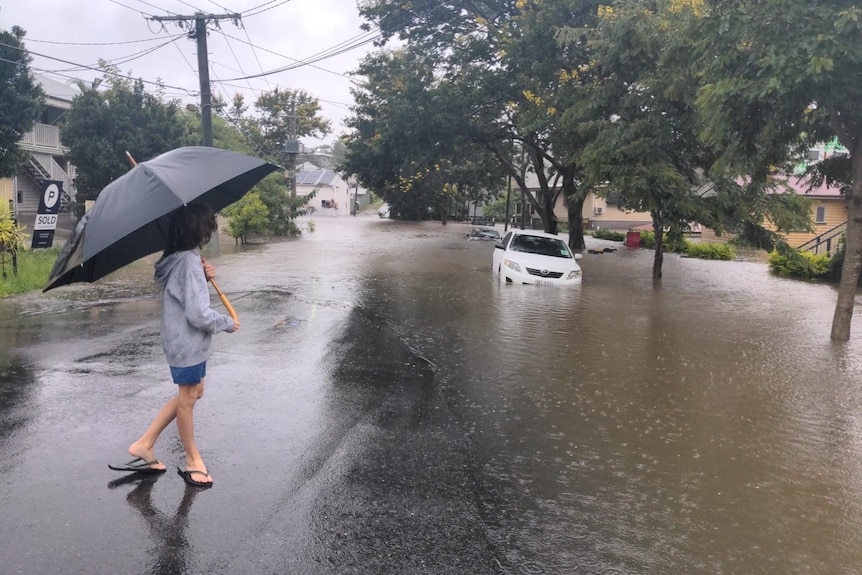 Six people have died since the start of the weather event.
In the latest incident, a 34-year-old Moorooka man died after his car was submerged in floodwaters in Indooroopilly at about 2:30am.
He managed to free himself from the car and attempted to swim to safety, but witnesses reported he failed to surface. His body was found a short time later. 
Tragically on Friday, SES worker Merryl Dray, 62, was killed when she and three others were in a vehicle that was swept away as they attempted to reach a stranded family at Coolana west of Brisbane.