Blue's Clues host Steve delivers heartfelt speech for show's 25th anniversary and leaves fans feeling nostalgic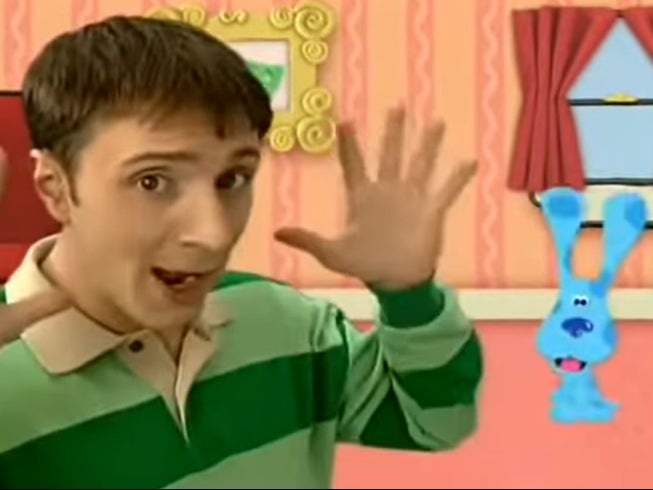 For all you 90s and 00s kids out there, get ready for some serious nostalgia as it's the 25th anniversary of the Nick Jr show, Blue's Clues.
Feel old yet?
The children's educational programme came on air on Nickelodeon back in 1995 where kids got to watch the adventures inside the Blue's Clue House, as the animated puppy Blue and host Steve go on to find different clues to help solve a problem.
A quarter of a century has since passed and to celebrate the show's milestone, former host Steve Burns, now 47, shared a heartwarming message to his now-grown-up fans"
So about that time Steve went off to college… #BluesClues25 pic.twitter.com/O8NOM2eRjy

— Nick Jr. (@nickjr) September 7, 2021
After nearly six years on the show, Steve left in 2002 and was replaced by Donovan Patton, who played Steve's brother Joe.
For the special Behind the Clues: 10 Years with Blue, Steve explained his reasons for leaving the show: "I knew I wasn't going to be doing children's television all my life, mostly because I refused to lose my hair on a kid's TV show, and it was happening, fast."
Sign up to our free Indy100 weekly newsletter 'The Viral Democracy'
In his video message, he began: "You remember how, when we were younger, we used to run around and hang out with Blue and find clues and talk to Mr. Salt and freak out about the mail and do all the fun stuff? And then one day, I was like, "Oh hey, guess what? Big news. I'm leaving! This is my brother Joe, he's your new best friend." Then I got on a bus and I left, and we didn't see each other for, like, a really long time. Can we just talk about that?"
"I realise that was kind of abrupt. I just kinda got up and went to college. That was really challenging, by the way, but great because I got to use my mind and take a step at a time, and now I literally am doing many of the things that I wanted to do.
"And then look at you! And look at all you have done and all you have accomplished in all that time! It's just so amazing, right?
"I mean, we started out with clues and now, it's what? Student loans, and jobs, and families. And some of it has been kind of hard, you know? I know you know. I wanted to tell you that I really couldn't have done all of that without your help. In fact, all the help that you helped me with when we were younger is still helping me today. Right now. And that's super cool."
Steve added: "I guess I just wanted to say that, after all these years, I never forgot you…ever. And I'm super glad we're still friends.
"Thanks for listening. You look great, by the way. Whatever it is you're doing, it's working."
Blue's Clues fans have since taken to Twitter to share how they feeling about seeing Steve again and let's just say they're feeling emotional.
Not Steve being proud of me 😭😭 pic.twitter.com/dEAVmzmZ7N

— Bri ✨ (@storymodebae) September 7, 2021
"And some of it, has been kind of hard."

You're right, Steve. pic.twitter.com/l8FDE0eqeX

— JanuaryAndOn (@JanuaryAndOn) September 7, 2021
"It's been student loans, jobs and families."

"And some of it, has been kind of hard." pic.twitter.com/Lz0FGuMM8P

— Chief Mister of Mischief (@JusticeRhino) September 8, 2021
Really, Steve?😭 pic.twitter.com/xWdcxTgCmu

— Terrence (@AllTerrence) September 7, 2021
He never left us, he was with us the whole time. 🥲 pic.twitter.com/CDXrpnJ51D

— John (Breath of the Wild 2!!) (@SuperSonic55555) September 7, 2021
OOOOoooo... pic.twitter.com/IPESRE8dTm

— 🌸Lil ♡ne 🌸 (@lilollme) September 7, 2021
Why did we grow up pic.twitter.com/9WkTULAJXS

— Mel (@mellygirl67) September 7, 2021
Just trying to get through my work and you got me in tears… pic.twitter.com/edqgskAPXP

— Nick Poulimenakos WORKING ON WHAT IF VIDEO ESSAY!! (@NickMenakos) September 7, 2021
While some joked that life really hasn't changed much since Steve last appeared on our TV screens as kids and are still needing his help.
listening to what he said made me realized... I ain't accomplished shit since the last time we spoke pic.twitter.com/PbgJKq6DSB

— Mrtez300 A.K.A Durag Crew Leader (@Mrtez300) September 7, 2021
Can Steve come back and compassionately tell me how to get a Clue as an adult. Like how to qualify for a mortgage and meal prep?

— The wild wild Des (@ManiacDrapto) September 7, 2021
thank u steve I have accomplished nothing pic.twitter.com/tT6ZDjLiN3

— zaku destroys uranus (@ZinZaku) September 7, 2021
I'm still doing nothing Steve 😭😭 I went to college just like u😭 pic.twitter.com/OGnvL8kDGV

— 🦋 (@simply_lay_) September 7, 2021
Elsewhere people joked about not seeing Steve in so long - I mean... it has been 25 years and it seems some still haven't gotten over him leaving the show in the first place.
steve trying to come back into our lives like that dad that ran to the store to grab milk…… 25 years ago. pic.twitter.com/ILPY2e4KW4

— Notorious M.I.G. (@myjiujitsuisbad) September 7, 2021
Was not expecting to open twitter hear some of the stuff I've needed to hear for years now from Steve from Blue Clues but here I am and I'm crying pic.twitter.com/mwoub2trZW

— Chibs 🌙 Lost Judgment and WPS anime hype (@little_chibs) September 7, 2021
6 year old me when Steve left: pic.twitter.com/NHe09bRHjp

— SadHat (@UpsetHat) September 7, 2021
Steve's message also led to people reminiscing about their childhood as they shared old photos of themselves as kids dressing up as Blue and having Blue's Clues themed birthday parties.
My daughter sent this tweet to me very emotional, and that got me emotional too! She LOVED Blues Clues (we both did).Here she is at her 3rd Birthday ( Blues Clues Theme) she's now a 3rd Year Med student! Thank you for being a positive part of my kids lives! pic.twitter.com/XfXlM7bDBc

— Terri BoraⓂ️ (@venee_b) September 7, 2021
The fact that I was literally Blue every single year for Halloween as a child🥺. The memories pic.twitter.com/czFZGEQ2Fd

— Maya (@MayaMakail) September 8, 2021
Ily Steve. Been friends for at least 20 years pic.twitter.com/ogqHLo8iDE

— Pain (@shoebeedoobee) September 7, 2021
Steve & Blue,

Thank you for being a friend to all of us. You taught me kindness, creativity, & friendship. You taught me that I could grow up to be anything I wanted if I put my mind to it.

Thank you for being there for us before we knew just how much we needed you. 💙 pic.twitter.com/2tBANkKsHG

— Colleen Garrison (@collee_een) September 8, 2021
steve's proud of me.. 🥺🥺💙 pic.twitter.com/6YAlnOXoge

— Karyn (@_bernalkb_) September 8, 2021
After leaving the show, Steve continued to pursue a career in acting and presenting while also releasing three albums. He also assisted in the casting process for the 2019 reboot Blue's Clues and You!, where Broadway actor Josh Dela Cruz was chosen to host the show.
While Burns hosted the show in the US, in the UK, actor Kevin Duala hosted Blue's Clues from 1998 until 2003.