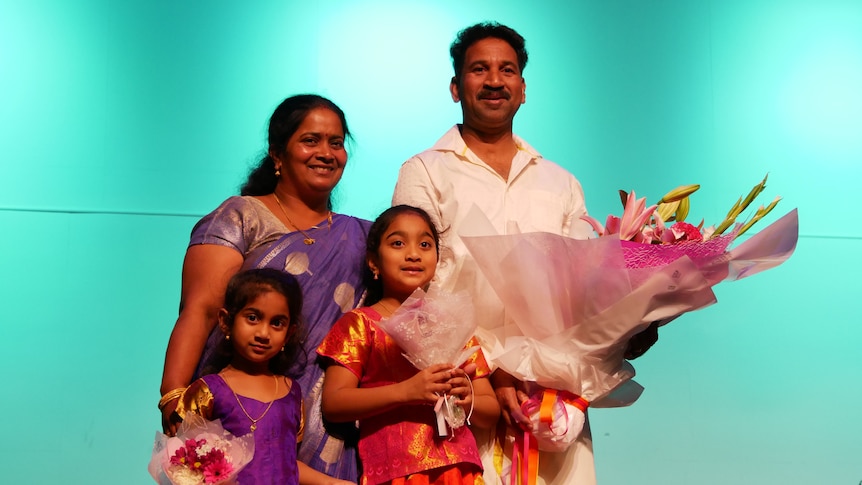 Biloela asylum seeker Priya Nadaraja has dedicated her family's life to the community that fought for their return as Prime Minister Anthony Albanese foreshadowed "no impediment" to the family's push for permanent residency. 
The Nadesalingam family arrived back in the central Queensland town yesterday afternoon, more than four years after they were removed by Border Force.
On the Tamil asylum seekers' first full day back in Biloela they were guests of honour at the Flourish multicultural festival where, after a smoking ceremony by Gangulu traditional owners, the family received a standing ovation from a crowd of several hundred. 
Speaking in Tamil, Priya Nadaraja told them she would "dedicate my life to the Biloela community" now she was home.
"My children will be studying, and they will have their safe lives here," she said.
"I feel fulfilled when I touch this land and I feel like I was reborn again.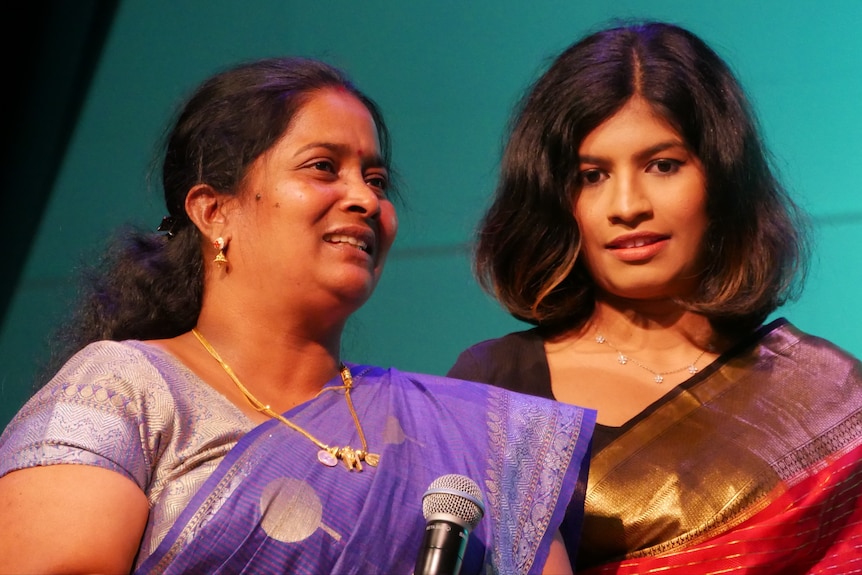 She said she was thankful to members of the community that had supported her family during their ordeal. 
"It's been a really hard life for me — four and a half years," she said.
"Me and my family are so happy, back to my home - Bilo."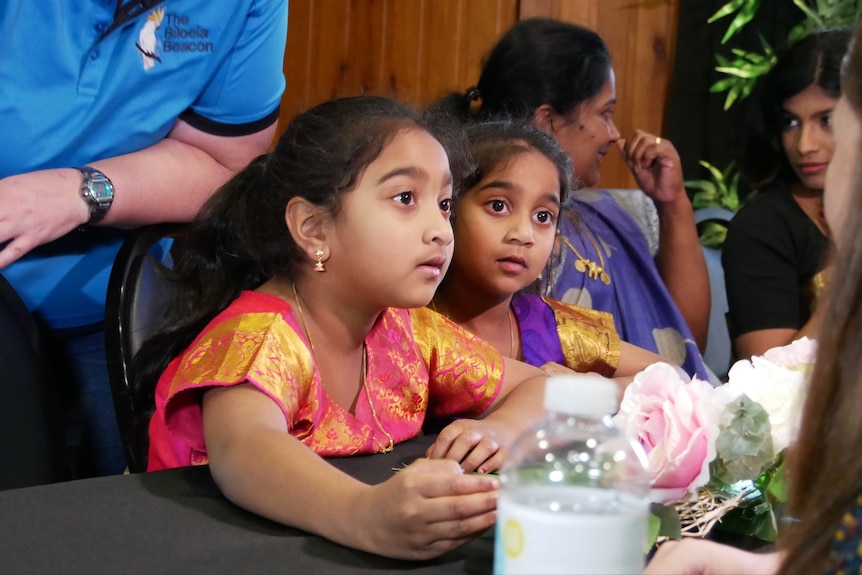 Priya Nadaraja, Nades Murugappan and their daughters, Kopika Nadesalingam and Tharnicaa Nadesalingam, were living in the central Queensland town when their bridging visas expired in 2018 and they were taken into immigration detention.
They were found not to meet Australia's refugee requirements and have since been kept in detention in Melbourne, Christmas Island and in community detention in Perth.
First night in new home
Family friend and Home to Bilo campaigner Angela Fredericks, who travelled with the family from Perth to Biloela, said the family's first night back home was "incredible".
"I arrived at the house with the family to show them their new home," she said.
"It's got a beautiful backyard. The girls just started running. It was the most special moment for me.
The family also spent time having dinner at the local RSL club with friends and supporters.
The ABC understands it was supposed to be a small, quiet gathering, but the number of attendants quickly grew.
PM: 'Not something to be proud of'
Prime Minister Anthony Albanese said it was "heartening" to see the family return to Biloela.
"They received a welcome from a town that wanted them home," he said.
He said the family being removed from their home in the first place was "something Australia can't be proud of".
"The youngest girl will celebrate her fifth birthday this weekend," he said.
"The first birthday she has celebrated not in detention.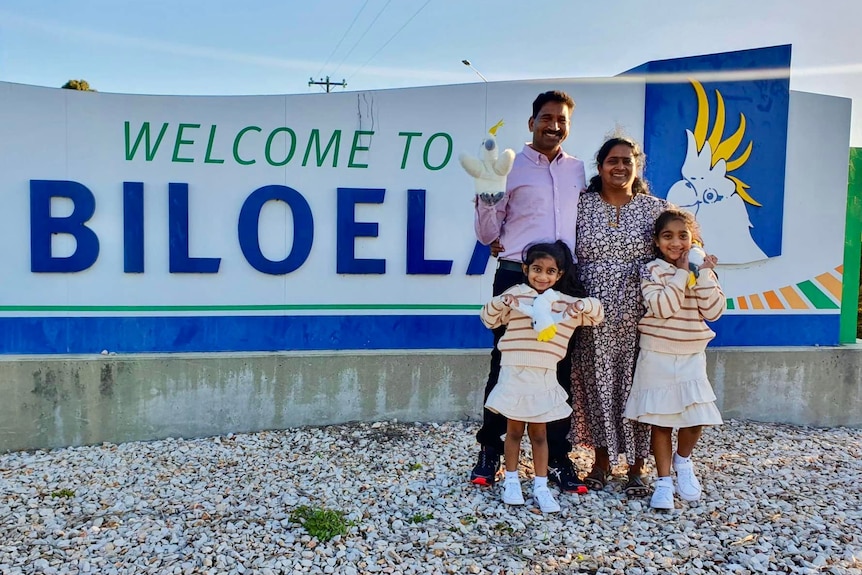 The family remain on bridging visas, but Mr Albanese said he could see "no impediment" to their push for permanent residency.
"Those processes will take place," he said.
'Nearly at the end'
The family's lawyer, Carina Ford, said she was hopeful a decision on permanent visas was not far away.
"Maybe a week or so, maybe less," she said.
"It's just working out which power to use, which visa to grant.
"I can't quite believe we're nearly at the end."
Ms Fredericks welcomed Mr Albanese's comments.
"Ever since Labor won the election, we have had more contact with more ministers in that party than we had over four years with the LNP," she said.
"I personally spoke to [Immigration Minister Andrew Giles] before this weekend and he told me to relax, he told us we could feel like they are home and that they're not going anywhere.
"This 100 per cent shows the nation that when communities come together, when people come together, we are powerful and our voices will be heard."
Welcome for 'good people'
Banana Shire Mayor Nev Ferrier said it was a special day for the Biloela community.
"I'd just like to formally welcome this lovely family back home," Cr Ferrier said.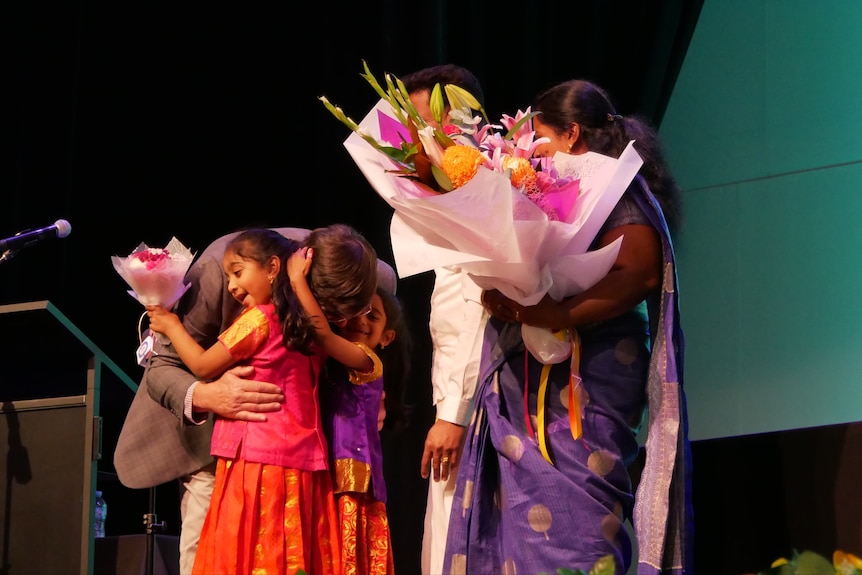 Cr Ferrier said he was proud of the community's campaign to bring these "good people" home.
"It really looked like it was not going to get anywhere but they just kept at it," he said. 
"They've done an incredible job, [it was] a lot of money and time for themselves."
On Sunday they will gather with friends and supporters in a local park to celebrate Tharnicaa's fifth birthday. 
Additional reporting by Erin Semmler and Jasmine Hines.