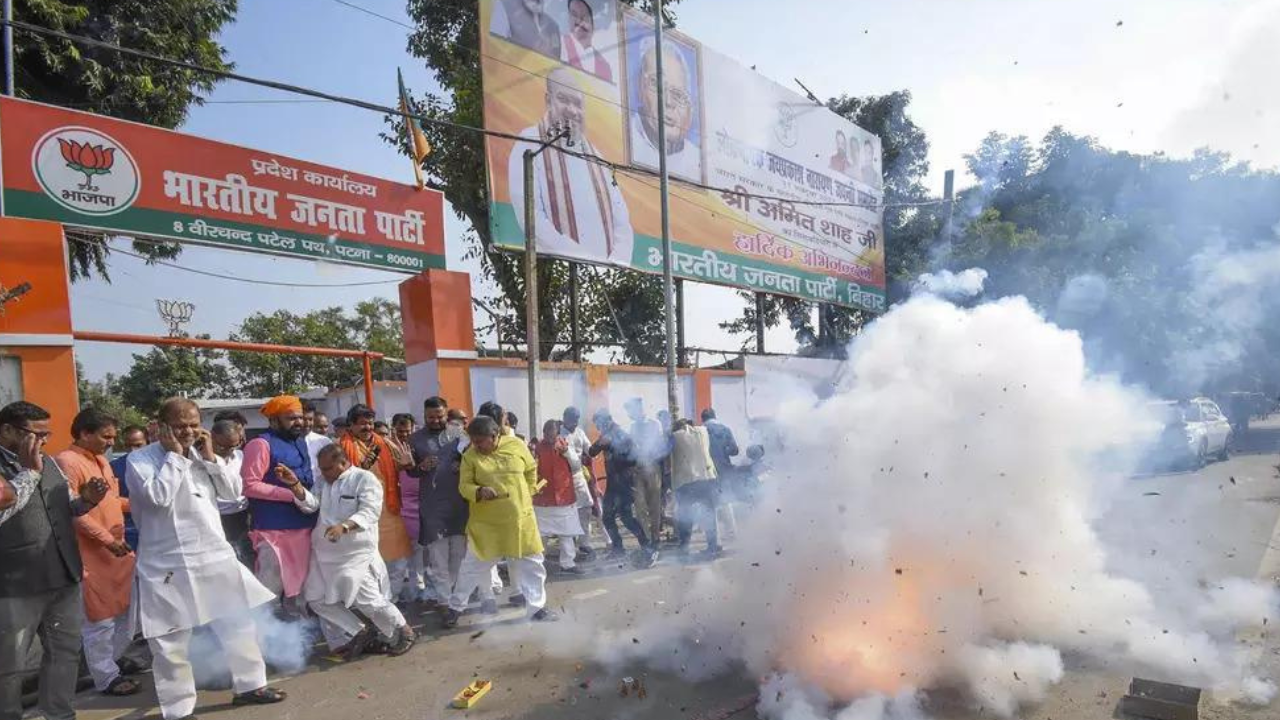 PATNA: The Bharatiya Janata Party (BJP) on Sunday not only retained Gopalganj assembly seat in Bihar, despite spirited campaigning by deputy chief minister Tejashwsi Prasad Yadav and other top leaders of the seven-party ruling Mahagathbandhan but also improved its performance in the high-profile Mokama seat, though it was retained by the Rashtriya Janata Dal (RJD).
The Bihar bypoll results have come as a "warning signal" for the recently revived Mahagathbandhan which was expected to perform better with the state's longest-serving chief minister Nitish Kumar by its side.
The bypolls were the first test of strength between the BJP and the CM Nitish Kumar-led Mahagathbandhan since August this year when the JD(U) leader dumped the BJP and rejoined hands with Lalu Prasad's RJD and formed a new government with RJD's Tejashwi as his deputy.
BJP's Kusum Devi, widow of former minister and four-time MLA Subhash Singh whose death had necessitated the byelection in Gopalganj, polled 70,053 votes (41.6%), while RJD's Mohan Prasad Gupta got 68,259 (40.5%).
Kusum won the seat by a margin of over 1,700 votes. Asaduddin Owaisi's AIMIM and Mayawati's BSP, which together secured more than 21,000 votes, helped the BJP to retain the seat for the fifth consecutive term in a neck-to-neck fight with RJD's first time candidate.
AIMIM's Abdul Salam secured 12,214 votes (7.25%), while the BSP's Indira Yadav 8,854 votes (5.26%). Indira is wife of former Gopalganj MP Sadhu Yadav, who is 'Saala' (brother-in-law) of RJD boss Lalu Yadav.
The RJD's Neelam Devi won Mokama seat with a margin of 16,741 votes, but the party's victory margin fell compared to its performance in the 2020 assembly polls.
Neelam secured 79,744 votes (53.4%) while her nearest rival BJP's Sonam Devi 63,003 votes (42.2%). The contest in Mokama remained centred around the candidates of the RJD and the BJP. None of the rest four candidates could secure more than NOTA which fetched 2,470 votes (1.6%).
Bihar BJP president Dr Sanjay Jaiswal hailed the result in Gopalganj as "popular rejection" of the ruling Mahagathbandhan.
" In Mokama, we contested for the first time in three decades but our candidate performed better than all previous runners-up," Jaiswal said.
BJP's senior leader and Rajya Sabha member Sushil Kumar Modi, in a video message, said, "The voters of Mokama and Gopalganj have rejected Nitish Kumar and Lalu Yadav along with the Mahagathbandhan. Mokama's victory is the triumph of former MLA Anant Singh and not of Lalu-Nitish as Singh has won elections six times out of seven since 2020 irrespective of the party he chose".
"This year, the BJP contested elections after a long gap in Mokama and it managed to garner more than 63,000 votes in Anant's stronghold constituency which is a huge achievement. JD(U) voters voted for BJP in large numbers. The Gopalganj voters had paid a massive tribute to late MLA Subhash Singh by making BJP retain the seat," Modi said.